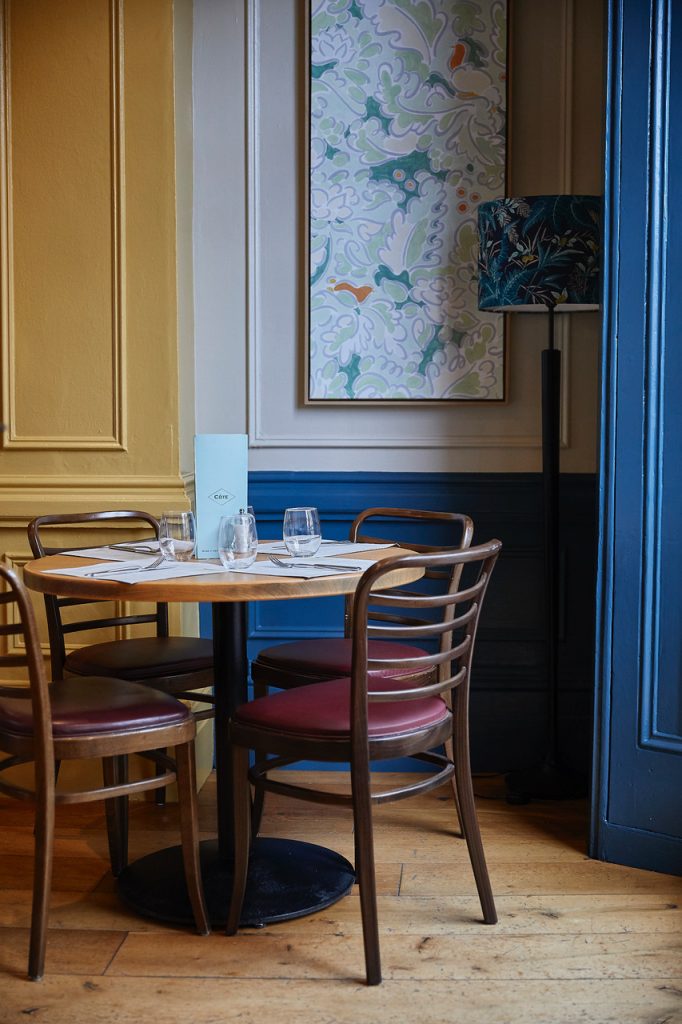 You might have noticed that Côte Richmond was closed for a while this summer, much to the annoyance of its 'coterie' of regulars.  Well, if you haven't been to Richmond for a while, I can give you the good news: it's reopened after a total refurbishment.  The refurb is part of the French restaurant group's 'brand evolution programme' and alongside an reinvigorated menu created by the new executive head chef Steve Allen, is the biggest change to its food offering in the company's 15 year history.  But fear not, I went to check it out the other day, and I can report that Côte Richmond is as good as ever, and still offers excellent food at great prices!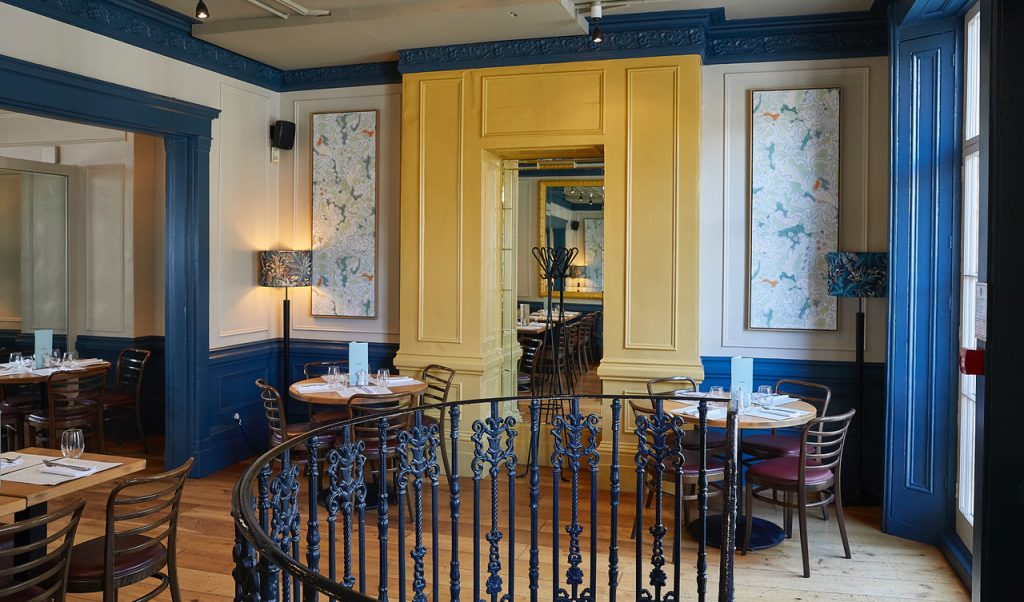 According to the company: "Guests at Côte Richmond will find an elegant and modernised restaurant design inspired by classic French interiors. Normandy artist Claire de Quénetain has worked to deliver the spirit of France with a series of bespoke mural artworks throughout the restaurant, showcasing the brand's move towards a stylish and informal space that is perfect for both daytime and relaxed evening dining."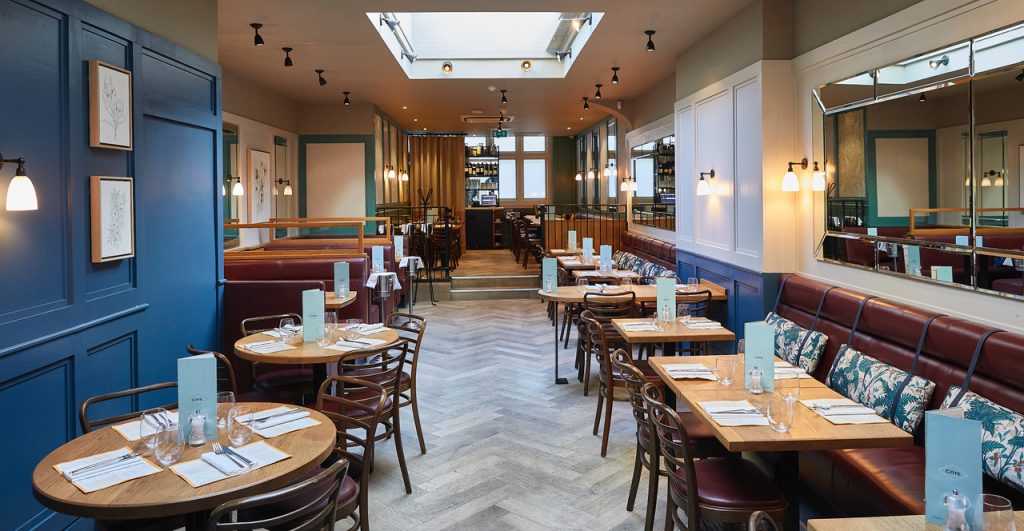 The overall impression of the reburbed restaurant is that it is light and airy.  My only observation is that where we were seated, in the front part of the restaurant, near to the bar, the lighting was very poor indeed.  The addition of some table lamps would make quite a difference to the comfort and the general ambience.   I also was rather baffled by the waitress informing us on arrival that the restaurant is now cashless…why?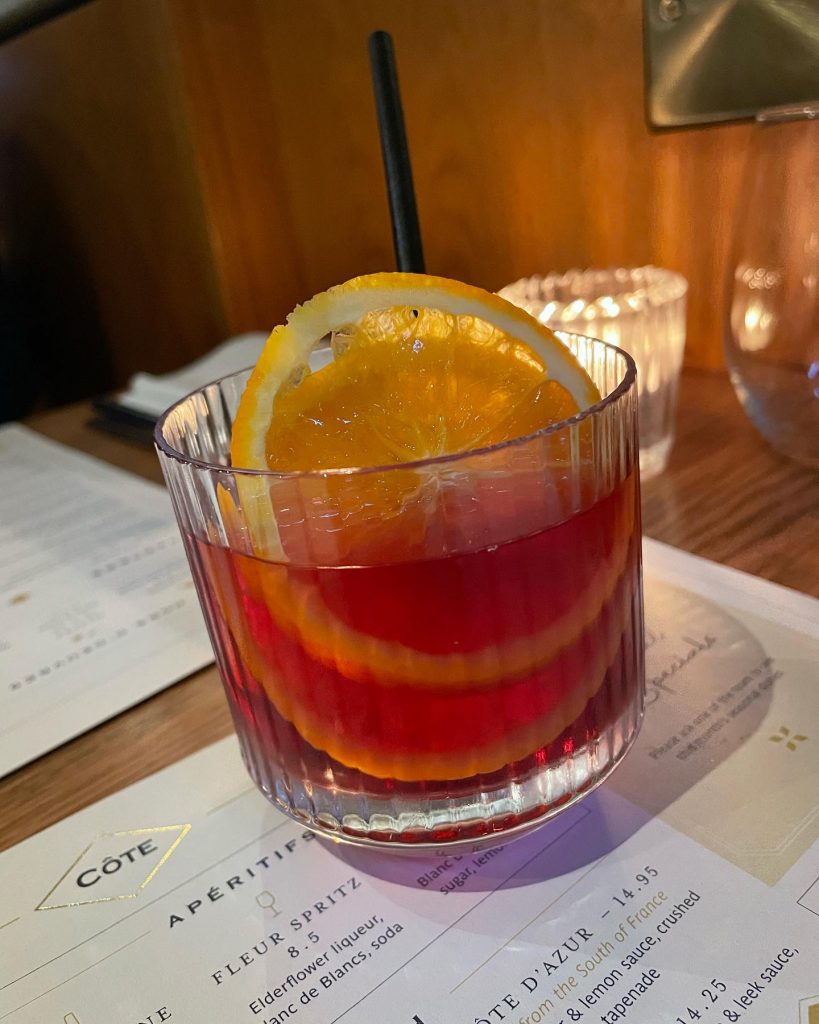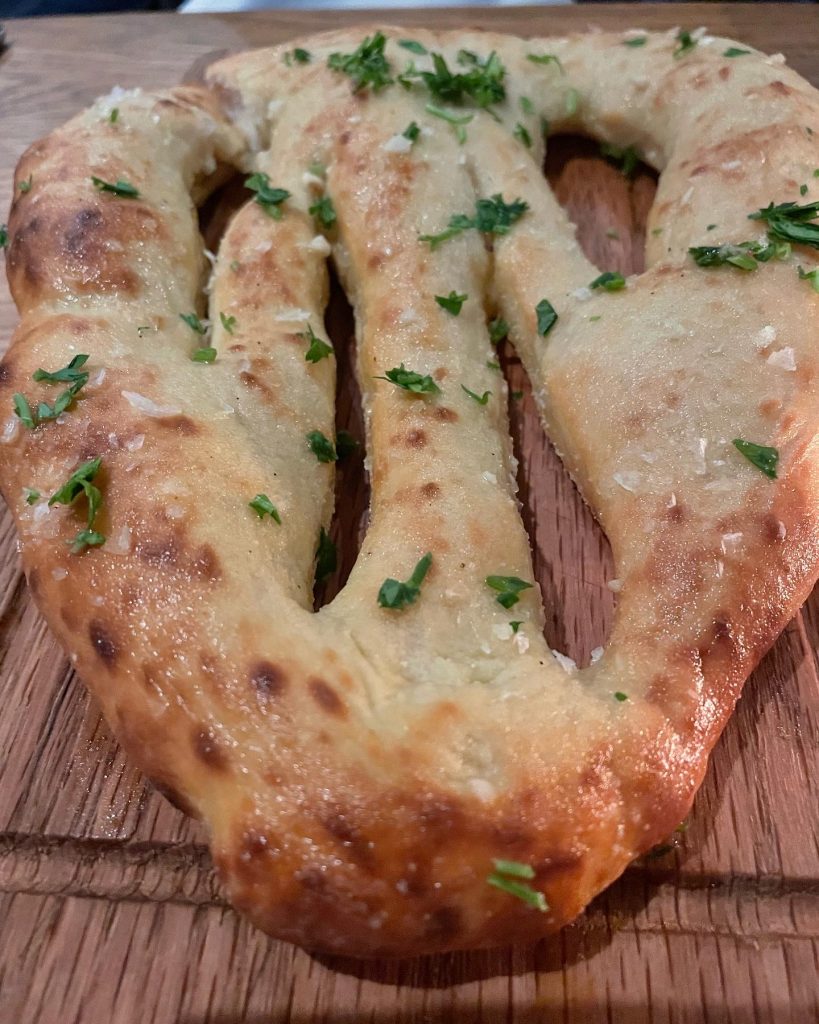 But onto the food: Starting with an excellent Negroni (£8.75) and a beer, my husband (who was feeling particularly hungry that evening) opted to try the fougasse at £5.50, a Provencal style garlic bread to share).  Wow! The small taste I had was superb, but it is meant for two to share and I wasn't wanting to overload with carbs.  The company has introduced monthly seasonal specials as an adjunct to the main menu, and I chose Fig & Bayonne Ham Salad (£7.95).  My husband can never resist Whitebait,  in fact on the Prix Fixe menu.  Talking of the Prix Fixe menu,  I can reassure you that it is still there, and just as good value.  Two courses for £16.95 and three for £20.95 – amazing that they can still do this in the current climate.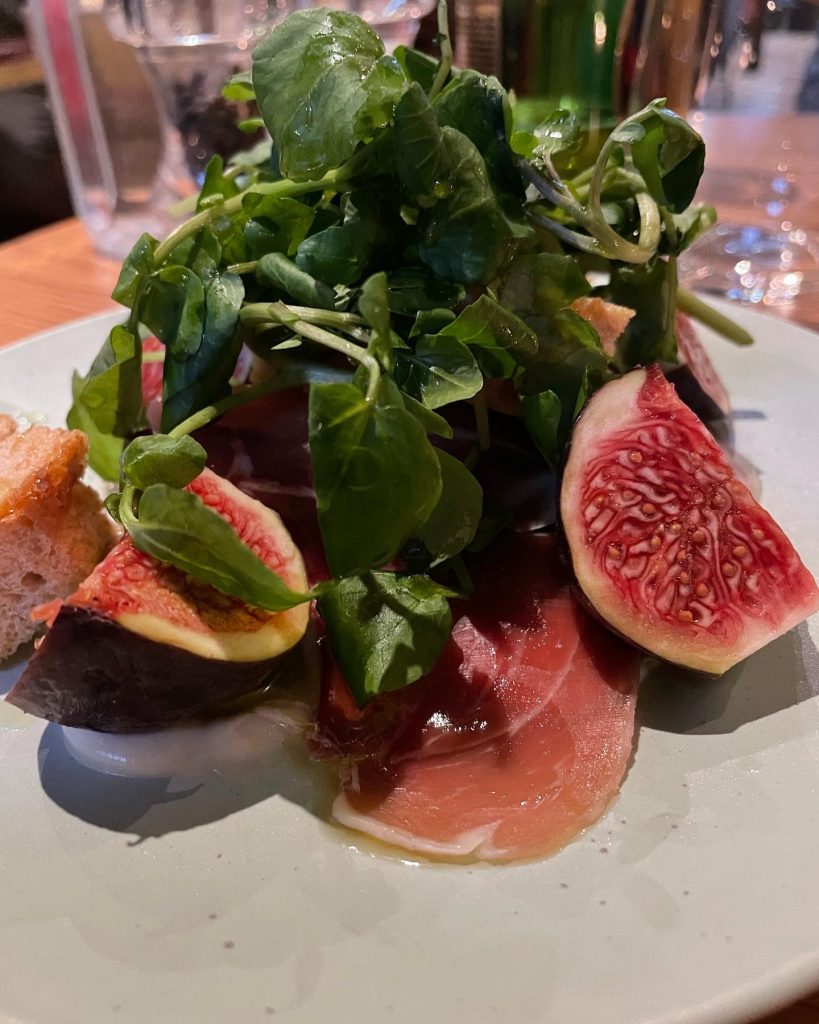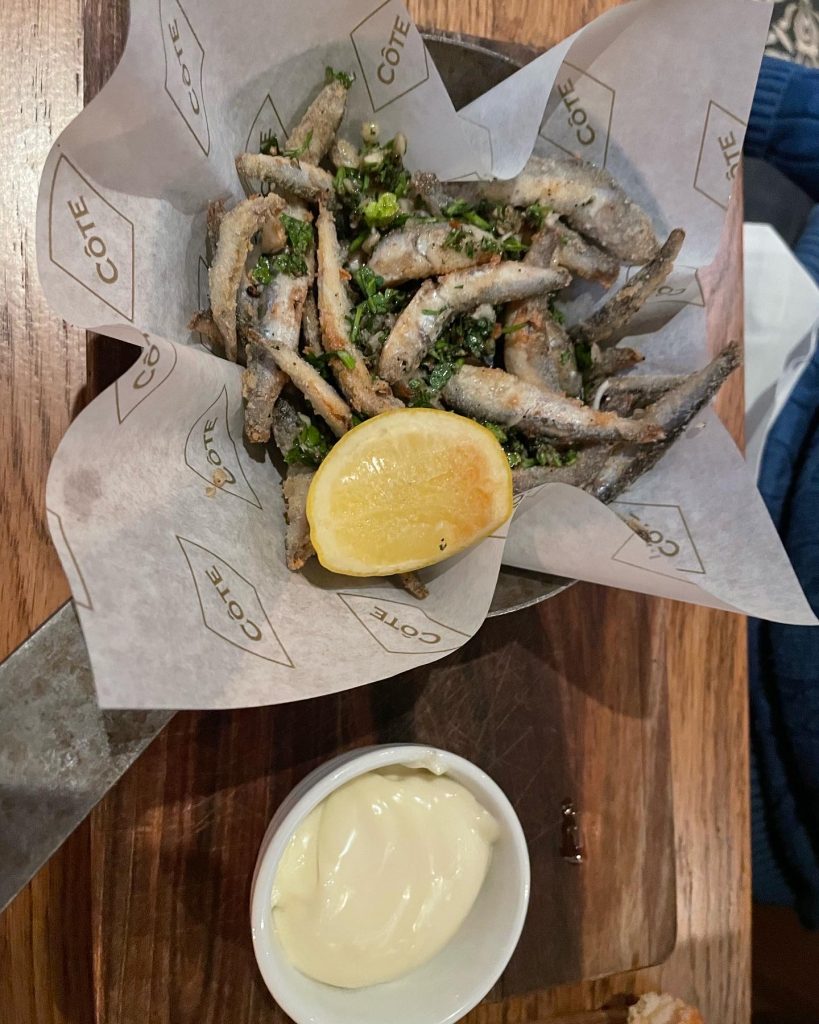 My salad was divine; I loved the fact that it was atop a bed of creamy Roquefort, giving it an extra flavour dimension.  The whitebait were proclaimed excellent too – piping hot, and very lightly battered and served with garlic and lemon aioli.   
For our mains, I succumbed to the lure of the Fillet Noir (7oz).  This was two fillet medallions, served pink, truffle potato dauphines, mushroom marmalade, black garlic jus and charred baby gem.  At £29.95 it was perhaps rather an indulgent choice, but my word, it's worth it!  On first examination, the steak looked overcooked, but on cutting, it was as promised, pink and so tasty.  My husband's burger at £14.95 was to the same standard.  Served with Reblochon cheese, truffle mayo, caramelised red onion, brioche bun and frites.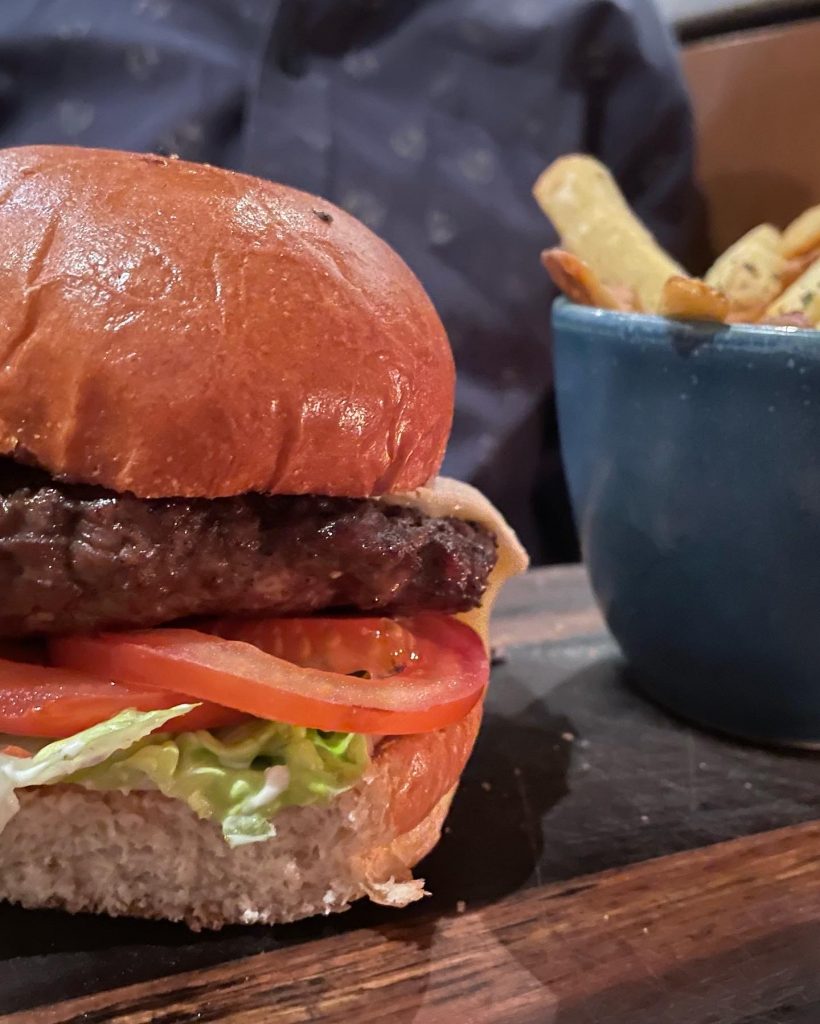 Drinks prices are, as always, good value.  I had a glass of Corbieres, and when we next return we will definitely be ordering a bottle of it as at £25.95 it was full of ripe, black, fruits and went beautifully with the steak.  With house wines at £20.50 a bottle, again the company has stuck to its original ethos of offering authentic French cuisine at reasonable prices.   The menus, in accordance with new legislation, show the calorie count of each dish.  I'm hoping that this rule is dismissed soon, as the last thing one wants when going out for an enjoyable evening, is to be reminded of how fattening your meal is!  That said, my superbly rich and delectable steak was actually only 667 calories, compared with the burger at 1,456.
It's reassuring to know, in these inflationary times, that good old Côte, even with its new look, can still be relied upon to provide great food at a reasonable price… we'll be back soon.