Cooking for two should be simple, but it often isn't!  And of course, one can always cook for four and pop half of the finished dish in the freezer to enjoy on another occasion.  But halving a recipe for four isn't always as straightforward as it should be, so the latest book from Orlando Murrin is a godsend for couples, friends and roommates.
  Two's Company: Simple follows his successful Two's Company, and this time Orlando turns his attention to super simple food, designed for two people to share.  There are  75 new recipes, encompassing everything from week-night quick fixes and easy-yet-impressive mains, to indulgent desserts.  These speedy, often all in one, recipes have been carefully created by Orlando to leave minimal leftovers (or those irritating half-finished packs that languish in the fridge or cupboard till they go off)!  This great book makes cooking for two easier and more cost effective (much needed at the moment) than ever before.  As well as great recipes, Orlando gives additional information as to from where/whom the inspiration is derived and some fabulous hacks to make life even more simple and like the one below, save expensive energy used to cook it.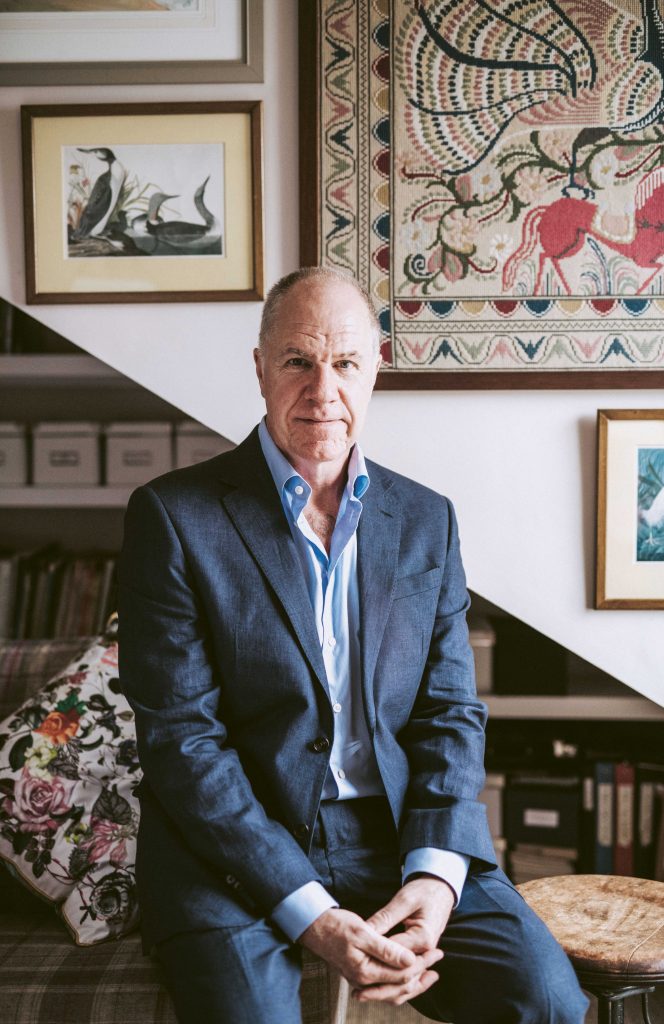 Orlando, a semi finalist in MasterChef in 1992, is former editor of the hugely successful BBC Good Food magazine, and now writes a column for Waitrose Weekend, presents BBC Good Food Podcast with Tom Kerridge. Since 2019, he's been President of the Guild of Food Writers. Two's Company: Simple has just been published by Ryland Peters & Small at £20 for a lovely hardback with photography by Clare Winfield © Ryland Peters & Small – it's an early entry in a superb line up of cookbooks published for the Christmas market and these recipes here will encourage you to add it to your gift list.
PENNE ALLA VODKA
"This comforting recipe is from my friend Kristen Frederickson's book Second Helpings, a charming collection of her Anglo-American family's favourite recipes, photographed by her daughter Avery; this is a sequel to her much loved first volume, Tonight at 7.30. Kristen's version uses Italian seasoning and garlic granules, which are not found in every kitchen, so I have with her permission adapted it. If you do have them, use 2 teaspoons of Italian seasoning, and 1½ teaspoons of garlic granules."
250 g dried penne rigate
400-g can chopped or whole plum tomatoes
½ a 75-g garlic and herb rindless soft cheese (such as Boursin)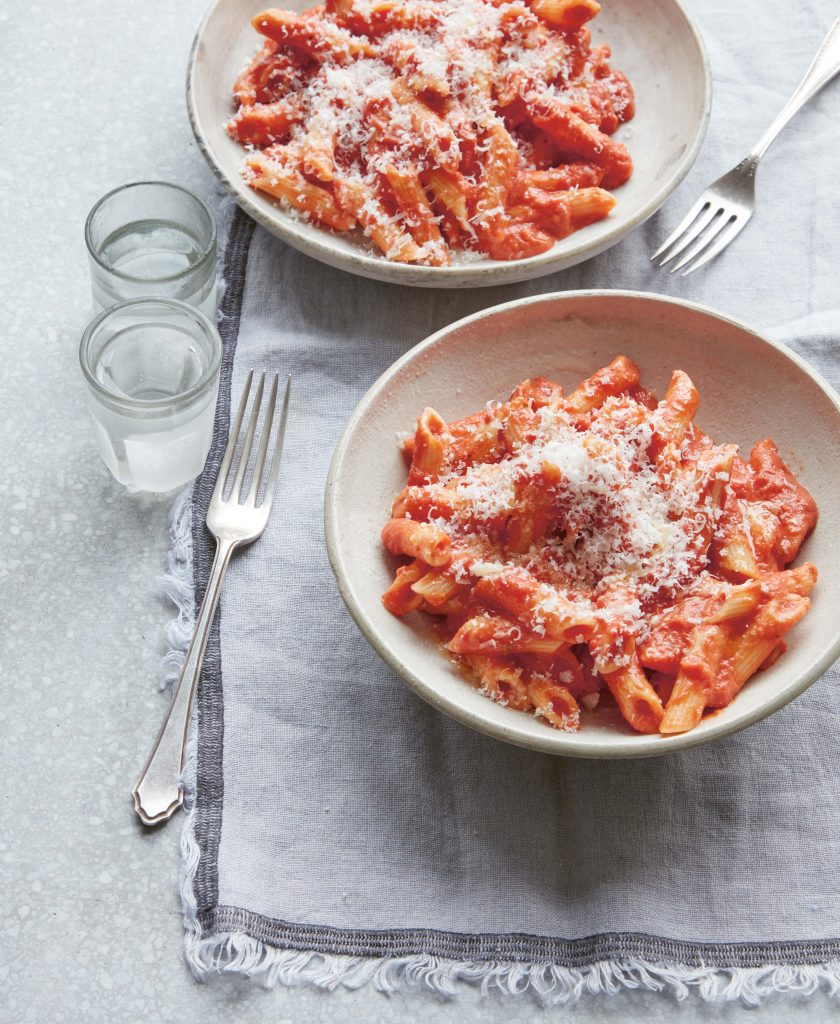 1 garlic clove, crushed
2 tsp dried oregano
½ –1 tsp crushed chillies flakes
2 tbsp olive oil
a good pinch of sugar
3 tbsp vodka or gin, plus a little extra if you wish
freshly grated Parmesan, to serve
1.   Bring a pan of well-salted water to the boil and cook the pasta till al dente (or see below).
2.   Meanwhile, blitz the tomatoes, herbed soft cheese, garlic, oregano, crushed chillies, oil, sugar and ½ teaspoon of salt in a small food processor till smooth (not the vodka just yet). Bring the mixture to a simmer in a pan large enough to hold both sauce and pasta and cover with a lid to keep warm.
3.  When the pasta is cooked, drain it and stir it into the sauce, along with the vodka. Heat through for 3–4 minutes. By all means splash a little extra vodka on top before serving with a generous amount of grated Parmesan.
AN EASIER WAY TO COOK PASTA (YOU HEARD IT HERE FIRST)
If you wish to streamline your life, may I recommend a simplified pasta cooking method. Bring about 1 litre/1 quart of salted water to a rolling boil (you don't need more), add the pasta and stir well. Turn off the heat, clap on the lid and leave for 20 minutes, stirring just once, about 5 minutes in. This will cook spaghetti and most other pastas to perfection (with the exception of orzo, which cooks very fast), but if you are looking for a perfect al dente, start checking from the time recommended on the pack, and leave it till it's how you want it.
This method was pioneered by none other than Elizabeth David, who found it on the back of a pack of pasta. Aggie MacKenzie – star of the television show 'How Clean Is Your House?' – reminded me of it, having learnt it from a Russian friend. It is evidently one of those 'hacks' that deserves to go viral, along with how to eat a banana (start at the bottom end – far easier than trying to snap the stem).
ST CLEMENT'S CREAM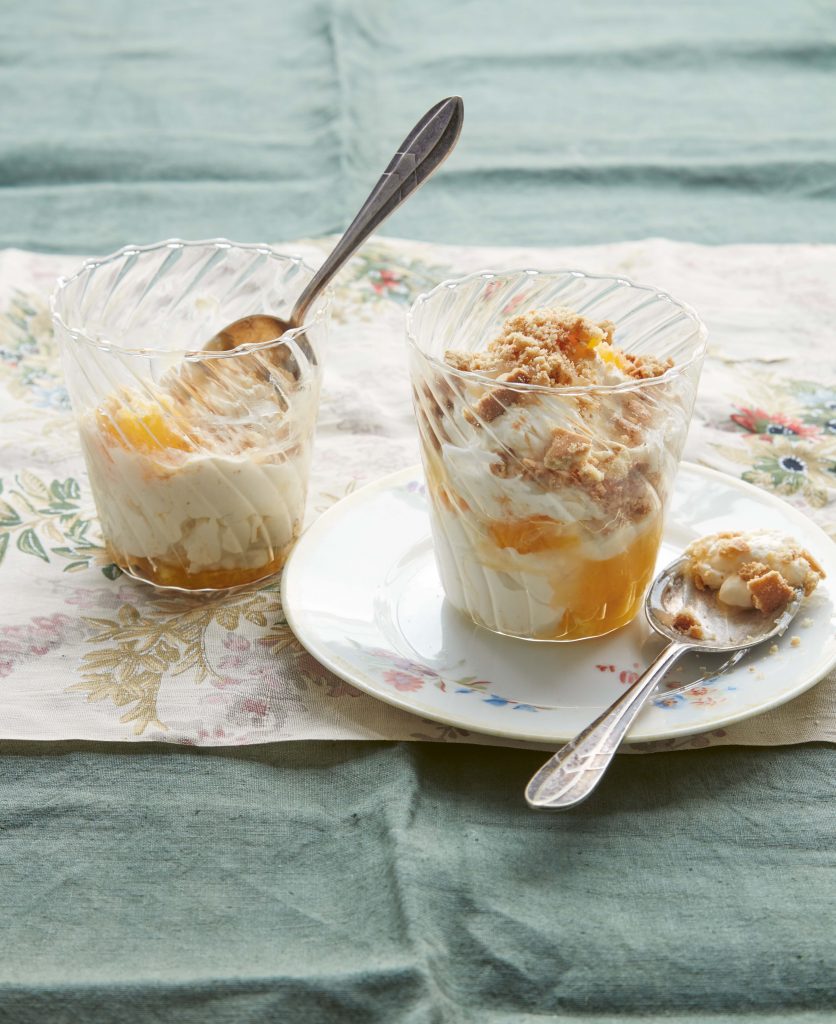 "A tangy, no-cook treat that you can whip up in under 10 minutes, including the washing up. If you wish, you can make one batch of lemon cream and use it to make four desserts for two separate nights, putting a thick layer of sliced strawberries, raspberries or other fruit of your choice at the bottom of each glass."
100 g lemon curd
finely grated zest of ¼ an orange
100 ml double cream
2 tsp orange liqueur (such as Cointreau), orange flower water, or brandy (optional)
a few thin slices of fresh orange, chopped into small pieces
1 digestive biscuit, bashed into crumbs in a bag with a rolling pin
1. Take 2 glass tumblers, each at least 150-ml capacity.
2. Put about three-quarters of the lemon curd, the orange zest, cream and liqueur (if using) in a bowl and whisk to soft peaks. Use your electric whisk if you wish, but if you'd like some exercise it takes about 2 minutes beating vigorously by hand.
3. Dribble over the remaining lemon curd but don't mix in. Divide half the mixture between the 2 glasses, marbling as you go. Place the sliced orange on top, then continue with the rest of the mixture. You can make this up to a day ahead, or if you are making it to eat within an hour or so, place in the freezer to super-chill the dessert.
4. Just before serving, sprinkle with the cookie crumbs.