There's been a lot of excitement in the Richmond area surrounding the recent opening of Gladwin Brothers' latest Local & Wild restaurant – The Fat Badger. It's situated on Hill Street, close to the Odeon cinema and a minute's walk from Richmond Bridge. It's the fifth restaurant by the talented brothers behind the Notting Hill institution, The Shed, Rabbit on the Kings Road, Nutbourne in Battersea and Sussex in Soho. They also own Nutbourne Vineyards and farm in Sussex, so you can expect some great wines! The three brothers use their three unique skills: a farmer, the other a chef, and the third a restaurateur, and share their love for delicious food, foraging, and farming. Together, they have created this group of restaurants, extending their farm-to-fork way of life into London.
So what is The Fat Badger, you are probably thinking? Well, it's very much a neighbourhood venture, and offers an all-day British drinks and dining concept. There are brasserie-style dishes with twists from using wild and foraged ingredients, to unique takes on classics. Sustainability is at its heart and it's a kind of pub/restaurant/bar/café… and it's great! It's somewhere to meet a friend for coffee, a weekend brunch (there's kedgeree on the menu!) or a bite of lunch, a Sunday roast, enjoy a snifter on the way home or pre cinema, or go the whole hog and have a blow out meal there. The décor and atmosphere is relaxed, tables set well apart and it was busy, but surprisingly un-noisy, for a Wednesday evening when we went to check it out.
We began with a delicious glass of Nutty Wild, a 100 per cent Pinot Noir sparkling from the Nutbourne Vineyards (£9.50). The wine list isn't solely British; it's eclectic and well presented, with a good range of wines by the glass (from £5), the 375ml carafe (from £15) and the bottle from £24. While choosing our meal, we had a taste of some of the lovely charcuterie and some smoked, whipped cod's roe (£6), with autumn veg and leek ash. This was a highlight for me – not only was it delicious, but it was presented looking like a beautiful flower with chicory leaves to scoop up the roe.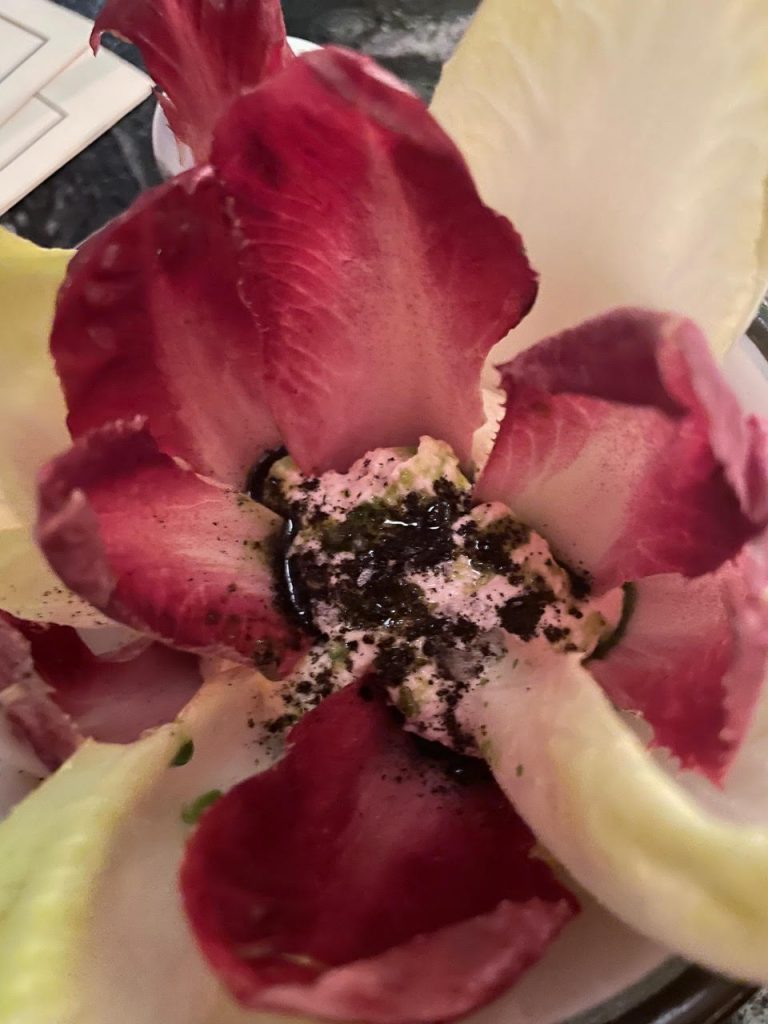 We started with a portion of hand-dived scallops, turnip, blood pudding, crème fraiche and hibiscus (a classic combination at £12) and Portland crab, cucumber, mint & whey (£11.50). Both were beautifully presented and tasty, but my husband was disappointed only to have two small scallops. My crab starter had the addition of pieces of fried Jerusalem artichoke , which not only added texture, but another flavour dimension.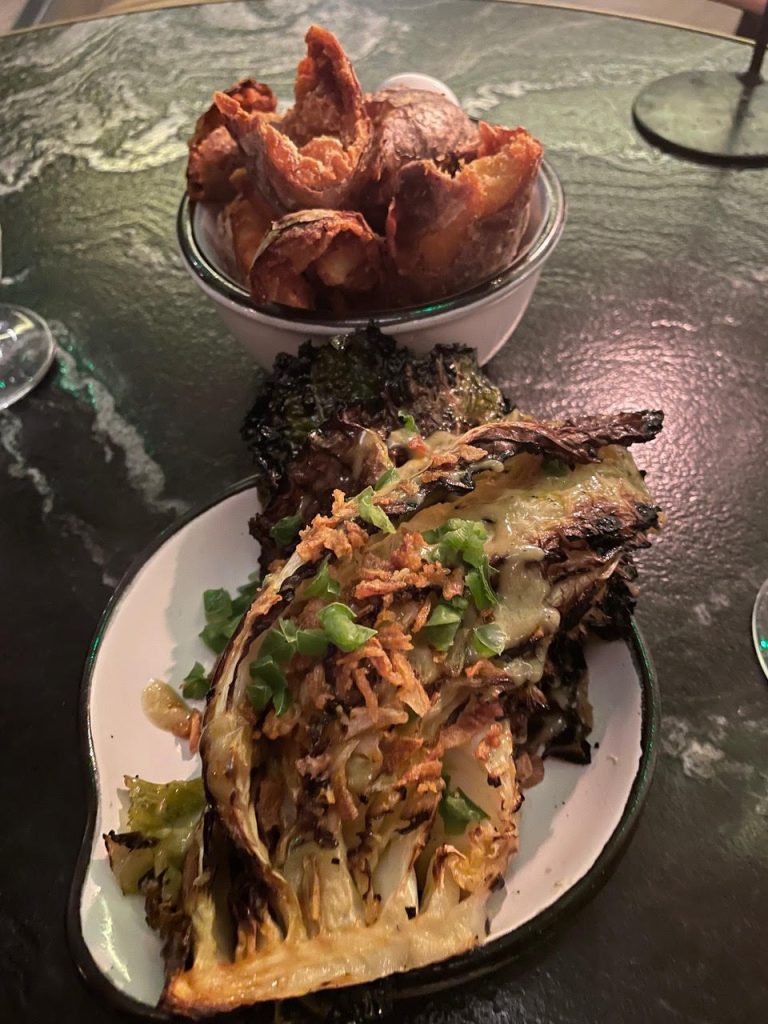 Sticky Spatchcock Partridge, Barley, Sweetcorn, Ground Elder Pesto (£19) tempted my husband next, and I couldn't resist the Butterflied Pork Parmo, with mustard & cheddar sauce, pickled walnut, fennel and sage (£20). The barley was in fact a pearl barley 'risotto' and the tiny taste I managed to steal was really good. My pork was a very generous, delicious, rich combination of classic porcine accompaniments.
The sides are worth checking out here – so delicious in fact, that you could make a complete meal of them! Crispy (and I mean crispy) baked potatoes (£4) and charred cabbage, chilli, burnt leek mayo and crispy onions were something very special indeed. We tried the Sussex Reserve White wine with our starter and the Douro with our mains both recommended by Peter, the assistant manager.
Needless to say, there was little room for a pudding, but my husband was determined to try the Salted Caramel Chocolate Torte, with brandy-soaked grapes and clotted cream (£6.50). I had a tiny taste of the torte and it was warm, dark, and very chocolaty… fab! It tasted almost as though it had Guinness in recipe.
With friendly, professional service, great food and drink and a varied menu, I'm planning another visit very soon; The Fat Badger is a great new jewel in Richmond's culinary crown!