I will never forget that pizza that I bought from a street stall in a back street in Naples many years ago. It tasted absolutely incredible. So if, like me, you're thoroughly enjoying Gino D'Acampo's lovely TV series on TV, you'll be pleased to learn that he's just published a great new cookbook to accompany the series. Gino's Italian Family Adventure: Easy recipes the whole family with love has recently been published by Bloomsbury at £22 for a beautifully photographed (by Haarala Hamilton) hardback book. In the book, Gino takes inspiration from his upbringing in Napoli, transporting the classic methods and ingredients that he grew up with to the modern family table. And there are recipes for Neapolitan pizza too! Most of the recipes are effortless and without loads of complicated ingredients to obtain. You've probably got most of them in your cupboard, but if not, they're easily available at the supermarket. The dishes in the book range from crowd pleasers to fresh takes on classics, such as seafood tagliatelle or spicy pork ribs. The chapters are divided into meal types to help you find the perfect dish for the occasion.
With Christmas entertaining coming up, here are a couple of recipes I thought you'd like from the book to tempt you into buying a copy for yourself or a present (but I bet you decide to keep it!)
RIGATONI WITH CHIPOLATAS, COURGETTES AND MASCARPONE (Serves 4)
'I actually created this recipe as an argument-stopper. My daughter Mia wanted pasta and my boys really fancied a meatier meal. I had some chipolata sausages left over and so this dish came about by me basically throwing what I had in the fridge together to please them all. It is now one of our family favourites! You can use any sausages you like (obviously increase the cooking time a little if they are much bigger), and substitute the Parmesan cheese with pecorino, if you prefer. Peas instead of courgettes also work well.'
6 tbsp olive oil
1 large onion, finely chopped
500g chipolata sausages, chopped into 2cm pieces
1 large courgette, chopped into 5mm cubes
200g pancetta, diced
500g dried rigatoni pasta
250g mascarpone cheese
100ml milk, at room temperature
60g finely grated Parmesan cheese, plus more (optional) to serve
fine sea salt and freshly ground black pepper
Pour 4 litres of water into a large saucepan, add 1 tbsp salt and bring to the boil.
Meanwhile, pour the olive oil into a large shallow saucepan and place over a medium heat. Add the onion and fry for 8 minutes. Place in the chopped sausages, courgette and
pancetta and fry for 20 minutes, stirring occasionally with a wooden spoon.
After about 15 minutes of cooking the vegetables and sausages, put the pasta into the boiling water and cook for 1 minute less than instructed on the packet, giving you the
perfect al dente bite. Spoon the mascarpone into the sausage mix and add a ladle
of the boiling water from your cooking pasta. Add the milk to the sausage sauce and stir well until combined. Sprinkle in the Parmesan, 1 tsp salt and ½ tsp pepper and allow to
simmer for 2 minutes, stirring continuously. Turn off the heat and set aside.
When the pasta is ready, drain, then return it to the large pan in which it was cooked. Pour over the chipolata sauce and stir well, ensuring all the pasta is coated in the sauce. Equally divide the pasta between 4 warmed plates or large bowls and enjoy, sprinkled with a bit more cheese, if you like.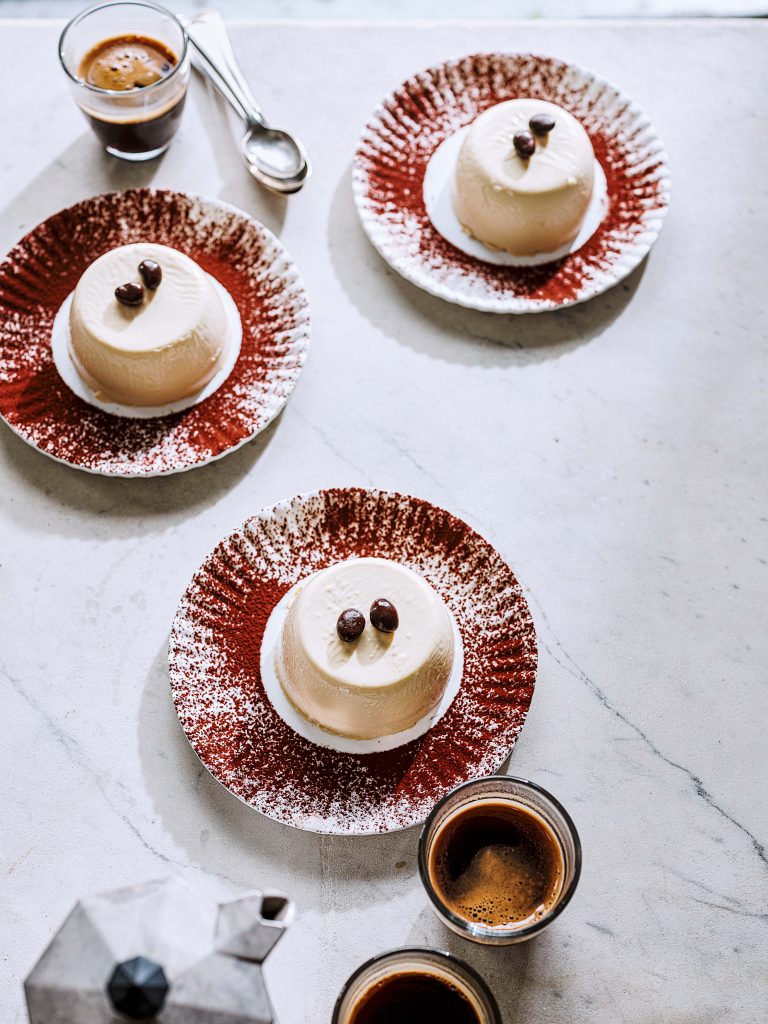 IRISH CREAM PANNA COTTA WITH CHOCOLATE COFFEE BEANS (Serves 4)
'I created this recipe especially for my mother, Alba. She absolutely loved Irish cream liqueur. Growing up, she would often whip up a traditional vanilla panna cotta for us all on a weekend as a special treat, but, as soon as she tried this recipe, it became her signature dish, not mine. If you prefer it the traditional way, substitute the liqueur for 100ml more milk and add a vanilla pod and its
seeds when cooking the cream… but I'm pretty sure, once you try this dish, you will never go back! You will need four 175ml moulds, or you can use ramekins or even cleaned-out yogurt pots, if you like'
100ml whole milk
300ml double cream
100ml Irish cream liqueur
50g caster sugar
2 gelatine leaves, or enough to set 400ml of liquid (check the instructions on the packet)
cocoa powder, to dust (optional)
8 chocolate-coated coffee beans
Pour the milk, cream, liqueur and sugar into a small saucepan and warm gently over a low heat, stirring continuously with a wooden spoon until the sugar dissolves and the cream starts to lightly bubble at the sides of the saucepan, about 6 minutes. Do not boil the milk. Remove from the heat and set aside.
Meanwhile, place the gelatine leaves in a bowl of cold water for 5 minutes. Squeeze them dry, then stir the gelatine leaves into the cream mixture until completely dissolved.
Divide the mixture between 4 x 175ml moulds, cover with cling film and refrigerate for at least 5 hours.
To serve, dust 4 plates with a little cocoa powder, or use a dark plate so the panna cotta will stand out. Dip the moulds into warm water for 20 seconds (make sure you don't get any of the water in the panna cottas), then carefully turn out on to the prepared plates. Place 2 chocolate-coated coffee beans on top of each and serve.