Well, I think this might, finally, be the place that succeeds on that mega site on Richmond riverside! Tootsies, Med Kitchen, Jackson & Rye all tried making a go of what, arguably, should be a prime spot, but failed. Tapas Brindisa has opened with a flourish and it's the group's first venture out of the city, as well as its largest one. Serving breakfast, lunch and dinner, the restaurant celebrates the cultures and exceptional foods of Spain.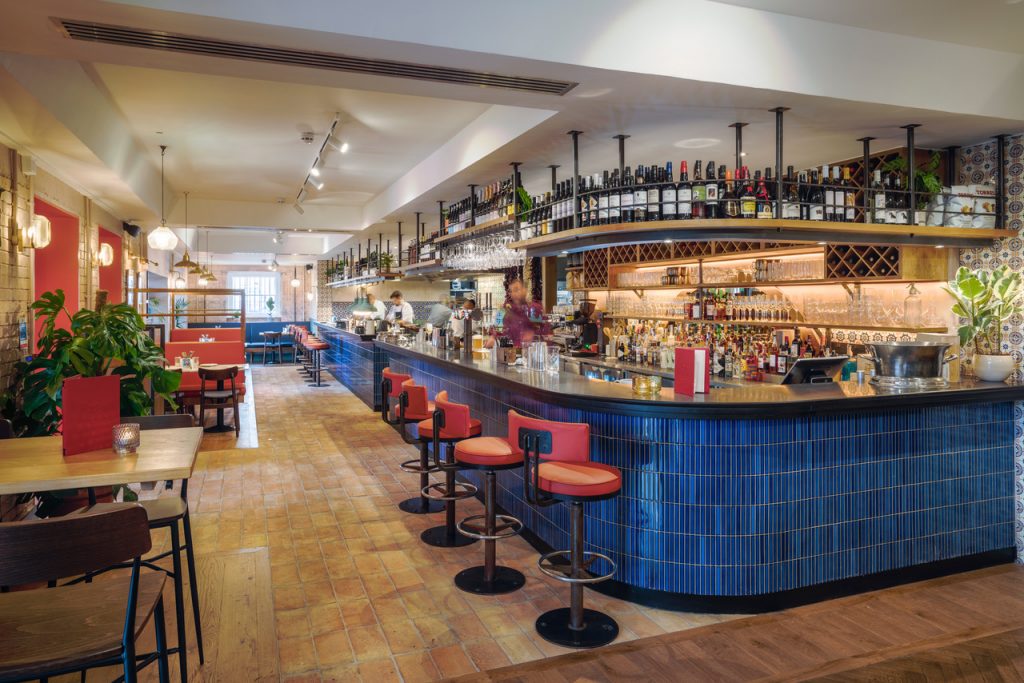 Inside, there's bright tiling, pastel colours and the feel of an authentic Spanish tapas bar. An open kitchen lets customers watch the chefs in action, quieter corners, plus areas that can be sectioned off for private dining. It was buzzing.
The group belongs to the Sustainable Restaurant Association and it shows. Paper menus/placemats state the sourcing and environmental credentials, all impressive.
We started with a cocktail and a beer, and while choosing our tapas enjoyed some Perollo Gordal olives, marinated in orange and oregano. Those olives! I thought I had died and gone to olive heaven; they reminded me of the delicious olives we have enjoyed in Mallorca.
After some helpful suggestions from Alex, the charmingly efficient restaurant manager we settled on Romolacha Asada (£7.50), roasted beets with a blue cheese and yogurt dressing with PX sherry. It was really good. We also enjoyed a platter of Iberico Bellota ham (£22 but worth it!) Next was Monte Enebro (£8) fried goat's cheese with orange blossom honey and black figs: seriously good! Arroz Meloso was mushroom rice with truffle (£10) and it arrived piping hot. It was my husband's first choice from the menu, so I just had a tiny – delicious – taste and left him to polish off the rest. It was really well balanced and perfectly seasoned.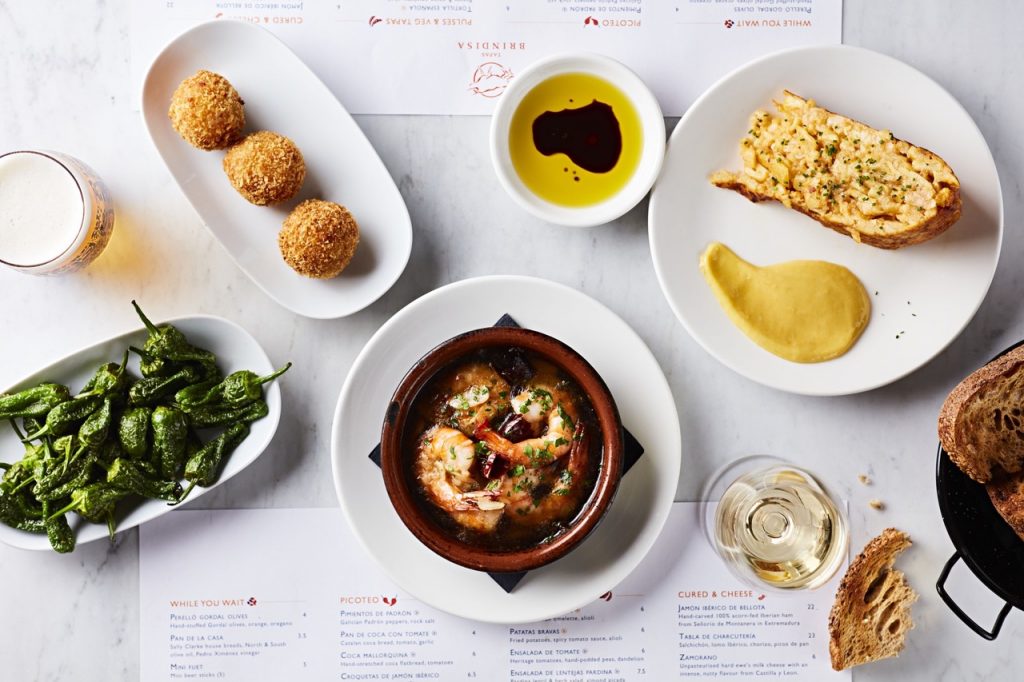 Our final savoury course was definitely worth waiting for: paprika marinated Iberian pork fillet with squash purée and fried kale (£14.50). For me, it was another highlight and probably the best pork I've tasted in a very long time – cooked to perfection, slightly caramelised, just pink and meltingly tender.
With these we enjoyed the Rioja Hacienda El Olmo 2018 at £10 a glass. The wines are well priced with plenty of choice by the glass and starting at £31 a bottle. There's also a good selection of sherries (to be expected of course) from £7.50 a glass.
The dessert menu – not that we really needed any – tempted us to try the Basque-style burnt cheesecake and a portion of Churros. They were as good as expected, based on the superb quality of the previous dishes. I would urge you to try Tapas Brindisa Richmond – it's "tapas with pizzazz!" It's also dog friendly, but a small negative is the noise level – to be expected though when the place is buzzing like it was.