Eleanor Ford's latest cookbook – The Nutmeg Trail – is a triumph. This culinary journey along the ancient spice routes is interwoven with fabulous recipes and stories. It's a veritable pilgrimage, a culinary exploration of spice, showcasing how centuries of spice trading and cultural diffusion have influenced and changed the world's cuisine. It really is a superb book for anyone, like me, who enjoys experimenting with different spices. And what a spice journey it is: through Indonesia, Malaysia, China, Vietnam, Thailand, Sri Lanka, India, Iran and the Emirates.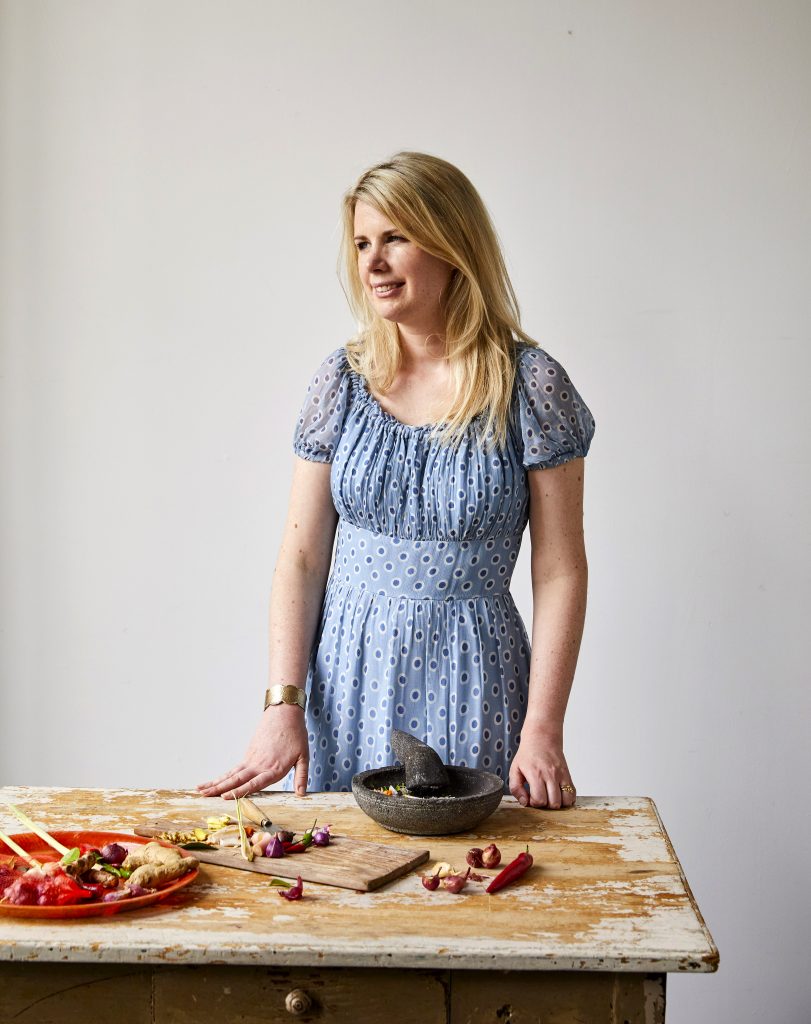 Following the ancient spice trail, Eleanor (who lives in the UK but has lived in Indonesia and Hong Kong) showcases the different elements of spice through her recipes. Salty, gingery, fiery, fragrant, floral – you name it, she's covered it! The book combines historical research with a travel writer's eye and a cook's nose for a memorable recipe – and having tried some of the recipes myself, I can vouch for her ability to tempt those taste buds but also provide a workable and delicious result. Eleanor is an award-winning food writer and this is her third book. The Nutmeg Trail is published by Murdoch Books at £25 for a beautifully illustrated hardback. Here are a couple of recipes from the book – but there are lots of wonderful vegetarian dishes too.
Rica Rica Prawns
"One of the chilli hotspots of the world is Northern Sulawesi. Here fragrant lime leaves, lemon basil and extreme use of chilli typify the food, for heat that hits you with shouts, not whispers. Spice pastes are often used in a one-to-one ratio with the quantity of meat or seafood. Rica rica is the signature cooking style, the 'c' pronounced 'ch' as in 'chilli', which is also what the word means. Stoke the fire to your taste, by all means scaling up the bird's eyes. These are for heat; the seeded larger chillies are there for flavour. Other chilli-seafood dishes of the wider region to explore include prawn sambal (Indonesian versions tends to be more tomatoey than the salty-sweet Malay renditions), Singapore chilli crab (hands-on eating with a rich, sweet red sauce), and the prized spanner crabs of the Philippines island of Mindanao, doused in spicy coconut milk red-stained by annatto."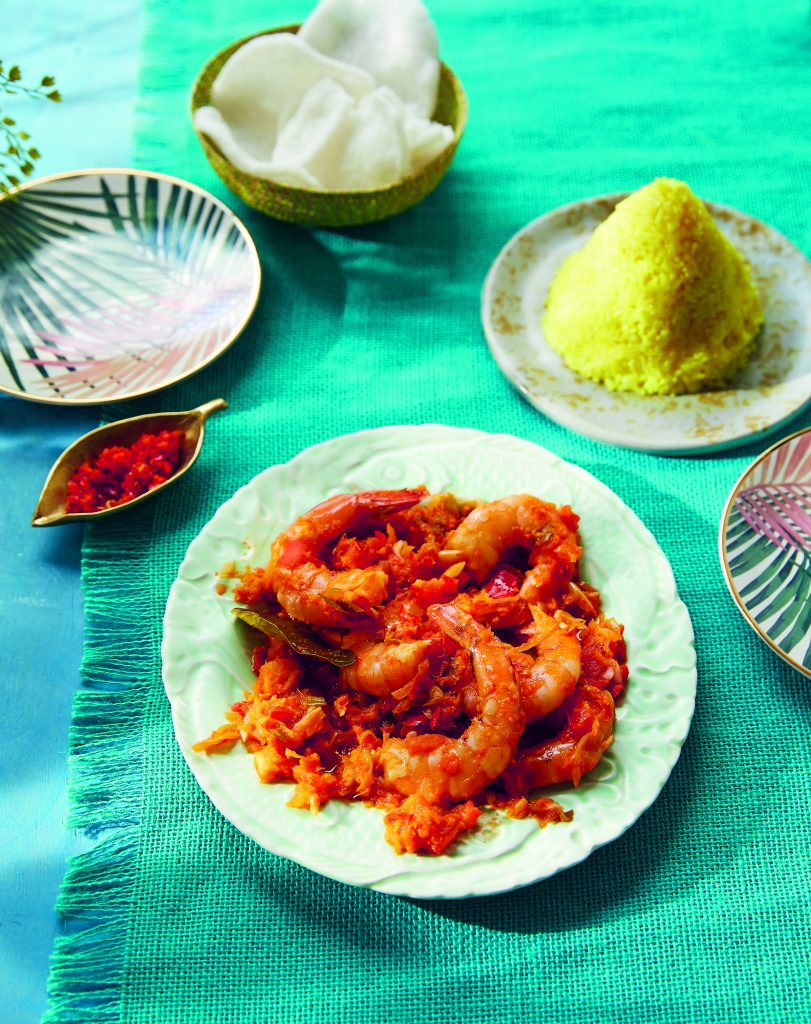 2 tablespoons neutral oil
3 tomatoes, chopped
100g (31/2oz) spring onions (scallions), chopped
4 lime leaves, vein removed
1/2 teaspoon sugar
360g (13oz) raw peeled prawns, tails intact
Squeeze of lime
For the spice paste
5 large red chillies, seeds removed
1–4 bird's eye chillies, seeds in (optional)
4 small shallots
4 garlic cloves
5cm (2 inches) ginger, peeled
1/2 teaspoon fine sea salt
Juice of a lime
Roughly chop the aromatics for the spice paste and blitz all the ingredients together in a blender to a rough paste.
Heat the oil in a frying pan or wok and scrape in the spice paste. Fry on a medium heat, stirring often, until it is sweetly fragrant and the harsh, raw edge has gone. Stir in the tomato, spring onion, lime leaves and sugar and cook so the tomato starts to break down to a sauce.
Add the prawns and simmer for about 5 minutes, until they lose their glassiness and are just cooked through and pink. Spritz in some lime juice and taste to see if any of the flavours need balancing – add more lime to brighten, or sugar and salt as needed. Serve at once.
Eat with: Coconut rice
You may also like a Sour-and-spice pineapple relish: Peel, core and chunk a small pineapple. Chop 2 red chillies, removing the seeds, then grind to a rough paste with 1 tablespoon sugar and 1/2 teaspoon salt. Loosen with 1 tablespoon vinegar and stir through the pineapple. Leave to sit for 15 minutes for the flavours to mingle.
Griddled Pita Stuffed with Sumac-spiced Meat
Arayes, Middle East and Levant, Serves 4
"A wonderful addition to the kebab culinary canon and a reversal of the usual order of things, as meat is wedged into pita bread before being griddled. In Arabic, arayes means 'brides' and here she is, the delicately spiced filling, enveloped in the arms of her groom, the bread. The marriage is undeniably burger-like but even quicker to prepare and with enticing sour and smoky notes from the sumac and paprika.
These kebabs work well made in advance and packed up to cook on a campfire, if you are that way inclined."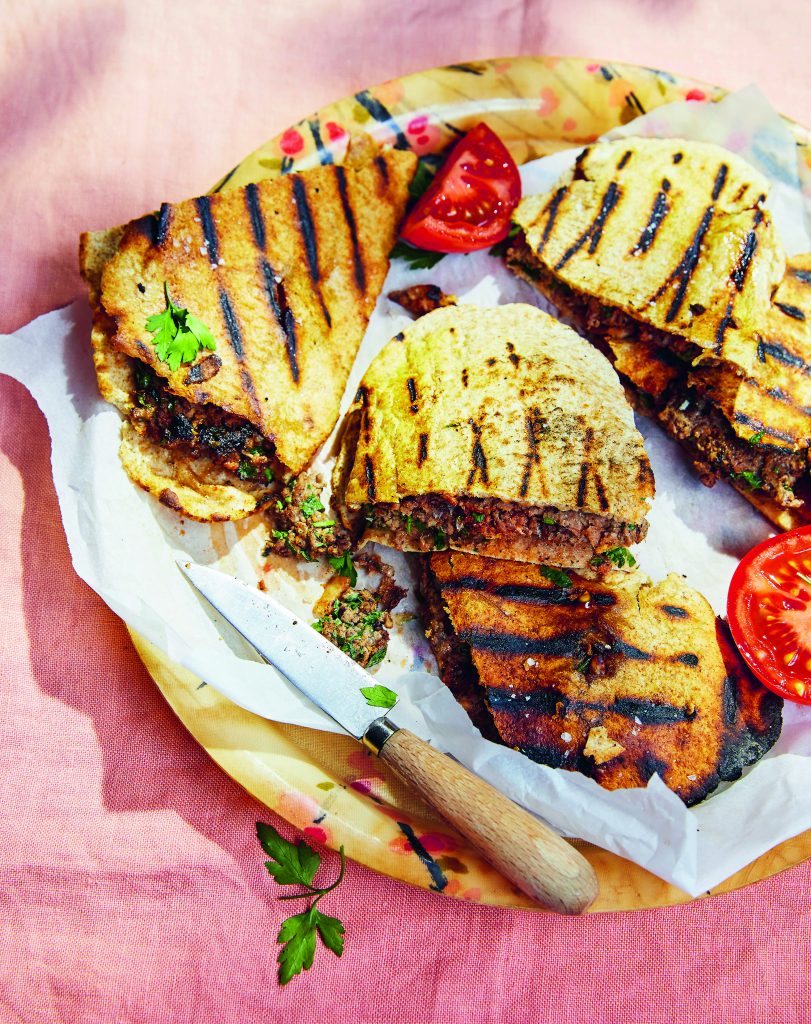 450g (1lb) beef or lamb mince
1 heaped tablespoon tomato paste (concentrated purée)
1 heaped tablespoon pine nuts, toasted
1 heaped teaspoon ground sumac
1 heaped teaspoon smoked paprika
3/4 teaspoon ground allspice
3/4 teaspoon fine sea salt
3 tablespoons finely chopped parsley
4 large pita breads
Olive oil, for brushing
Pomegranate molasses, to serve
Mix together the minced meat, tomato paste, pine nuts, spices, salt and parsley.
Cut the pita breads down one side and spread the filling in each in a thin and even layer. Brush the outsides with olive oil.
Heat a griddle pan to medium–high. Grill the pitas, pressing down with a spatula and flipping occasionally. A quarter turn in the pan will give you crisscross markings. They will probably take about 8–10 minutes in total, depending on your bread and how rare you like your meat. The pita should be well toasted and the meat cooked to a juicy pink
or well done.
Serve drizzled with pomegranate molasses.
Eat with: Crunchy salad with tomatoes, herbs and perhaps a tahini dressing. You can make one by mixing Greek-style (strained) yoghurt with a minced garlic clove, a few spoonfuls of tahini and seasoning with salt.