If, like me, you went to Pub in the Park at Chiswick House recently, you may well have had a chance to try One Gin.  This Richmond-based company has an intriguing history and business ethos, so I wanted to find out a bit more…
It's a highly ethical drinks brand, one that started with water, with the profits funding sustainable water projects in the world's poorest communities.  The company now produces its own gin – One Gin – with profits helping the One Foundation's mission to raise an amazing £25 million for water projects.  A minimum of 10% of the profits from One Gin fund projects via The One Foundation.
So how did it all start? With a hurricane!  Hurricane Mitch in 1998 saw Duncan Goose caught up in it in Honduras, and finding out, first hand, what life's like without access to safe drinking water. Returning from his travels, four years later he saw a news image of a young girl in Nairobi, Kenya, seated beside a padlocked tap.  This was the trigger: he re-mortgaged his flat, quit his marketing job and launched the ethical bottled water brand, One Water.  A simple idea: sell bottled water here in the UK and give profits to fund clean water in the world's poorest communities.  The rest is history; the company secured flagship customers, the team was invited in May 2015 to 10 Downing Street by Samantha Cameron to celebrate reaching its first £10millon raised for The One Foundation. But this success was topped by Duncan finding the young girl whose photo had inspired him a decade earlier.  Diligent research found Ann in Kibera, an informal settlement in Nairobi, and the foundation is still in touch and supporting her family.
As One Gin is based in Richmond, I asked co-founder Cecile Beaufils what their links were to the Richmond area.  "Richmond has been home for most of our adult lives – Duncan and Ian have lived and worked in the neighbourhood for the last 25 years and I was lured down from North London to live with my husband Ian! Our children go to school locally.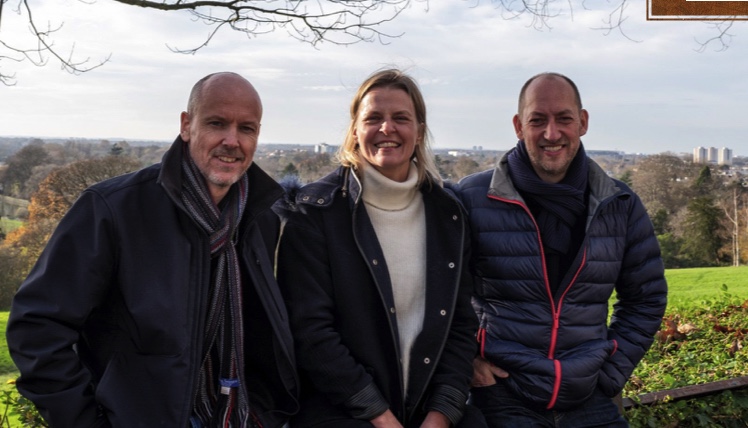 "I sometimes pause when walking by the river or in Richmond Park and think, I live in a postcard! We live and work in an area of such outstanding beauty whilst being on the doorstep of one of the world's greatest capitals. We love that we have the best of both worlds here."
Ian Spooner, Cecile's husband and another co-founder of One Gin says: "At the heart of everything we do, there's a passion for top quality spirits, but also a belief that business can and should be a force for good."  The bottle is made in Yorkshire, and everything, even down to the labels being made from recycled apple pulp and a stopper made from wood and natural cork, is as carefully chosen as the ingredients for the gins themselves.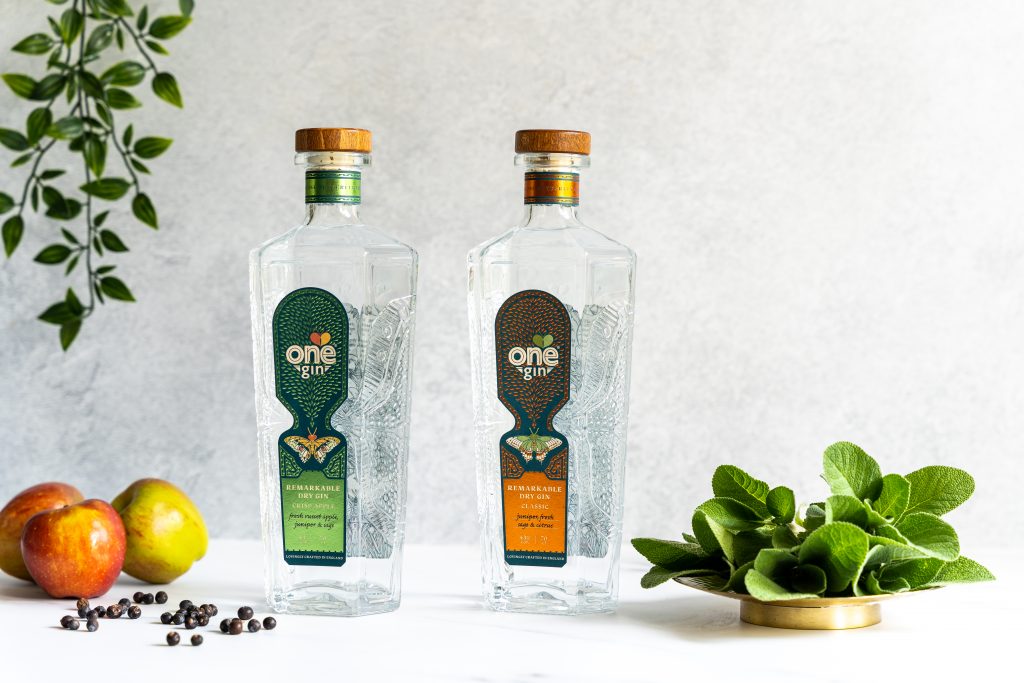 So what about the gins themselves?  There are two so far: One Gin Classic and One Gin Crisp Apple.  The gins are really smooth and delicious and full of aromatic notes.  They are also available in ready to drink cans.  And the fabulous new 'Butterfly' bottle has been cleverly designed to convert into an attractive water carafe – hidden beneath the labels it's engraved with the word 'water'.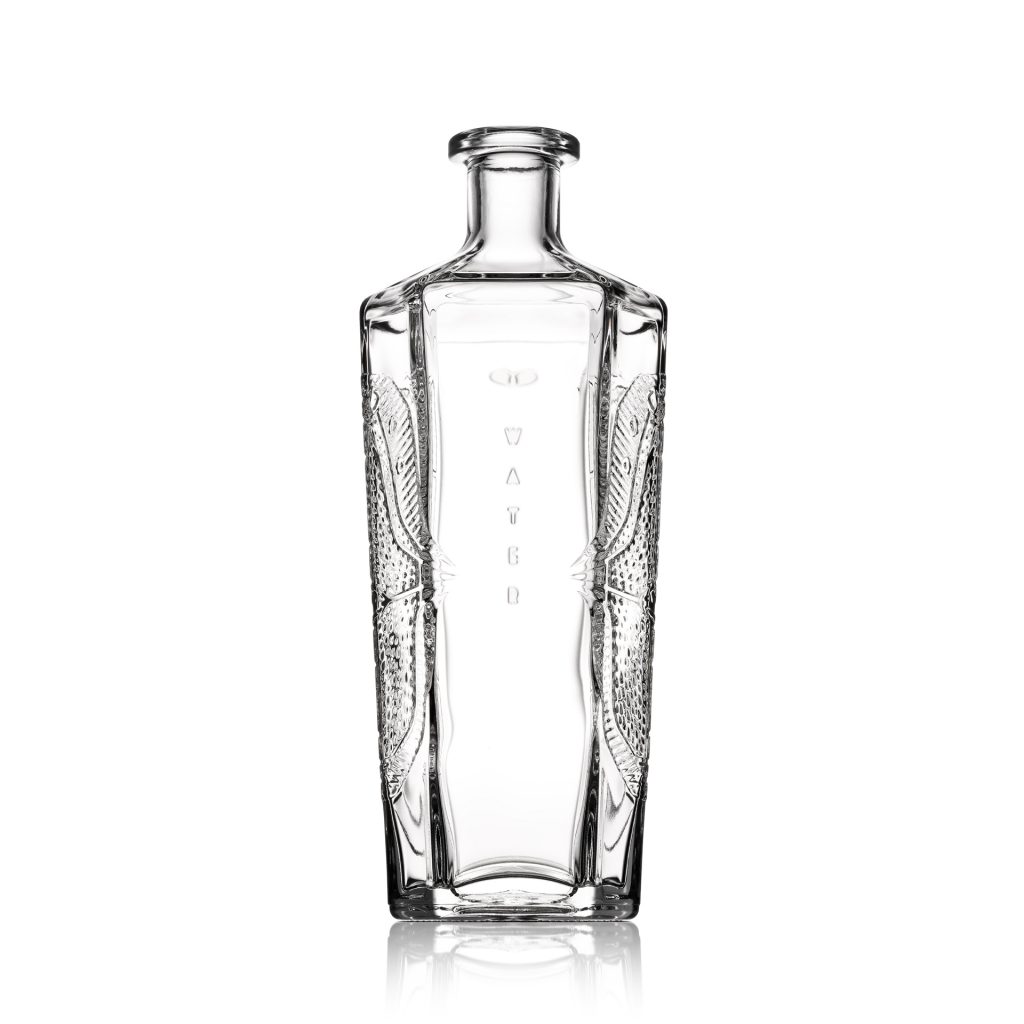 Pub in the Park was a new exercise for One Gin, but a great success.  "They work phenomenally well for us,   and are bang on our target audience: people who love food and drink, and discovering interesting new brands.  Sales are good, but equally important is the opportunity to introduce ourselves, sample our spirits, meet the locals and have positive conversations with consumers and the trade." adds Cecile.
One Gin has already raised over £25,000 for The One Foundation and Cecile says that this is, of course, a drop in the ocean compared to the £25 million raised by the foundation as a whole.  But it's early days for the brand, and as it grows, so will its donations.  The foundation's £25 million has changed the lives of 4 million people to date and is working to address the needs of the 785 million people around the world who are still without access to safe water.   
One gin is available from Master of Malt, Amazon or directly from thespiritofone.com at £36 a bottle.  
But it's also widely stocked in local restaurants and bars, including: Incognito; Rock & Rose; Bacco's; The Tap Tavern; Local Fullers Pubs (The White Horse, The Angel & Crown, The Princes Head, Tap On The Line, etc.);  The White Swan; The Red Cow and, last but by no means least, Bingham Riverhouse, where owners Ruth and Samantha Trinder have strong family links with Kenya.