Not before time, it looks as if our summer might be coming to fruition.  So I've been doing some research recently on the best picnic food. Whether you're planning to picnic in the park, on a walk, on the riverside (or better still on a boat) you need things that are easy to carry, and easy to eat.
Whacky Crisp flavours
Crisps are always a popular ingredient and there have been some interesting developments on the flavour front from Walkers. The company has launched a limited edition range of crisps, but flavoured as other iconic brands,  Wotsits Really Cheesy, Monster Munch Pickled Onion and Doritos Chilli Heatwave.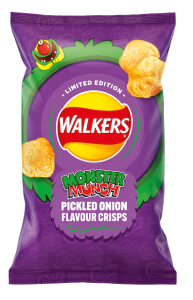 They rather play with your senses, but are great fun (especially if you try to guess the flavour).    And not content with that, Walkers has also joined forces with Pizza Hut to create Pepperoni Feast and also Texan BBQ Pizza flavoured crisps for its Walkers MAX ridged crisps. (and each bag unlocks a buy-one-get-one-free deal on all delivery and collection orders at Pizza Hut)
Easy Nibbles
Why faff around with lots of different packs of nibbles when you can just open a selection that's already been selected? 
Cypressa has launched a range of sharing platters inspired by the flavours of Italy, Spain and Greece – and they are perfect.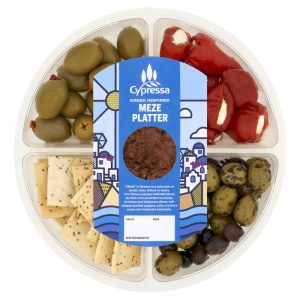 We recently tried the Greek Meze one, and it included Halkidiki olives stuffed with sundried tomatoes, Amfissa and Kalamata olives, soft cheese stuffed peppers, pitta crackers and a rich Kalamata tapenade. It was delicious and just the right amount for four people to enjoy with a bottle of wine.
They are available at Tesco (from the deli counter) for £7
Convenient Drinks
But we don't always want to splash out too much on drinks and of course, folk often want to choose their own drink.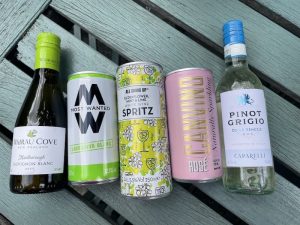 I've been very impressed with the range of single serve bottles and cans available at Tesco. They have a great range including: Canvino Naturally Sparkling Rosé Wine 200ml, £2.50 Most Wanted Sauvignon Blanc Can 187ml, £2.10 All Shook Up Spritz Elderflower Mint & Lime 250ml, £1.75 Wairau Cove Marlborough Sauvignon Blanc, 187ml, £2.25 Caparelli Pinot Grigio, 187ml, £2.00
Ready Mixed Cocktails
Maybe you're a cocktail fan? 
If you're seriously into ready mixed cocktails, you could try Mix Up's range of ready to drink cans – and they're great to pack for a picnic.  There is a great range including G&Ts Vodka Lime & Lemonade, Pink G&T and now three new variants: Coffee Rum and Cola; Apple Rum, Lime & Ginger Ale and Pink Gin and Diet Lemonade.
From selected Tesco, Morrisons or Co-op stores nationwide or find out more at www.mixupdrinks.com
Rather Special English Sparkling
If you're having a celebratory picnic, how about a good English sparkling wine? 
I've recently found a debut vintage Blanc de Noirs 2018 that won the Sparkling Wine Trophy at the Independent English Wine Awards (IEWA)  2023.  It's called Busi Jacobsohn – and not content with winning this award, it also bagged a Gold medal at this year's International Wine Challenge! 
This delightful wine has lemon sherbet and biscuit with a pinch of sweet spices on the nose. Then brioche and hazelnuts on the palate, with plenty of complexity and depth. Great length with notes of crushed almonds on the finish. 
It's 92 % Pinot Noir and 8% Pinot Meunier and 12% alc and worth the indulgence: Busi Jacobsohn Blanc de Noirs 2018  £48, Yapp.co.uk, Harvey Nichols, busijacobsohn.com
A Delightful Cheesy Finale
Rather than finish your picnic with anything chocolatey or sticky that might encourage wasps, it's far more sensible to take some nice cheese. 
One of my absolute favourites in terms of a widely available branded cheese is Applewood Smoked Cheddar. This multi award winning cheese makes the perfect picnic finale. (especially with some grapes)
The company also produces a very acceptable plant based smoked cheese. Applewood and Applewood Vegan are available in Sainsbury's, Tesco, Morrisons, Asda, Ocado and Waitrose, Applewood Vegan Grated is in Tesco and Ocado, Applewood Vegan Slices are in Waitrose, Sainsbury's and Ocado, and Applewood Vegan Minis have just launched in Morrisons.
Clever Containers
When you're packing for a picnic, it makes sense to have a container that is reusable, but ideally one that packs flat when empty, to save space.
The Mnched collapsible lunch box/bowl can easily be compacted when not in use, then packed, and stored away. By using the collapsible lunchbox, you can also reduce the amount of waste generated from single-use plastic containers. It reduces to just 3cm, making it easy to stack in your cupboard and keep your kitchen organised.
Plus, it's microwave and dishwasher safe making it even more useful. The Mnched Collapsible Lunch Box is available in 3 colours and costs just £20 from Mnched.com
The Ultimate Rose
If a good, refreshing, Provencal rosé is more to your taste, then I would highly recommend trying Ultimate Provence.

Characterised by its elegant, distinctive, fluted bottle, this vibrant pale pink rosé offers intense aromas, revealing bold fresh lemon and exotic fruit notes, bold florals and an unexpected subtle white pepper kick. Ultimate Provence is produced at a 114-acre natural wine estate of AOP Côtes de Provence vines, tucked away in the hills behind Saint-Tropez, where the Syrah grape variety flourishes.  
It's available at around £20 a bottle from fine wine stores, Waitrose and Amazon.