This glorious cookbook is the perfect tonic for anyone who's not going to the Mediterranean imminently (or, indeed, anyone who has just returned).   With Mediterranean Summer Table, author Kathy Kordalis has produced a fabulous collection of timeless and versatile recipes – all inspired by the food of the Mediterranean countries. 
The collection has something for every day, any occasion and all appetites.  It features sauces, pickles and ferments for the fridge and store cupboard, recipes for easy homemade breads, seasonal veg dishes, fish plates and meat plates.
Oh, and there are also some deliciously indulgent sweet things! 
Add to this, the fact that Kathy has peppered vignettes on key Mediterranean ingredients (most incidentally are available from any good local Mediterranean Supermarket or online).  
About Kathy
Kathy was raised by Greek parents in Australia, and her food style draws inspiration from her Aussie and Med heritage. 
She's a graduate of Leith's School of Food and Wine, and now works as a freelance food stylist and gastronomic tour guide in London. 
Mediterranean Summer Table by Kathy Kordalis, is published by Ryland Peters & Small (£20) 
Photography by Mowie Kay © Ryland Peters & Small
Here are some recipes to tempt you into buying the book.  A delicious light gnocchi,  some wonderful Greek biscuits and a truly wonderful walnut & espresso cake that will prove very popular indeed:
BUTTERNUT & RICOTTA GNOCCHI with walnuts & sage
Sometimes you want to eat something that is lighter than potato gnocchi but just as comforting. This dish hits the mark with the addition of ricotta, making a sweet, earthy and creamy gnocchi dish.
1 butternut squash, peeled, deseeded and chopped into chunks
1 egg, beaten
250-g tub of ricotta
150 g plain flour
½ teaspoon freshly grated nutmeg
20 g Parmesan, grated, plus extra to serve
45 g butter
2 tablespoons olive oil
handful of fresh sage
30 g walnuts, chopped
sea salt and black pepper
SERVES 2
Place the squash in a saucepan of boiling water and cook for 15 minutes, then drain well. Transfer to a bowl and mash with a masher or fork. Tip into a sieve or colander and press with a spoon to squeeze out as much water as possible.
Place the mashed squash in a bowl. Add the beaten egg, along with the ricotta, flour, nutmeg and Parmesan. Season with plenty of salt and pepper and stir to mix. You should have a thick, slightly sticky mixture – not quite a dough but close to it. Set aside.
Bring a large saucepan of water to the boil. Scoop 1 tablespoon out of the gnocchi mix. Scoop between two spoons to shape into an oval and drop into the water. Repeat until you have 6–8 gnocchi in the pan. Simmer for 2–4 minutes until they float – the water will go cloudy.
Lift the gnocchi out of the pan with a slotted spoon and repeat with the rest of the mix.
Melt half the butter with a splash of oil in a frying pan over a medium heat. Add the gnocchi and fry for 5–8 minutes until golden, turning once or twice.
Melt the rest of the butter in the pan. Pick the sage leaves off the stalks and add them to the pan with the walnuts. Fry for 1 minute until they sizzle, then spoon over the gnocchi. Serve with extra Parmesan
AUBERGINE TARTARE with flat-leaf parsley salad (SERVES 4 TO SHARE) 
'A flavour-packed super tasty alternative to steak tartare. A great side or starter, or serve as canapés for a crowd.   It is also nice piled into a bowl with the bread on the side, for people to help themselves family style. '
2 aubergines, cut into small cubes 
2 tablespoons olive oil, plus extra for brushing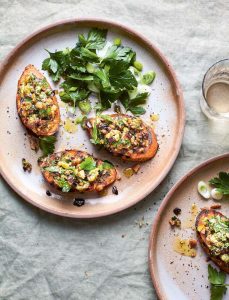 20 thin baguette slices
2 tablespoons finely chopped mixed fresh herbs (chervil, parsley, tarragon)
1 teaspoon cornichons, finely chopped
1 teaspoon capers, finely chopped 
1 teaspoon Dijon mustard
freshly squeezed juice of 1 lemon 
Tabasco sauce and parsley oil, to taste
sea salt and black pepper 
PARSLEY SALAD 
50 g fresh flat-leaf parsley, coarsely torn 
15 ml extra virgin olive oil 
3 spring onions, thinly sliced 
freshly squeezed juice of 1⁄2 lemon 
Preheat the oven to 160°C fan/180°C/350°F/gas 4. Line a baking sheet with non-stick baking paper. 
Place the aubergine in a single layer on the lined baking sheet, season well with salt and pepper and drizzle with olive oil. Bake in the preheated oven for 20–25 minutes until golden brown. 
Brush the baguette slices with olive oil, season to taste and bake, turning once, for 5–7 minutes until golden and crisp. Set aside to cool. 
For the parsley salad, combine all the ingredients in a bowl, toss lightly to combine and set aside. 
Put the roasted aubergine in a large bowl with the remaining ingredients, stir to combine and season to taste. Pile the onto the toasted crostini, top with parsley salad (or serve alongside) and serve. 
WALNUT & ESPRESSO CAKE (SERVES 6) 
'A favourite afternoon pick-me-up or a great cake to serve to a crowd. Incredibly moist and tasty with the classic combination of coffee and walnut, this will become a family favourite.' 
220 g golden caster sugar 
4 eggs, separated, plus 1 extra egg white 
130 g walnuts, finely chopped, plus extra to finish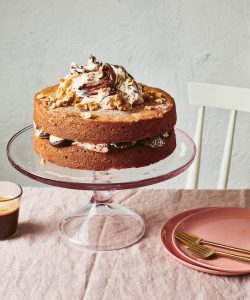 100 g plain flour, sieved
sea salt 
ESPRESSO CREAM 
100 g pure icing sugar, sieved 
100 g softened butter 
30 ml espresso 
100 g dark chocolate, melted 
22-cm/83⁄4-in. round cake pan 
Preheat the oven to 160°C fan/180°C/350°F/gas 4. Line the cake pan with non-stick baking paper. 
Whisk the sugar and egg yolks together in an electric mixer for about 4–5 minutes until very thick and pale and the mixture resembles frosting. Transfer to a large bowl, stir in the walnuts, then the flour, a little at a time, until combined (the mixture will be very stiff). 
Whisk the egg whites and a pinch of salt in an electric mixer for about 2–3 minutes until firm peaks form, then stir half of this into the walnut mixture. Fold through the remaining egg white and spoon into lined cake pan. 
Bake in the preheated oven for 20–25 minutes until lightly golden and firm to touch. Cool in the pan, then turn out, trim the sides and cut in half horizontally. 
For the espresso cream, beat the sugar, butter and espresso in an electric mixer for about 6–8 minutes until pale and fluffy. Swirl the melted chocolate through the cream. Spread the bottom half of the cake with half the espresso cream, sandwich with the top half and set aside to set for 20–30 minutes. 
To serve, pile the remaining espresso cream on top and scatter with extra chopped walnuts. 
GREEK-STYLE ALMOND BISCUITS with orange blossom & ouzo
A traditional Greek kourambiethes is a shortbread-style cookie covered in icing. Best served with a coffee and a cold glass of water, this version has a sprinkle of orange blossom and ouzo in the filling.
160 g blanched almonds
300 g unsalted butter, softened
120 g icing sugar, plus extra for dusting
1 egg yolk
60 ml ouzo, brandy or apple juice
1 teaspoon vanilla extract
1 teaspoon orange blossom water, plus extra to serve
450 g plain flour, sifted
75 g cornflour
2½ teaspoons baking powder
pinch of sea salt
MAKES 30
Preheat the oven to 160ºC fan/180ºC/350ºF/gas 4. Line 2 baking sheets
with non-stick baking paper.
Place the almonds on one of the lined baking sheets. Bake in the preheated oven, tossing occasionally, for 10–15 minutes or until toasted.
Set aside to cool.
Place the almonds in a sealable plastic bag and use a rolling pin to crush them until they resemble coarse crumbs.
Meanwhile, use an electric mixer to beat the butter and icing sugar in a bowl until pale and creamy. Add the egg yolk, ouzo, brandy or apple juice and vanilla and beat to combine. Add the flour, cornflour, baking powder, salt and crushed almonds in batches, stirring after each addition until just combined.
Roll 2 tablespoonful portions of mixture into balls. Shape each portion into a crescent shape and place on the second lined baking sheet.
Transfer to the fridge for 15 minutes to chill.
Bake the biscuits for 20–25 minutes until light golden. Place the extra icing sugar on a rimmed baking sheet. Transfer the biscuits to the baking sheet and roll in the icing sugar to evenly coat.