What fun we had after a bite to eat at the Turk's Head in Twickenham the other evening!  
Open Bar Theatre – following the success of Shakespeare in the Garden – is this summer performing Jane Austen's Sense and Sensibility in Fuller's pub gardens this summer. A quartet of talented performers are delighting audiences with this much-loved classic until 10 June.    The four actors perform a multitude of characters, amid umpteen, amusing and clever costume and scenery changes.  They also involve a few unsuspecting members of the audience, and the whole thing is hilarious.  
Jane Austen Classic – reworked!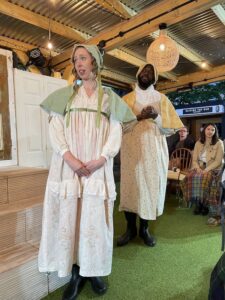 Sense and Sensibility tells the story of the Dashwood sisters, Elinor, Marianne and Margaret as they come of age. It follows the three sisters as they must move with their widowed mother from the estate on which they grew up and look for a new home. They find themselves on the property of a distant relative, Sir John Middleton, and start on a journey of love, romance and heartbreak. 
You can still catch it locally
It's coming next week to The Prince Albert, Twickenham on Monday May 22; The Hare & Hounds Osterley on Tuesday 23; The Anglers, Teddington on Wednesday 24 and other southern locations including The Duke of Kent in Ealing on Friday 8 June.  I thoroughly recommend it.
Tickets can be purchased on Fuller's website.