Every so often, I stumble upon a cookbook that really hits the spot as far as my style of cooking goes. Recently, I've been reading Muddy Spuds, by chef Shona Pollock, whose 30 or so year career has been spent cooking for  weddings and private clients.
With her expertise and passion for unpretentious, but delicious, food jumping from every page, Shona's decision to bring her recipes together in a cookery book to hand down to her son and nephews has resulted in a recipe compendium that will inspire and entice you – irrespective of your cooking ability – to head to the kitchen and start cooking. Known by many as one of the best wedding caterers in the business, Shona now shares her recipe repertoire. From mouth-watering canapés, to sharing the secrets of cooking game, or delicious veggie options and desserts to die for, Shona's collection of 200 recipes will be a great addition to your cookbook library.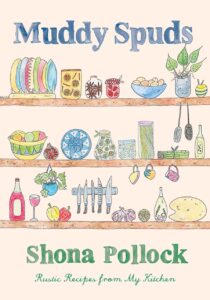 Shona has always championed seasonality in her recipes, bringing together the best ingredients available throughout the year, ensuring we make the most of our excellent UK grown produce and save money too. Refreshingly different, this book isn't penned by a chef whose celebrity outshines their recipes.   Muddy Spuds provides you with classic, unpretentious recipes that Shona's prepared for her friends, family and clients over the years.
Interestingly, this lovely book doesn't have any photos!  Don't be put off though, there are fabulous sketches by artist  Harriet Hodgkinson throughout the book, as you'll see, with this taste of the contents of this lovely book below.
Published by Jersey Royals Publishing, Muddy Spuds – Rustic Recipes From My Kitchen is available in hardcover (£25.00) from the author's website
Fennel and Feta with Pomegranate Seeds and Sumac
This is a lovely simple salad – goes with anything or just have a big bowl on its own. I think my friend, Fi Potter, gave me this among many other lovely recipes she has passed on to me. You can make it more substantial for a supper dish and add some slices of cooked chicken and some roasted pine nuts, should you wish.
Serves 4
1 tablespoon pomegranate seeds
2 medium fennel heads
1½ tablespoons extra virgin olive oil
2 teaspoons sumac
juice of 1 lemon
2 tablespoons flat-leaf parsley, roughly chopped
100g feta, crumbled
salt and freshly ground black pepper
Remove the leaves of the fennel, keeping a few to garnish later, and trim the base, making sure you leave enough of it still attached to hold the slices together. Slice very thinly lengthwise.
In a bowl, mix the olive oil, sumac, lemon juice, herbs and some salt and freshly ground black pepper. Add the fennel and toss well. Taste for seasoning but remember the feta will add saltiness.
Layer the fennel, then the feta and then the pomegranate seeds. Garnish with fennel leaves, sprinkle over some sumac and serve immediately.
Chicken Thighs with Oregano and Pomegranate Molasses
This recipe was given to me by a client, Catharina Mannerfelt, for whom I cook regularly. You could serve it with a good Greek salad and some lovely new potatoes.
Serves 4
8 chicken thighs with skin on and bone in
2 tablespoons light olive oil
sea salt
500g red onions, finely sliced 
4 garlic cloves, crushed
2 tablespoons pomegranate molasses
3 tablespoons light soy sauce
1 tablespoon runny honey
1 teaspoon freshly grated ginger
1 small bunch fresh oregano or 1 teaspoon dried oregano
50ml water
Preheat the oven to 180C
Heat oil in frying pan and brown chicken thighs – 4 at a time. Don't overcrowd pan so they brown nicely and don't stew. Once brown remove from pan and set aside.
Fry the onion until soft – about 10 minutes – add the garlic to the pan and fry for one minute.
Mix the garlic and onion with the chicken and then add the molasses, soy sauce, honey, ginger and oregano.

 

Add the water and then put the whole lot into a baking dish. Cover with foil, roast for 30 minutes and then remove the foil and bake for another 15 minutes.
Cheat's Caesar Salad
I used to go to all the trouble of making a Caesar salad from scratch with homemade mayonnaise, but once I found this recipe using good old Hellmann's I have never looked back. You could always add cooked chicken to this and some sliced avocado. We do this with the lettuce chopped very finely as a canapé, either served in a spoon or on a little bit of baked and oiled bread.  
Serves 4
1 small cos lettuce
2 little gem lettuce
1 handful of rocket leaves
shavings of Parmesan
Croutons
50g crustless white bread, cut into cubes
1 tablespoon light olive oil
1 tablespoon finely grated Parmesan
Dressing
2 tablespoons mayonnaise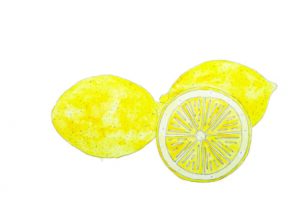 dash of Lea & Perrins Worcestershire sauce
juice ½ lemon
1 tablespoon grated Parmesan
Preheat the oven to 180C
Make the croutons. Place the cubes of bread in a bowl together with 1 tablespoon olive oil and 1 tablespoon Parmesan plus the crushed garlic clove. Stir and toss to cover the bread in the oil and cheese and bake on a baking sheet for 10 minutes until crisp and brown.
Make the dressing by mixing all the dressing ingredients together in a bowl.
Break up the lettuce leaves and toss together with dressing in a bowl.
Put the croutons on top with the Parmesan shavings.