Well, it's that awful time of the year again soon, when those ghouls and ghosts appear everywhere: in fact Halloween themed items have been in the shops already for quite some time. I've done some research for you into the more unusual and, of course, the easier options…
How about a Halloween cocktail book? There's recently been a very unusual one published called Spirits of the Otherworld: A Grimoire of Occult Cocktails and Drinking Rituals, by Allison Crawbuck and Rhys Everett. Here, alcohol meets alchemy in a fun, yet darkly fascinating collection of cocktail recipes for every mood and whim. For example, if vodka's your tipple, there's the Devil's Daughter, paying tribune to our most famous prophetess, Mother Shipton. It's an intriguing mix of mixology and magic. £14.99 hardback, published by Prestel.
Another interesting tome for this time of year is The Witch's Feast, by Melissa Jayne Madara. This is published later this month, in time for Halloween. At £25 it's hardback and is 'an indispensable companion to kitchen witchcraft, revealing the history and art of magical cooking.' Madara herself is a witch, herbalist and chef, and for anyone interested in the occult and the zodiac, it's packed with traditional recipes, devotional meals to the planets, seasonal feasts to celebrate solstices and equinoxes… as well as some practical spell work. It's really fascinating and packed with fabulous recipes: from celebrating a Gemini birthday with lemongrass pavlova, to enjoying the vibrancy of the spring equinox with a herb quiche and jasmine tea shortbread. Everyone can embrace their 'inner witch'
Here's a recipe from the book – you need an ice cream machine or be prepared to keep taking the container out of the freezer to stir it.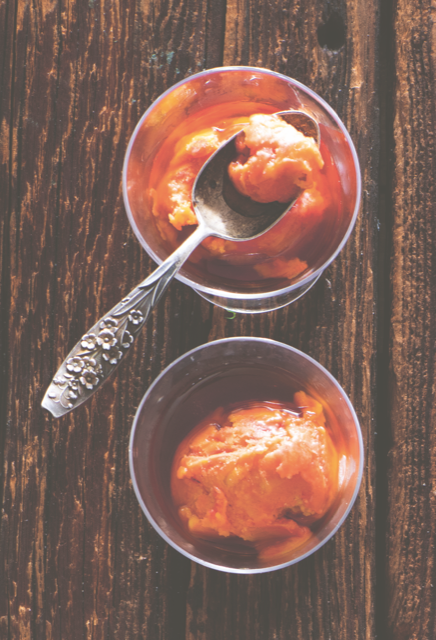 Blood Orange sorbet with Fernet-Branca
* 700ml (24fl oz) freshly squeezed blood orange juice
* 150g (5½oz) honey, agave syrup or light corn syrup
* 25ml (1fl oz) vodka
* Fernet-Branca (or another amaro), for topping
Ahead of making the sorbet, freeze or otherwise prepare your ice cream machine as per the manufacturer's instructions.
In a small saucepan over medium heat, warm your blood orange juice to a simmer. Stir in your honey or syrup and whisk until dissolved. Remove from the heat and stir in your vodka. Place the syrup into your ice cream machine and run until the sorbet is prepared, about 1–2 hours depending on your ice cream maker. When ready, store in the freezer until serving time.
At serving time place a scoop of your sorbet in each glass, top each with 2 tablespoons of Fernet and serve immediately.
For the less ambitious, and those without much time on their hands, the shops are full of all sorts of Halloween paraphernalia. Tesco has a good range of products: if you are creative, you can channel your inner monster with the Tesco Decorate Your Own Haunted Graveyard Biscuit Kit, complete with tombstones and bats for just £4.50. Alternatively, for those who'd rather opt for pumpkins as their blank canvas, Tesco has the Design Your Own Gingerbread Pumpkins Kit for kids to design their perfect pumpkin this Halloween.
Also available is this excellent value pack of nine Halloween Chocolate Fairy cakes at just £1.80. Six of the sponges are topped with orange vanilla fondant icing and a pumpkin sugar decoration, while three are topped with chocolate fondant icing and sugar sprinkles.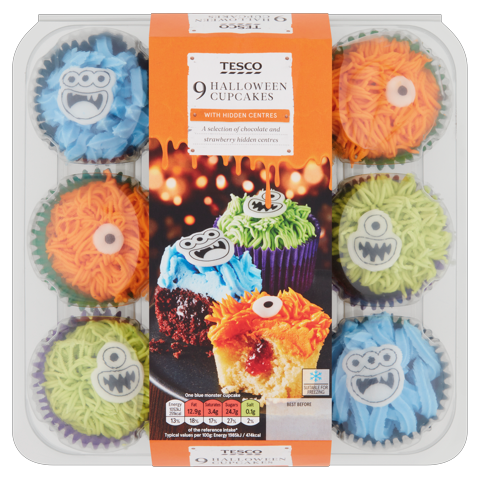 And M&S has given poor old Colin the Caterpillar a spooky makeover. The Spooks in a Jar with Colin has layers of chocolate sponge, chocolate sauce and lots more, topped with a Colin's skull face. This limited edition product is in stores now, at £4
And if you're wanting to send a Halloween gift to someone, M&S has a great range of online offers such as a Halloween Trick or Treat Gift bag at £30 that'll cover all bases with a range of tasty treats to get one's fangs into. Or a Halloween Letterbox treat at £20, and if you really want to go to town there's a massive kit with everything needed to make Halloween 'petrifyingly perfect' for all the family. It has pumpkin carving kits, 'decorate your own' trick or treat buckets, ghoulish gingerbread biscuit kit, Halloween masks and more for £50
And don't forget to support your local independent stores. Lots of small bakeries will have their own Halloween biscuits and cakes and there's nothing that says Halloween louder really than a good old pumpkin lamp – inexpensive, fun to make and it supports your local greengrocer!
Bobbing apples too, is a time honoured Halloween activity: The game's played by filling a tub or large basin with water, and putting apples in. Because apples are less dense than water, they will float on the surface. Players then try to catch one with their teeth.
Another fun game is to float some apple 'eyeballs' in cranberry juice. Use a small melon-baller to create apple balls, then carve a small hole just big enough to wedge a raisin into it. and float them in a bowl of tomato juice (or Bloody Mary for the grown ups!). For the more artistic, carve a witches finger out of an apple wedge, leaving the skin on where the nail would be, or slide a slice of almond in to replicate a fingernail. Enjoy your ghoulish activities!