I've long been a massive fan of Yotam Ottolenghi's recipes, and I'm delighted to be able to share some information about his latest tome – just published and the first in an innovative new series. All the signature Ottolenghi touches are here – big flavours, veggie-forward dishes, diverse influences – but distilled for maximum ease and versatility. The series of books will share the Test Kitchen's tried-and-tested recipes, with ways to tweak and modify them using the ingredients you have to hand. Designed in an interactive notebook style, they feature suggestions to adapt, spaces to write notes, and great photography.
Whether they're conjuring up new recipes or cooking for themselves at home, the Ottolenghi Test Kitchen team does what we all do: raid their kitchens. But then they turn whatever they find into approachable, uplifting creations with that special 'Ottolenghi' twist. This series was inspired by the OTK team's own experience in lockdown, when were all standing in front of our kitchen shelves, cupboards and fridges, wondering what on earth to cook with what we've got; how best to use a can of chickpeas or a bag of frozen peas, avoiding an extra trip to the shops. The dishes pack the punch we expect from Ottolenghi, but with extra flexibility to make them our own.
Cleverly designed by Caz Hildebrand, the format is notebook-style with sections to adapt and spaces to scribble on. Ottolenghi Test Kitchen: Shelf Love by Noor Murad and Yotam Ottolenghi (Ebury Press, £25) 
Photography by Elena Heatherwick 


Here are a couple of recipes to whet your appetite, to inspire you (and encourage you to add the book to your Christmas wish-list!)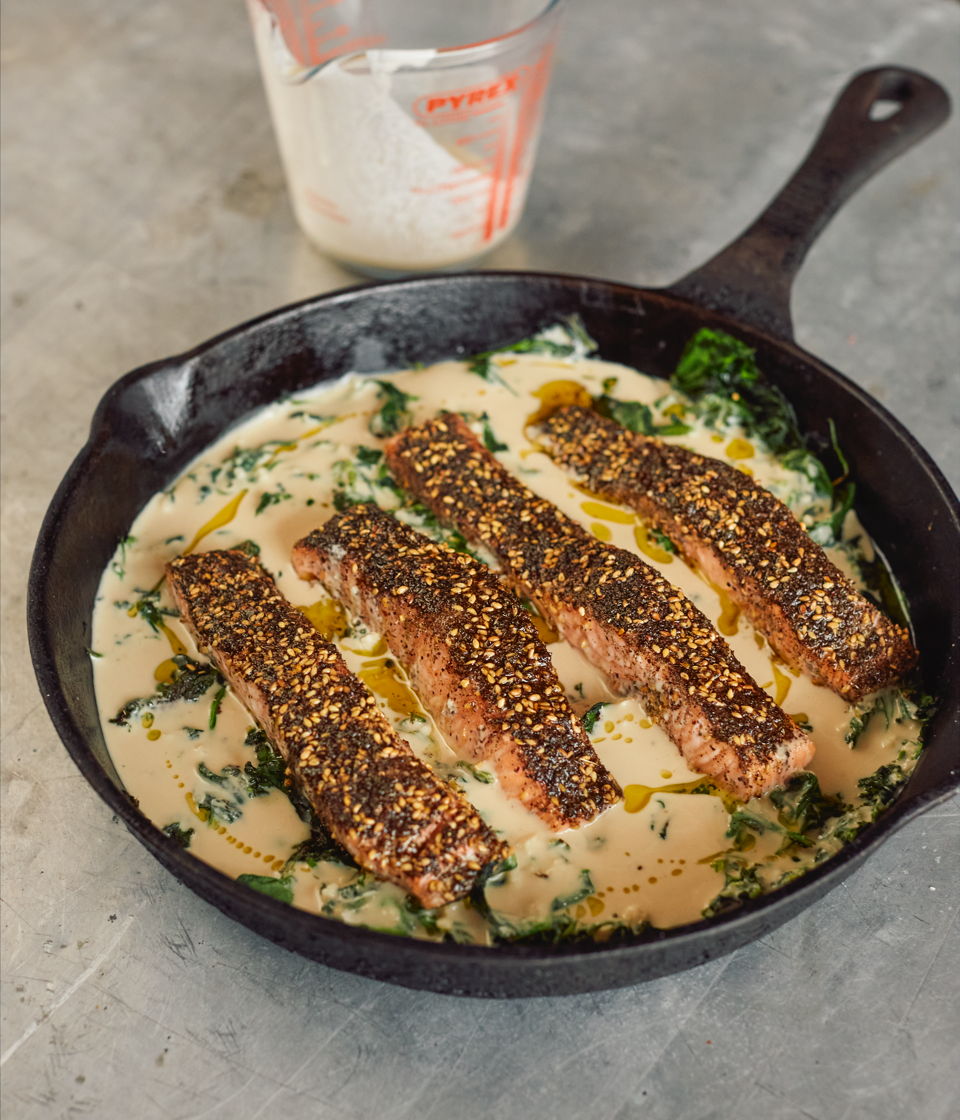 ZA'ATAR SALMON AND TAHINI  Serves 4
"If you haven't yet paired fish with tahini, then you're in for a real treat. This version combines tahini with herbaceous za'atar and sour sumac, our ever familiar but much treasured test kitchen staples. We strongly recommend using creamy, nutty tahini that's sourced from countries within the Levant. Eat this shortly after cooking, as cooked tahini doesn't sit or reheat very well."
Prep time: 5 minutes Cook time: 20 minutes
4 salmon fillets (600g), skin on and pin bones removed
2 tbsp za'atar
2 tsp sumac, plus ½ tsp extra for sprinkling
60 ml olive oil
250g baby spinach
90g tahini
3 garlic cloves, crushed
3 ½ tbsp lemon juice
1tbsp roughly chopped coriander leaves
salt and black pepper
1. Preheat the oven to 220 ° C fan.
2. Pat dry the salmon and sprinkle with salt and pepper. In a small bowl, combine the za'atar and sumac, then sprinkle this all over the top of the salmon to create a crust.
3. Place a large ovenproof sauté pan on a medium-high heat and add a tablespoon of oil. Once hot, add the spinach and a pinch each of salt and pepper and cook for 2–3 minutes, until just wilted.
4. Top with the salmon, skin side down, and drizzle the top of the fish with 2 tablespoons of oil. Bake for 5 minutes.
5. Meanwhile, in a small bowl whisk together the tahini, garlic, 2½ tablespoons of lemon juice, a good pinch of salt and 100ml of water until smooth and quite runny.
6. When ready, remove the pan from the oven and pour the tahini all around the salmon (but not on the fish at all). Bake for another 5 minutes, or until the fish is cooked through and the tahini is bubbling. Spoon over the remaining tablespoon each of lemon juice and oil and top with the coriander and extra sumac.
STICKY MISO BANANAS WITH LIME AND TOASTED RICE Serves 4
"This dessert ticks all our flavour boxes – sweet, salty, tangy and umami – and all our texture boxes – sticky, crunchy and creamy. The bananas you use should have almost completely yellow skin, with only the tiniest bit of brown spotting."
Prep time: 5 minutes Cook time: 30 minutes
40g unsalted butter
70g light soft brown sugar
½ tsp ground star anise
3 tbsp créme fraiche
1½ tbsp white miso
4 medium bananas (medium ripe), peeled and halved lengthways
1 lime: finely grate the zest to get 1 tsp and then juice to get 1½ tsp
TOASTED RICE TOPPING
1 tbsp Thai sticky rice (raw), or jasmine rice
2 tsp black sesame seeds
½ tsp ground star anise
1. Set the oven to its highest grill setting.
2. Make the topping. Toast the rice in a small frying pan on a medium heat for 12–15 minutes, shaking the pan from time to time, until deeply golden. Blitz in a spice or coffee grinder until fine, then transfer to a small bowl. Return the pan to a medium-high heat and add the sesame seeds. Toast for 1 minute, then stir into the rice bowl along with the star anise. Set aside.
3. Put the butter, sugar, star anise and half the créme fraiche into a large, ovenproof cast-iron pan (or a large sauté pan) on a medium heat. Stir the mixture frequently, until the butter has melted and
the sugar has dissolved, then, off the heat, whisk in the miso until smooth. Add the bananas, cut side up, using a spoon to coat the tops with some of the caramel, then transfer to the oven and grill
for about 8 minutes (this will vary, depending on your grill, so check them at the 7-minute mark), or
until the bananas have softened and are lightly browned.
4. While the bananas are grilling, mix the remaining créme fraiche with the lime juice. When ready,
spoon this all over the bananas, then sprinkle with the lime zest and a tablespoon of the rice topping. Serve immediately and directly from the pan, with the extra rice topping alongside