Tofu, or bean curd, is derived from soya. It's made by curdling fresh soya milk, pressing into a solid block and cooling – similar to traditional dairy cheese made by curdling and solidifying milk. The whey is discarded, and the curds pressed. Tofu is a key ingredient in Asian cookery, and incredibly versatile as well as being packed with protein. Not surprisingly it's very popular with vegetarians and vegans, as well as meat eaters, wanting to cut down on their consumption.  If you're wondering how to prepare and cook tofu, look no further: a great new cookbook by Bonnie Chung – Tofu Tasty – has just been published. Bonnie is the founder of the brand Miso Tasty, the UK's first brand dedicated to miso. An award-winning entrepreneur and former food blogger, she's been dedicated to the research of miso for the last five years. Her Miso Tasty products are now available at 1000 stores in the UK from Sainsbury's to Selfridges, and more recently Miso Tasty has launched a tofu range. In Tofu Tasty, Bonnie embraces both her love for Japanese cuisine, as well as her own heritage in Chinese and Cantonese cooking.
Bonnie hopes to expand our tofu horizons, sharing the many different types and the multitude of ways in which you can cook it. The book's organized into seven chapters to distinguish between the different types and textures of tofu; crispy dishes like Oat Flake Salt & Pepper Tofu and Lime & Coconut Crispy Tofu Salad; soft steamed dishes including Ma Po Tofu with Button Mushrooms for the spice lovers and a creamy Curried Coronation Tofu for those of wanting tofu in a sandwich. There are mashed tofu dishes including a wanton recipe inspired from Bonnie's childhood; a mouth-watering Tofu & Mushroom Dan Dan Noodles stir-fry; a whole chapter on the marmite of tofu – fermented tofu – to try out like Red Fermented Tofu Cauliflower Steak or a Noodle Hotpot and even desserts. Impress your guests with a Baked Matcha Tofu Cheesecake or Tofu Doughnuts with Miso Caramel – light and fluffy and a tiny bit tart, these definitely hit the spot!
All the recipes are vegetarian and some include twists that may include meat, fish and other swaps. These should whet your appetite! KOREAN TOFU STEW
This kimchi-spiced tofu stew is a real Korean cuisine mainstay. Traditionally served in a dramatic iron hotpot or stone pot, it arrives bubbling like a cauldron, and looks much spicier than it really is. Called sundubu-jigae ('soft tofu stew'), it is a deeply flavoured broth that weaves around silken tofu, other chunky ingredients such as kimchi, and seafood such as oysters and prawns. Enjoy it with white rice and other crunchy side dishes, such as stir-fried beansprouts.
Serves 4
2 tbsp Korean chilli flakes (gochugaru)
2 tbsp vegetable oil
2 tsp finely chopped or grated garlic
2 tsp light soy sauce
800ml/11⁄4 pints/31⁄2 cups vegetable stock or dashi
1 tsp sea salt flakes
4 eggs
700g/1lb 9oz silken tofu, cut into rough chunks
100g/31⁄2oz/11⁄2 cups oyster mushrooms or shimeji mushrooms
4 dried shiitake mushrooms, soaked for 1–2 hours until fully hydrated, then drained and finely sliced
150g/51⁄2oz/11⁄2 cups kimchi
2 spring onions (scallions), finely sliced on the diagonal
1 tbsp toasted sesame oil rice, to serve
1. In a large, heavy-based saucepan, heat the Korean chilli flakes with the vegetable oil for 1 minute, then add the garlic and soy sauce.
2. Pour the stock into the pan and heat up for 2–3 minutes, then add the salt.
3. Gently crack the eggs one at a time into the pan to lightly poach them for 3 minutes, then add the tofu and all the mushrooms and simmer for a further 3 minutes. Finally add the kimchi.
4. Sprinkle the spring onions and toasted sesame oil on top, then serve with steamed rice.
Twists
Try swapping the vegetable stock for fish stock and adding seafood such as clams and prawns (shrimp). Slices of bacon are also popular, for a richer broth.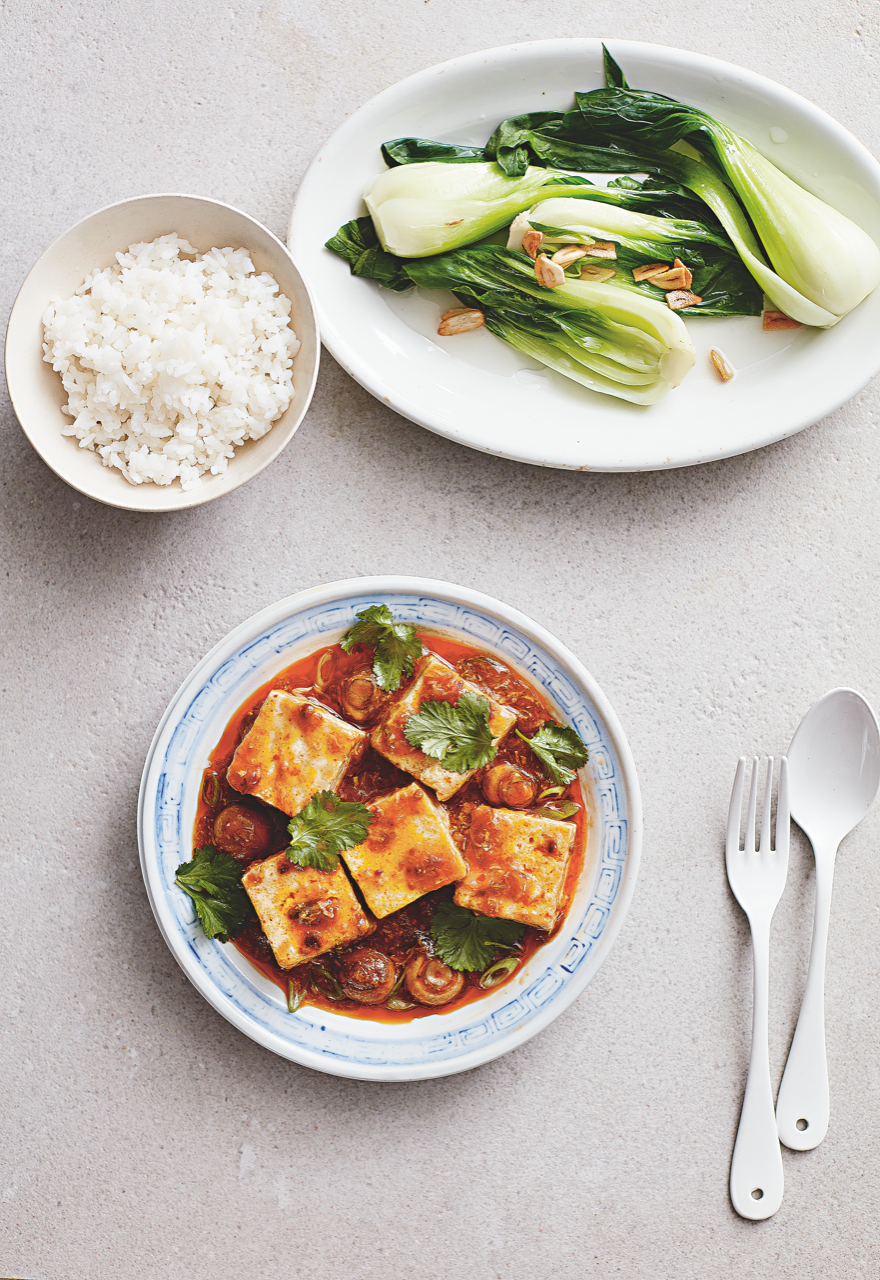 MA PO TOFU WITH BUTTON MUSHROOMS
This is one for the spice lovers. The peppery heat hits you right between the eyes, with only a moment of relief offered by the calming tofu before you dive in for more. The dish hails from the spice province of Sichuan and the name means 'pock-marked old woman's tofu', after the legendary lady who originally sold the dish. Despite its punchy heat, this is actually a delicate recipe that celebrates tofu's wobbly pannacotta-like texture, akin to perfect poached eggs. The button mushrooms bring a gentle bite to the dish. Serve with fluffy steamed rice, and a towel for mopping your forehead. 
Serves 4
4 tbsp vegetable oil
4 spring onions (scallions), green parts only, finely chopped
4 tbsp Sichuan chilli bean paste
2 tbsp finely chopped or grated garlic
2 tbsp peeled and finely chopped or grated fresh ginger
1⁄2 tsp freshly ground white pepper
100ml/31⁄2fl oz/scant 1⁄2 cup water
600g/1lb 5oz firm or soft tofu, drained for 20 minutes and cut into 2.5cm/1 inch cubes
10 small button mushrooms, kept whole
2 tsp potato flour or corn flour
To serve (all optional)
coriander (cilantro)
2 pinches crushed Sichuan peppercorns
steamed rice and greens
1. Heat the oil in a frying pan (skillet), then throw in the spring onions, chilli bean paste and garlic. Cook for 2–3 minutes to allow the flavours to infuse. Stir in the ginger, white pepper and water.
2. Place the tofu carefully into the pan and stir the sauce around it, then reduce the heat and add the mushrooms.
3. In a small bowl, mix the potato flour with 1 tbsp water until smooth, then pour this mixture into the pan while stirring gently, to thicken
the sauce around the tofu and mushrooms.
4. Serve immediately scattered with coriander and Sichuan pepper, if you like, with steamed rice and greens.
TWISTS
Traditionally, minced (ground) pork is added to this dish, so if you would like to try that, add 100g/31⁄2oz/scant 1⁄2 cup minced pork at the same time as the ginger and cook it through before adding the tofu. Chopped prawns (shrimp) can also add an element of texture and sweetness instead of the mushrooms, if you prefer.
Tofu Tasty: Imaginative tofu recipes for every day by Bonnie Chung, published by Pavilion Books. Images: Yuki Sugiura.