It's great to hear about a new hotel opening, particularly in this Covid-depressed, hospitality industry climate. The Kingston 1 is a relatively new business venture, the brainchild of some local businessmen, who've taken a previously rather sad and tired pub in the heart of Kingston upon Thames, and breathed new life into the whole building.  The result's a stylish boutique hotel (with 22 bedrooms), restaurant and bar that are a real breath of fresh air on the London Road.    A short walk from central Kingston, the riverside and station, The Kingston 1's ideally placed for anyone wanting to visit or attend events at Hampton Court, Wimbledon, Ham Polo Club and lots of other SW London locations.  
We checked in on a Friday evening and found our room to be light and airy, very classy indeed, with en suite shower room stocked with The White Company toiletries and all the amenities one would expect from a top hotel. Décor is contemporary, stylish, and includes individual design features.  Considering the building is Victorian, they've done a great job, without losing many of the original features.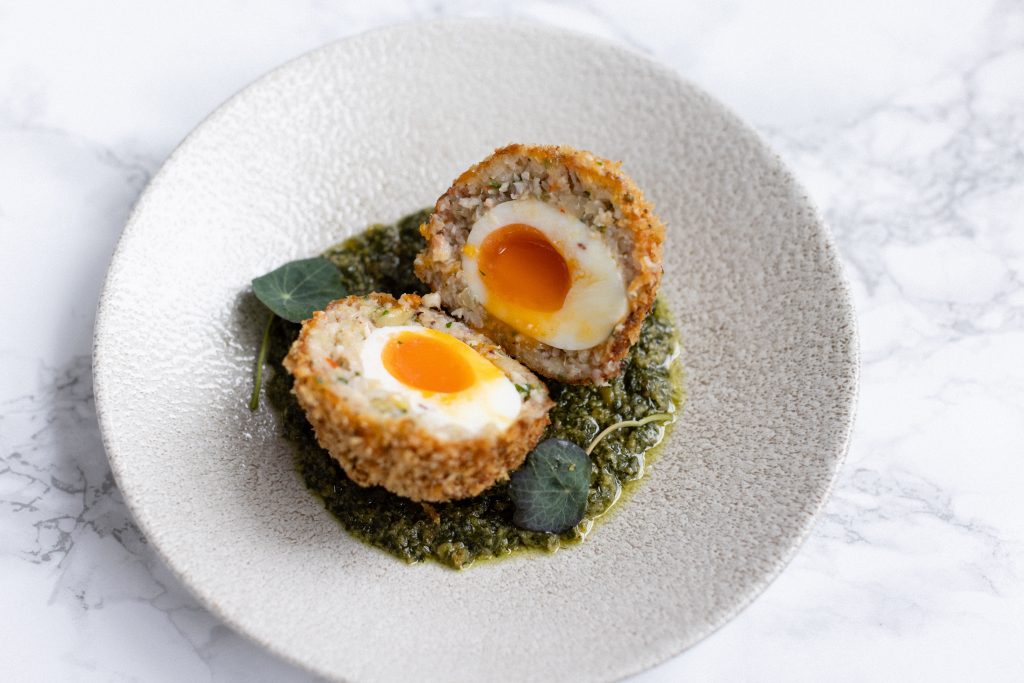 Moving downstairs for dinner in Solo, The Kingston 1's modern European restaurant, we enjoyed a beer and an extremely good Negroni prepared by our waiter Kennet, while perusing the menu.  Head chef Marco Palazzo is at the helm, with the restaurant open from breakfast to dinner, offering relaxed, competitively priced, all-day dining.  On Friday and Saturday evenings though, the spotlight changes to his Chef's Menu – an elevated offering that's more fine dining in style.  The menu's sensibly short, but extremely well (and temptingly) compiled.  We started with a portion of burrata, pea & broad bean with chilli & mint (£10) plus a seafood Scotch egg, served with salsa verde and nasturtium (£12).  My burrata was refreshing, yet slightly too light on seasonings for my taste, but my husband's Scotch egg was a triumph of culinary prowess – and delicious!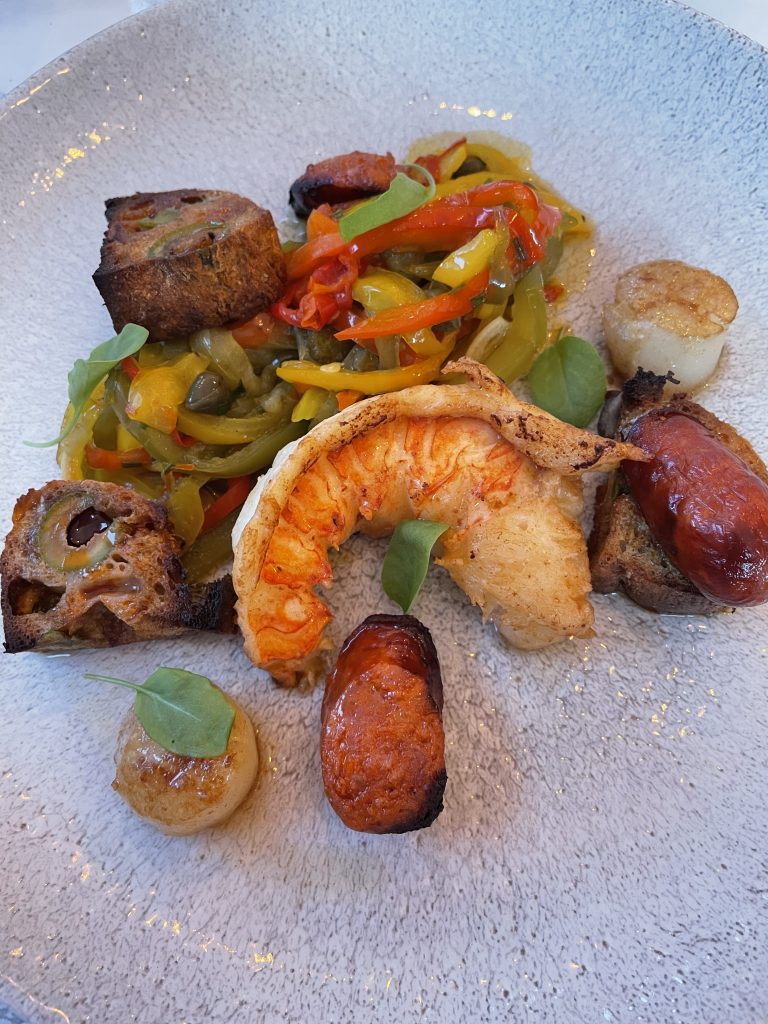 We followed these with a portion of lobster, scallop, chorizo and peperonata (£26) and fillet steak, with burnt onion purée and beef & red wine sauce (£24).  Both dishes were fabulous, and further evidence of great skill at the stove. With my fish dish I enjoyed an exceptionally good value salad packed with little gem lettuce, strips of cucumber and generous scattering of Parmesan; and rosemary salt fries accompanied the steak. (sides £4)  On the menu there was also a chicken dish (£18), and a vegetarian pasta dish (£16).  Pretty much replete by this stage, we shared a portion of orange polenta cake (£6) that was divine.  The cheese board at £14 looked amazing.
The cocktail and wine list, too, are well constructed and very sensibly priced…  wines are from £22 a bottle and soft drinks from just £2.  Cocktails are from £9 and if Kennet's on duty, I urge you to try one: he's a dab hand at mixology!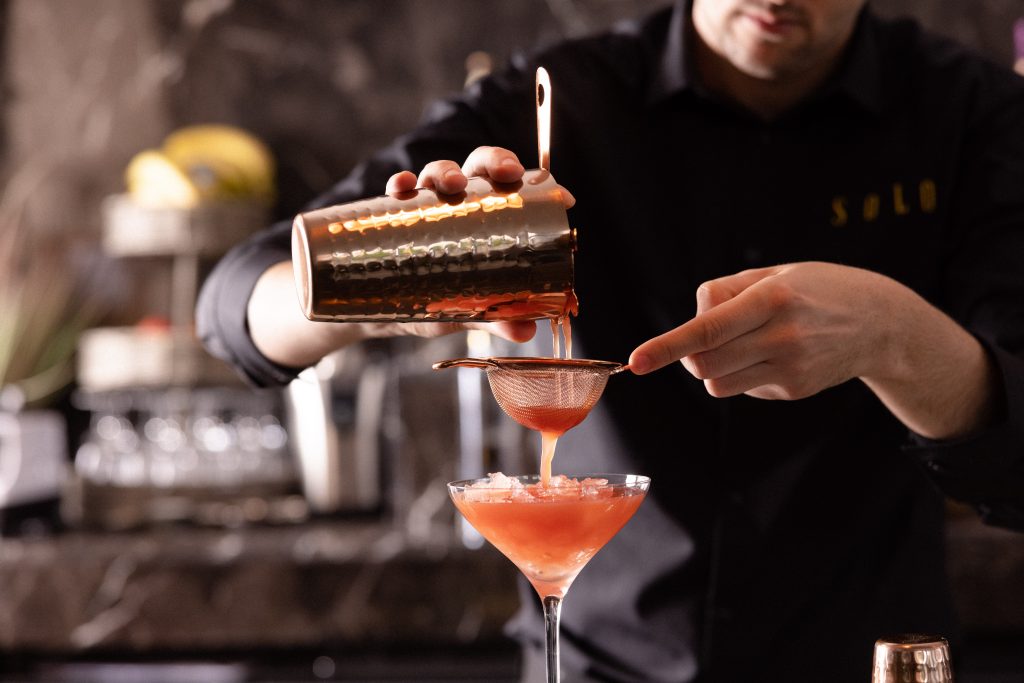 After an excellent, and very comfortable, night's sleep, we ventured down to breakfast.  The menu is also available to non-residents and perfect for a brunch (and cocktails) as it's served at weekends till 4 p.m. (noon weekdays). After consuming a delicious portion of eggs Benedict plus a Cumberland sausage in a brioche bun, freshly squeezed orange juice and excellent coffee, we were well set up for the day.  With a room rate starting at £120 including breakfast, The Kingston 1, already has a healthy occupancy rate.  It's not surprising, as it compares very favourably with many of the large hotel groups. For its individuality, plus friendly, professional staff I think it is a great addition to the Kingston hotel scene, for business as well as tourists (or 'overflow' guests visiting family!).  And the locals now have a great bar and restaurant on their doorstep… lucky folk!