Ghillie Basan is a 'tour de force' when it comes to writing cookery books. Her ability to take the reader right into the heart of a country or region's cuisine is quite outstanding, as is her talent and prowess in producing a veritable library of fabulous culinary tomes. The other thing I really enjoy about her books is that her recipes are rarely complicated, and very few have a long ingredients list. Her latest book – The Levantine Table (published last week by Ryland Peters & Small, hardback, £25) is a collection of recipes inspired by the vibrant and diverse culture of the Levant – the region of the Middle East stretching the shores of the Eastern Mediterranean. It's right on trend, too, as supermarket chains such as Waitrose embrace the region's wonderful flavours with their own Levantine ranges and, thankfully, many of the new restaurants opening are offering Turkish or Middle Eastern fare. And of course, in Twickenham we have the wonderful Mediterranean Supermarket which is one of my favourite haunts.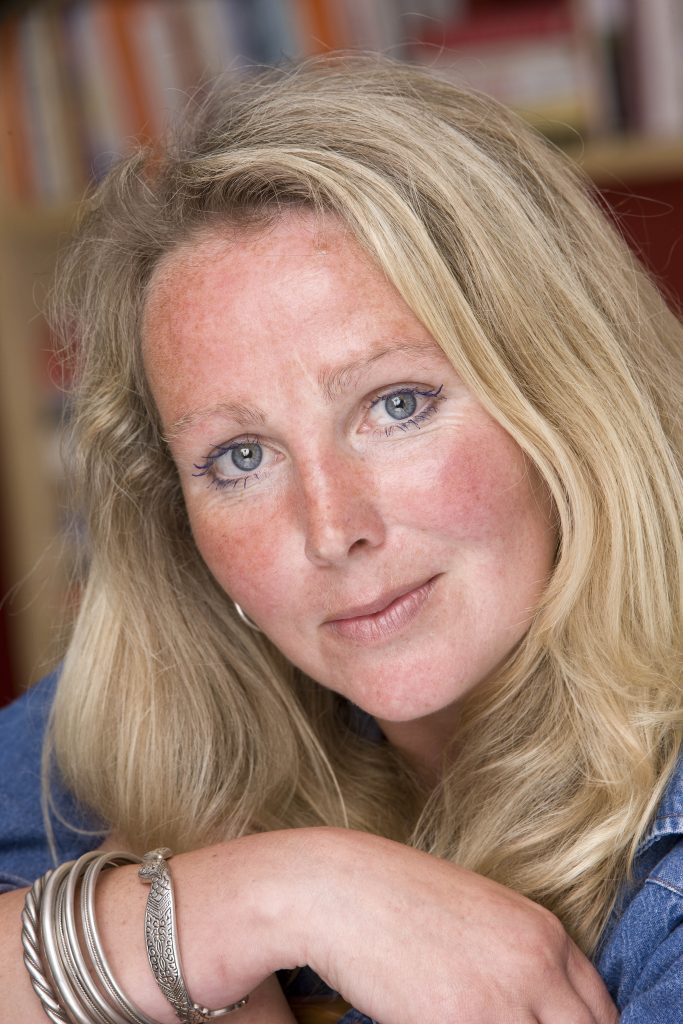 Writer, broadcaster, and food anthropologist, Ghillie Basan has worked in different parts of the world as an English teacher, ski instructor, cookery writer, restaurant critic and journalist. With a degree in Social Anthropology and a Cordon Bleu Diploma, her interest in different culinary cultures has culminated in many books, some of which were nominated for the Glenfiddich, Guild of Food Writers, and the Cordon Bleu World Food Media Awards. Her cookbooks have also appeared regularly in the 'Best of the Best' and 'Top 50' lists; and she was described by Clarissa Dickson-Wright as one of the 'finest writers on Middle Eastern food'.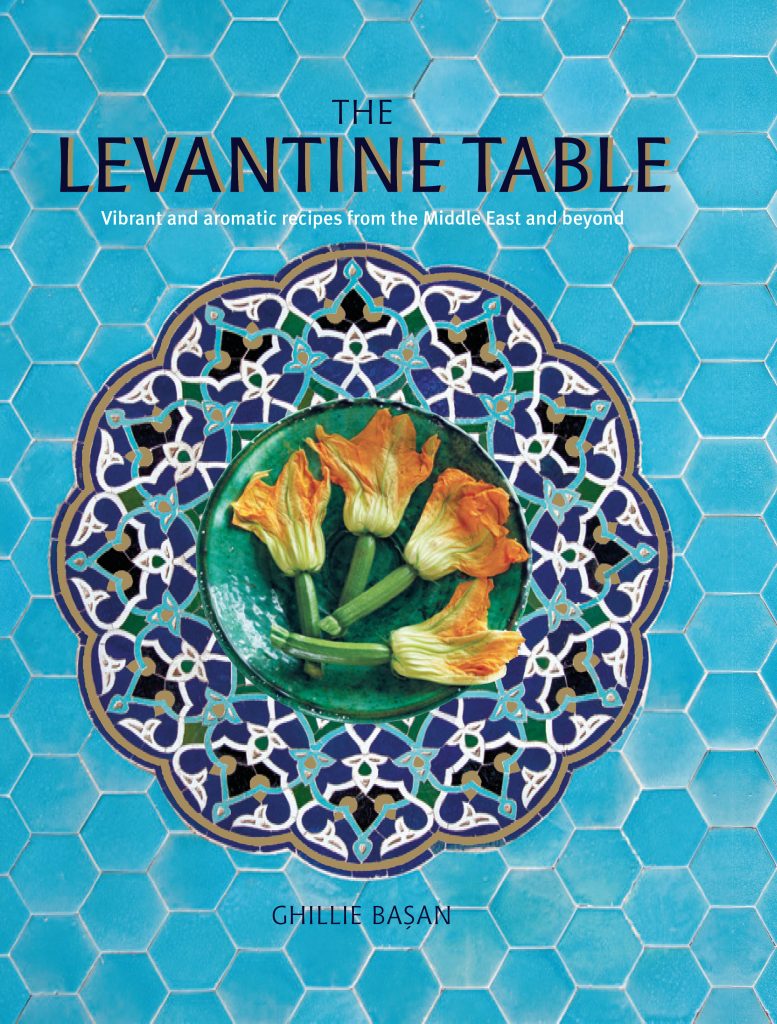 In The Levantine Table you'll find small plates to relish (relish being the original meaning of the Persian word maza from which the term mezze derives) including popular dips, salads and small bites – hummus, baba ganoush, tabbouleh and falafel – as well as less familiar recipes. Freshly grilled fish and seafood, served with yoghourt dips flavoured with spicy harissa paste, or a simple coupling of mint and cucumber, are just the start of an ocean odyssey of tastes. For carnivores, chicken dishes are enhanced by all manner of spicy marinades, such as paprika and lemon-infused taouk; or how about grilled skewers of beef with a tahini-based tarator sauce; or one of the greats of Levantine feasting, slow-roasted lamb shoulder steeped in spices and served with a pomegranate, yoghourt and pistachio sauce? You'll want to return to these delicious dishes time and again.
I'm absolutely loving this latest book and thought you'd like to try a few recipes from it to whet your appetite. They will make a delicious mezze if served together. I don't know about you, but with the gorgeous summer weather they are forecasting, I can't think of a better selection of dishes to enjoy with friends and family in the sunshine!
BREAD & PARSLEY SALAD with pomegranate molasses & sumac SERVES 4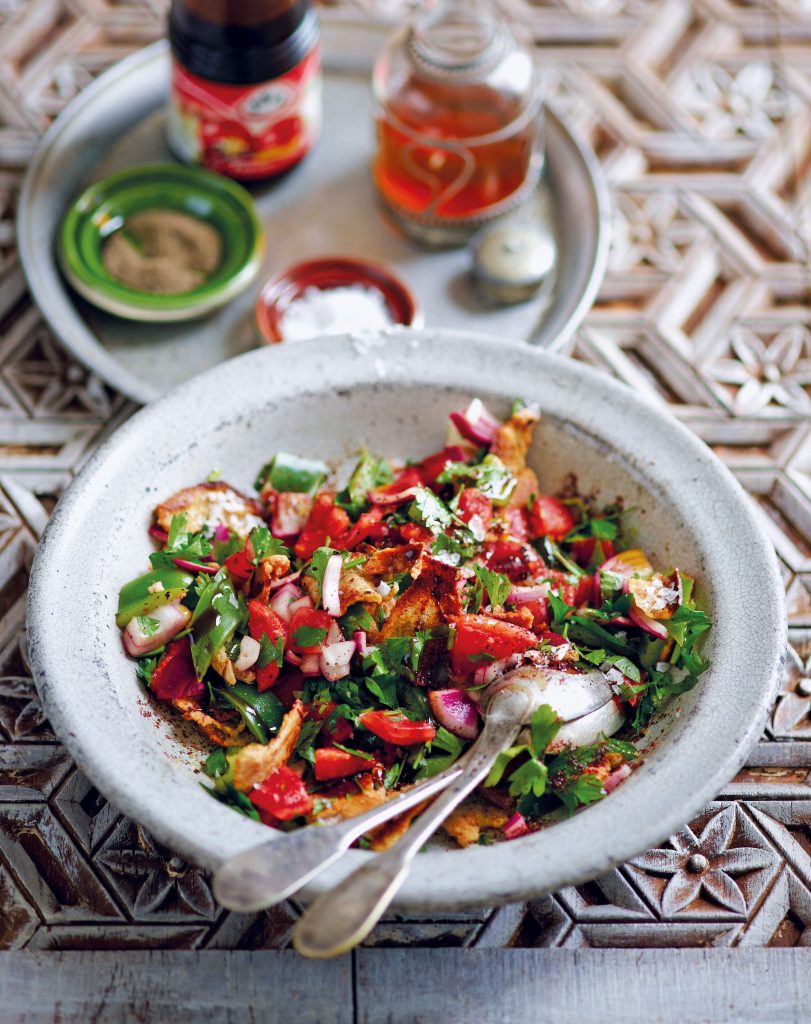 "Fresh, crunchy salads prepared with a combination of tomatoes, peppers, cucumber, onions and parsley vary throughout the region and are always popular with mezze or grilled meats, but in Syria and Lebanon, the addition of toasted bread transforms what is daily, peasant fare into the classic salad called 'fattoush'. Bread is regarded as a gift from Allah in the Muslim world; it is never wasted or thrown away so this is a good way of using up day-old bread, by toasting it and soaking it in olive oil before tossing it through the salad."
2 pitta breads or 3 slices of crusty bread, toasted and broken into bite-sized pieces
3 tablespoons olive oil
freshly squeezed juice of 1 lemon
½ cos/romaine lettuce, trimmed and chopped
2–3 tomatoes, skinned, seeded and chopped
1 red or green pepper, seeded and chopped
1 red onion, halved lengthways and halved again crossways, finely sliced
a large bunch of fresh flat-leaf parsley, roughly chopped
2–3 tablespoons pomegranate molasses
2 teaspoons ground sumac
sea salt and freshly ground black pepper
Put all the broken pieces of bread into a bowl and toss in 1 tablespoon of the olive oil and the lemon juice.
Place all the vegetables in another bowl and add the parsley and bread. Drizzle the rest of the olive oil and the pomegranate molasses over the salad and sprinkle with the sumac. Season with salt and pepper then leave the salad to sit for 15 minutes before tossing and serving.
Serve as part of a mezze spread, or as an accompaniment to grilled and roasted meat, poultry and fish.
WARM SPINACH with currants, pine nuts & yogurt SERVES 3–4
"The Iranians, the Lebanese and the Turks all have their own variations of this velvety dish of cooked spinach combined with yoghurt. Served as mezze in restaurants throughout the Levant region, this is a delicious way to enjoy spinach. Pulled from several traditions, my version includes currants, onions and pine nuts, served warm with dollops of cool, garlic-flavoured yogurt and chunks of crusty bread."
500 g fresh spinach leaves, thoroughly washed and drained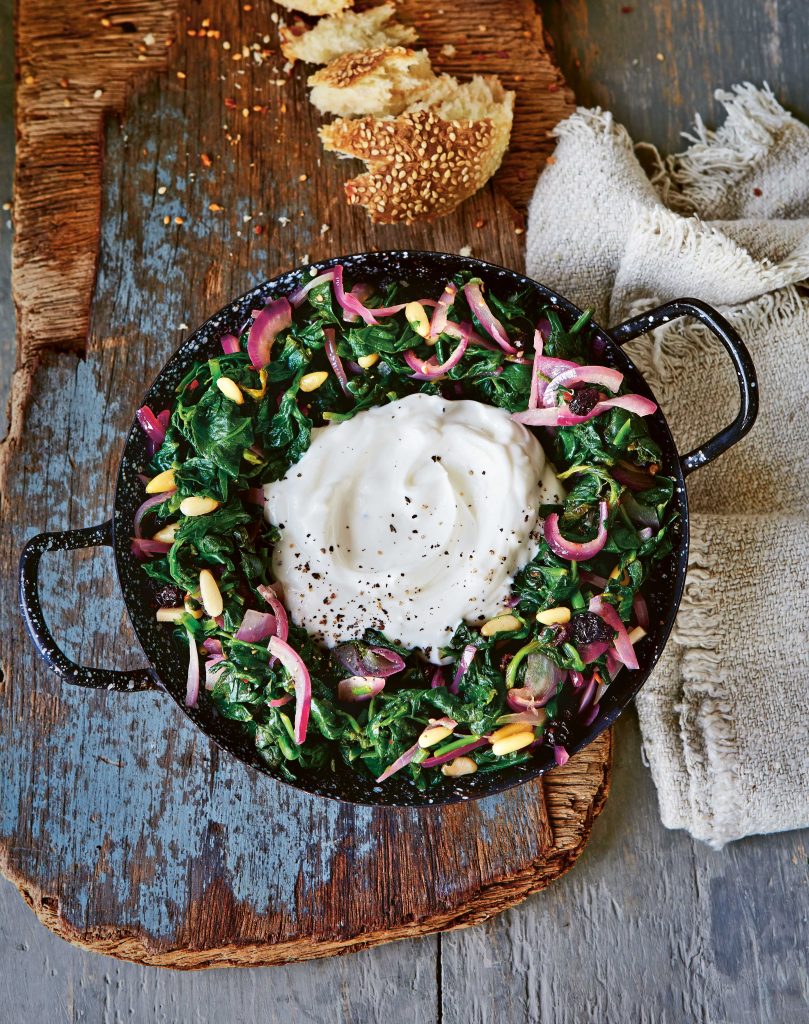 250 ml thick, creamy, yogurt
2 garlic cloves, crushed
sea salt and freshly ground black pepper
2–3 tablespoons olive oil
1 red onion, cut in half lengthways, in half again crossways and sliced with the grain
1–2 teaspoons granulated sugar
1–2 teaspoons finely chopped dried red chilli
2 tablespoons tiny currants, soaked in boiling water for 15 minutes and drained
2 tablespoons pine nuts
freshly squeezed juice of 1 lemon
warm crusty bread, to serve
Place the spinach in a steamer, or in a colander placed inside a large pan partially filled with water. Steam the spinach until soft. Drain off and squeeze out any excess water, then coarsely chop the steamed spinach.
In a bowl, beat the yoghurt with the garlic. Season with salt and pepper and put aside.
Heat the oil in a heavy-based pan and stir in the onion with the sugar for 2–3 minutes to soften. Add the chilli, currants and pine nuts for 2–3 minutes, until the currants plump up and the pine nuts begin to colour. Toss in the spinach, making sure it is mixed well, and add the lemon juice. Season well with salt and pepper and tip the spinach onto a serving dish.
Make a well in the middle of the spinach and spoon some of the yogurt into it. Serve while the spinach is still warm with chunks of crusty bread to scoop it up.
ZHUG MAKES 4–5 TABLESPOONS
"Fiery and versatile like harissa, zhug ('zhoug') is a popular chilli paste in the Levant, particularly Yemen and Egypt. Containing the characteristic flavours of Yemeni cooking – chilli, cardamom and garlic – zhug is usually served as a condiment with grilled and fried vegetables or shellfish, or it is combined with ingredients like pounded tomatoes, the pulped flesh of smoked aubergines, or finely chopped grilled (bell) peppers, olive oil and fistfuls of finely chopped coriander and served as mezze with chunks of fresh bread to dip into it."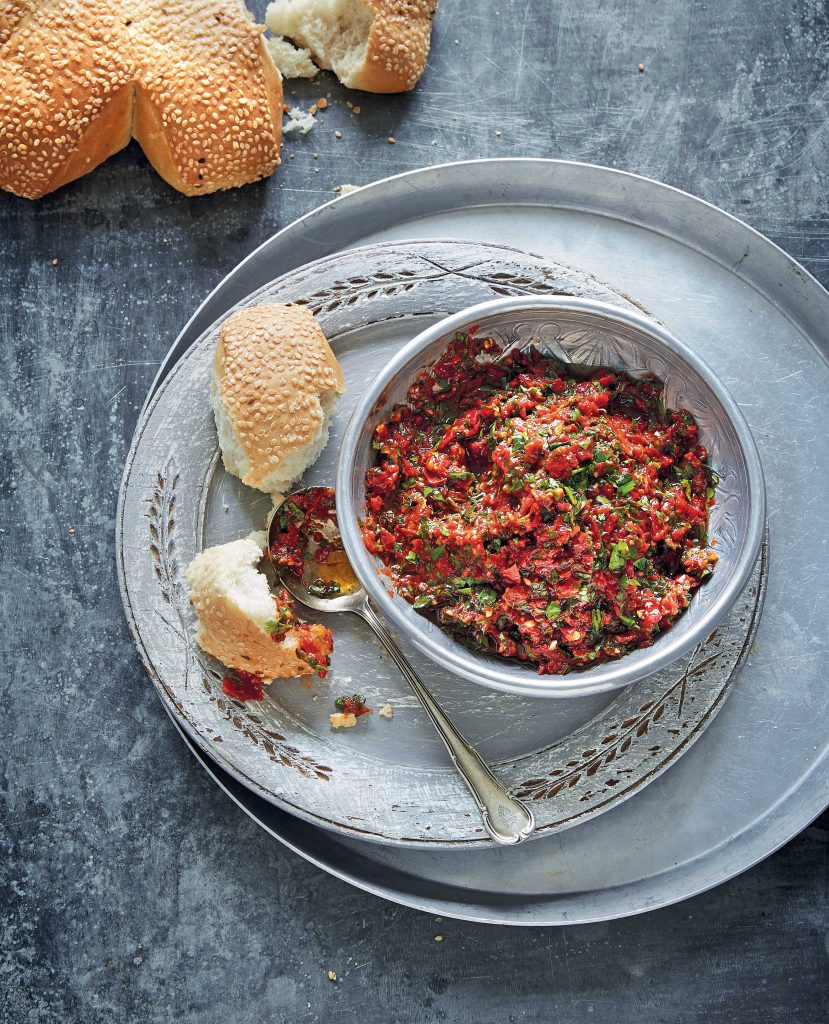 8 dried red chillies (Horn or New Mexico varieties)
4 garlic cloves, roughly chopped
1 teaspoon salt
seeds of 4–6 cardamom pods
1 teaspoon caraway seeds
½ teaspoon black peppercorns
a small bunch fresh flat-leaf parsley, finely chopped
a small bunch of fresh coriander, finely chopped
3–4 tablespoons olive oil or sunflower oil
large sterilized glass jar
Put the chillies in a bowl, pour boiling water over them and leave them to soak for at least 6 hours. Drain them, cut off the stalks, squeeze out the seeds and roughly chop the flesh.
Using a pestle and mortar, pound the chillies with the garlic and salt to a thick, smooth paste. Add the cardamom and caraway seeds and the peppercorns and pound them with the chilli paste – you want to break up the seeds and peppercorns, but they don't have to be perfectly ground as a little bit of texture is good. Beat in the parsley and coriander and bind the mixture with the oil.
Spoon the spice paste into a sterilized jar, drizzle the rest of the oil over the top and keep it in a cool place, or in the fridge, for up to 4 weeks. When serving as a condiment or a dip for bread, mix the layer of oil into it and garnish with finely chopped coriander or parsley.