I'm already a great fan of Rukmini Iyer and her Roasting Tin series of cook books, and the latest one – launched this week – is a real sure-fire hit. The Sweet Roasting Tin is apparently the last in this much-loved series, and a sweet ending to such a great idea. It offers 75 really easy, yet nonetheless delicious, one-tin bakes. From festive bakes such as Stem Ginger Cherry & Almond Brownies or Black Forest Cupcakes, to weekend bakes like Triple Ginger Biscuits, there's something for each dietary need and occasion, with options to customise recipes for coeliacs, diabetics and vegans.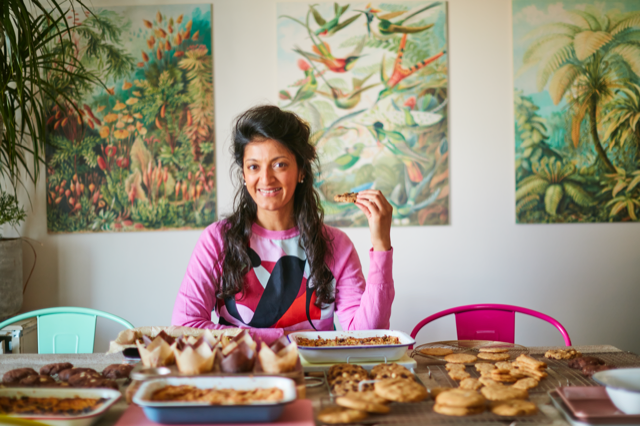 Rukmini's whole philosophy for the book is that of easy, delicious, one tin bakes. She covers most categories: loaf cakes, cupcakes, cookies, bread-and-butter puds and there is a very simple recipe template, allowing you to make multiple variations on a theme. Even the least proficient baker will feel inspired and comfortable with this book, but the most proficient will also enjoy it! With autumn soon to show its face and back to school looming, here's a sweet way to liven up your culinary repertoire – in a very easy and tasty way.
I've chosen a few recipes from the book that I think will demonstrate just how easy and delicious Rukmini's recipes are – all extracted from: The Sweet Roasting Tin (One Tin Cakes, Cookies & Bakes) by Rukmini Iyer (Square Peg) 2 September 2021, £18.99 hardback. Photography by David Loftus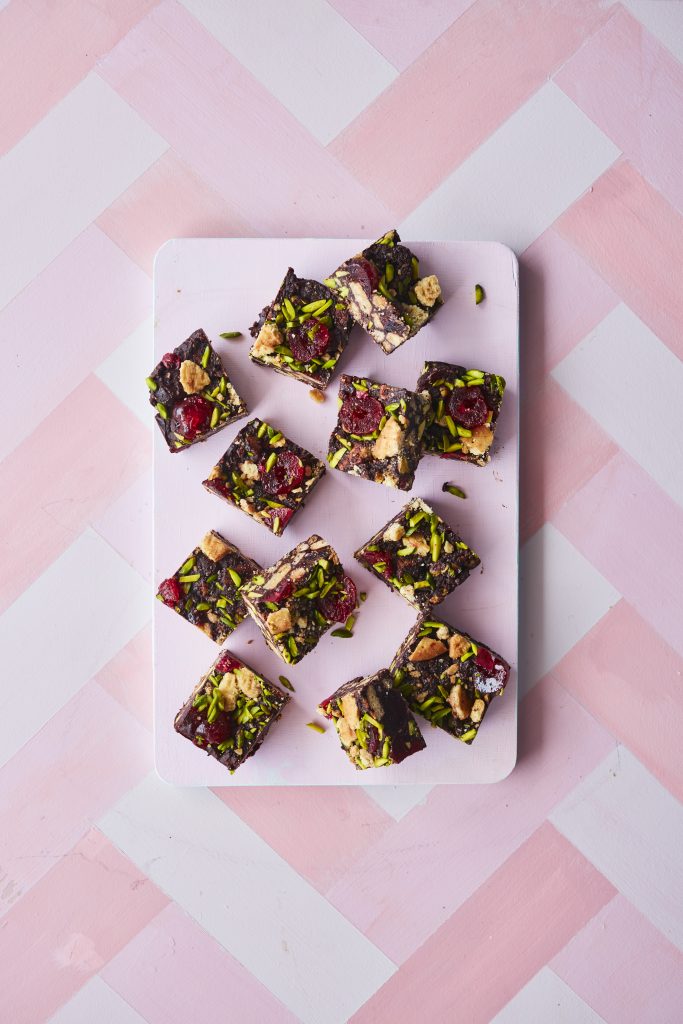 CHOCOLATE, CHERRY & PISTACHIO FRIDGE CAKE
Serves: 8 Prep: 10 minutes Set: 3 hours
"A fridge cake fit for a queen: this tiffin combines all my favourite ingredients – glacé cherries, chocolate, pistachios and golden syrup."
100g salted butter
200g (70% cocoa solids)
dark chocolate, roughly chopped
70g golden syrup
200g digestive biscuits, roughly broken
200g glacé cherries, halved
100g whole pistachios, roughly chopped
In a large saucepan, melt the butter, chocolate and golden syrup over a low heat, stirring continuously until smoothly melted, then turn off the heat.
Reserve a heaped tablespoon each of the broken digestives, glacé cherries and pistachios – you're going to use them to decorate later – and tip the rest into the saucepan with the chocolate mixture. Stir gently to coat, then transfer the mix to a lined 26.5cm x 19cm roasting tin.
Put the tin into the fridge, and leave to set for an hour, then scatter over the reserved broken biscuits, cherries and pistachios. Return the tin to the fridge to set for a further 2 hours before slicing and serving.
FOR GLUTEN-FREE: use gluten-free digestive biscuits.
TO VEGANISE: substitute the butter for 100g coconut oil and a pinch of salt and use vegan dark chocolate.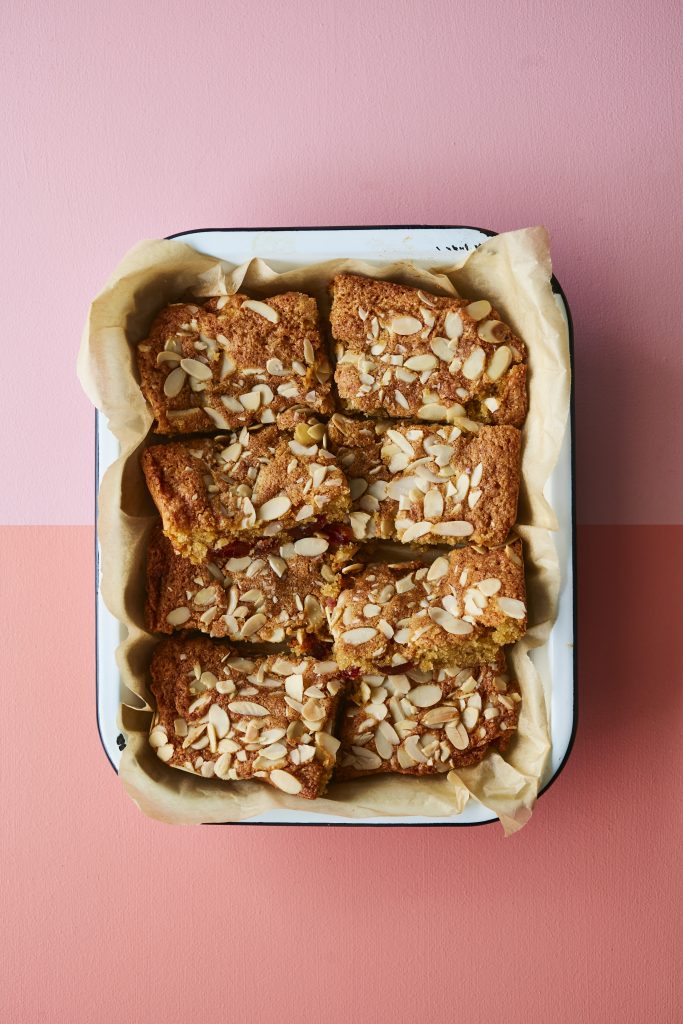 CHERRY & ALMOND CAKE
Serves: 8 Prep: 15 minutes Cook: 30–35 minutes
"I cannot pass a bakery selling cherry and almond cakes without going in to get a slice – particularly welcome after or during an outing with the pup. For me, this is a perfect all-day cake – just make sure to use the nice bright red glacé cherries for full retro impact."
170g softened butter
170g soft light brown sugar
3 medium free-range eggs
100g self-raising flour
75g ground almonds
1 teaspoon baking powder
100g glacé cherries, halved
50g flaked almonds
Preheat the oven to 160ÆC fan/180ÆC/gas 4..Whisk the butter and sugar together until pale and fluffy, then beat in the eggs one at a time. Gently fold in the self-raising flour, ground almonds and
baking powder, taking care not to over mix. Spoon the batter into a lined 20cm x 26cm roasting tin.
Scatter the glacé cherries and flaked almonds over the cake, then transfer to the oven and bake for 30–35 minutes until firm to the touch and a skewer inserted comes out clean.
Leave the cake in the tin for 5 minutes, then gently lift it out on to a wire rack and leave to cool briefly before serving warm or at room temperature. Any leftovers will keep well in an airtight tin in a cool room for 2–3 days.
FOR GLUTEN-FREE: substitute gluten-free flour for the ordinary flour.
ORANGE CHOCOLATE CHIP BREAD & BUTTER PUDDING
Serves: 6 Prep: 10 minutes Cook: 25–30 minutes
"This is based on a favourite steamed pudding – orange chocolate chip – which my mother made us as children. This bread and butter version uses the same flavourings but helps if you've got some leftover bread to use up."
3 medium egg yolks
50g caster sugar
1 orange, zest and juice
300ml single cream
50ml milk
300g soft white sliced farmhouse bread, buttered
100g (70% cocoa solids) dark chocolate, cut into chunks
Custard, to serve (optional)
Preheat the oven to 150ÆC fan/170ÆC/gas 3. Whisk the egg yolks with the caster sugar and orange zest, then slowly whisk in the single cream, milk and orange juice. Set aside.
Cut the buttered bread into quarters and arrange one layer in a buttered 20cm x 26cm roasting tin. Spoon over enough orange custard to coat, squashing down the bread well with a spoon, then scatter over a layer of chocolate chunks. Repeat, layering up the bread, chocolate chunks and custard until you've used up all the bread. Pour the remaining custard over the top, add a final layer of chocolate chunks, and gently squash everything down again.
Transfer the pudding to the oven and bake for 25–30 minutes, until crisp and golden brown on top, but still soft within. Serve hot, with custard on the side if you wish.
FOR GLUTEN-FREE: use gluten-free sliced bread