Guess what? I bet you weren't aware that Monday 1 March heralded the start of British Pie Week! Apparently, it was founded by Jus-Rol, the well-known brand of ready to bake pastries and dough, back in 2007. Jus-Rol doesn't seem to have much to do with it nowadays, but I read that around 75% of us enjoy a pie at least once a month. Let's face it; there are endless variations of pies – from starters, to main courses and of course desserts. Pies are so comforting, indulgent and delicious and it has to be said that some of our traditional British recipes are just the tops (if you'll pardon the pun!).
So what's the history of the pie? According to BBC Bitesize, the Ancient Egyptians were the first to invent a dish close to what we know as a pie today. They had a honey filling covered in a crusty cake made from oats, wheat, rye or barley. A recipe for chicken pie was also discovered on a tablet carved prior to 2000 BC. Later on, closer to the 5th Century BC, the Ancient Greeks were believed to invent pie pastry as it is mentioned in the plays of the writer Aristophanes and it was possible to work as a pastry chef in this era, a separate trade to a baker.
The Romans took the concept of pies even further. They would make a pastry of flour, oil and water to cover up meat but this was intended to preserve the juices and flavour of the filling and was not intended to be eaten. A Roman cookbook from the 1st Century, called Apicius, mentions recipes that include pie cases. There is even one that we would recognise as a cheesecake, using pastry for a base, which has the interesting name placenta. With the Romans came roads, and thus their pies (and their recipes) eventually found their way around all parts of Europe.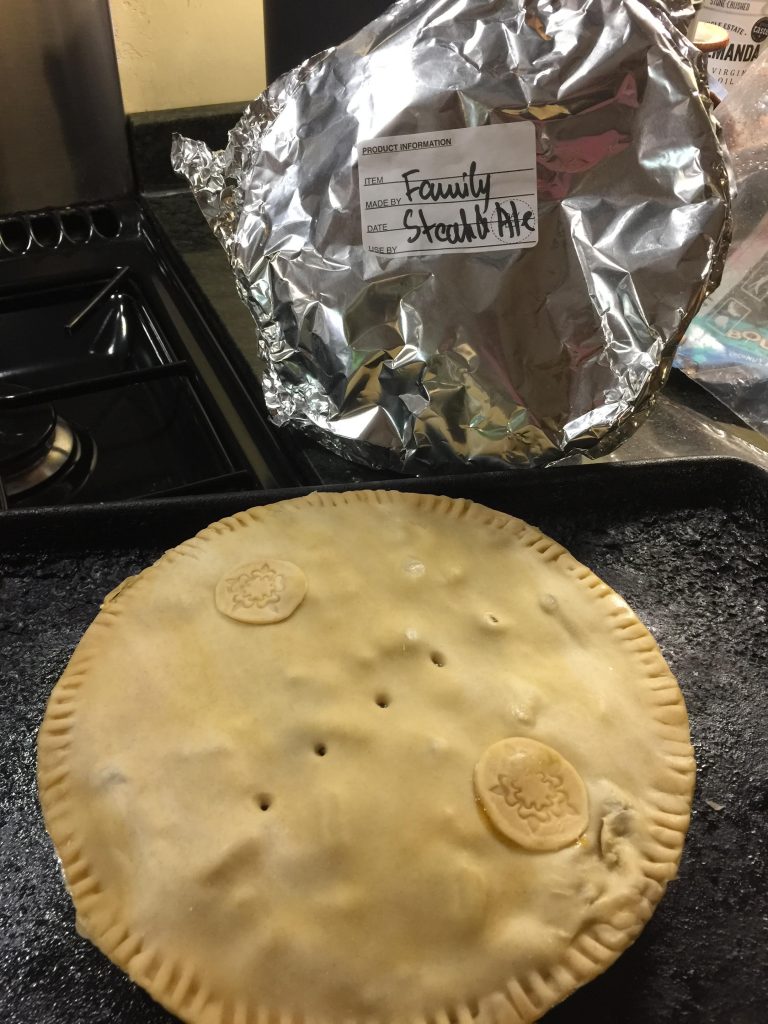 The early "pyes" were mostly meat pies, so, in the interests of research for this article, (and a touch of greed thrown in, I must admit!), we tried out the latest 'finish at home' service from the Kings Arms at Hampton Court. Reader, if you fancy a really good British feast, then head to the website here and choose your pie. You can order individual pies (£17) or the very generous family pie (£60) and they come complete with sublime buttered mashed potato, plus greens and gravy. There is a choice of Suffolk Chicken & Chestnut Mushroom Pie, Guildford Farms Steak & Wimbledon Ale Pie or Butternut Squash, Tunworth Cheese & Sage Pie. Our food was delivered by bicycle, on a very cold day. The charming delivery chap told me that he normally works front of house, but of course with lockdown they are all 'helping out'. He'd cycled across Bushy Park with our Steak & Ale pie, veg and a pudding! Full instructions were included and our pie was beautifully finished – ready to pop into oven. We also received individual portions of veg and we'd ordered one portion of apple crumble and custard to share, just to add to that comfort food experience!
The pie was fabulous, packed with quality meat and so tasty. The pastry almost seemed a mixture of puff and short crust. The assorted veg and mash just needed popping into the oven to warm through – timings given. The meal was a real treat and there was ample for four.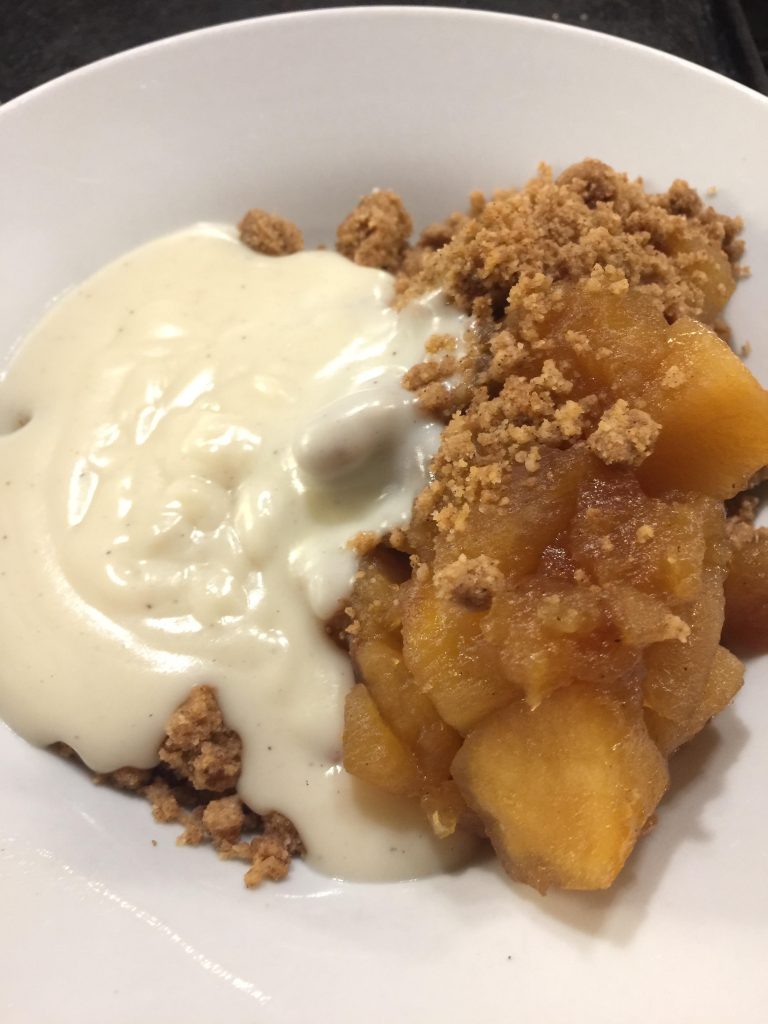 Now the crumble was, to our slight disappointment, a 'deconstructed' version, but nonetheless it was delicious. I managed to snaffle a spoonful and it was beautifully spiced, but of course, lacked that gooey layer that one gets with a 'proper' crumble. All in all, it's a great meal for a family of four – at £15 a head.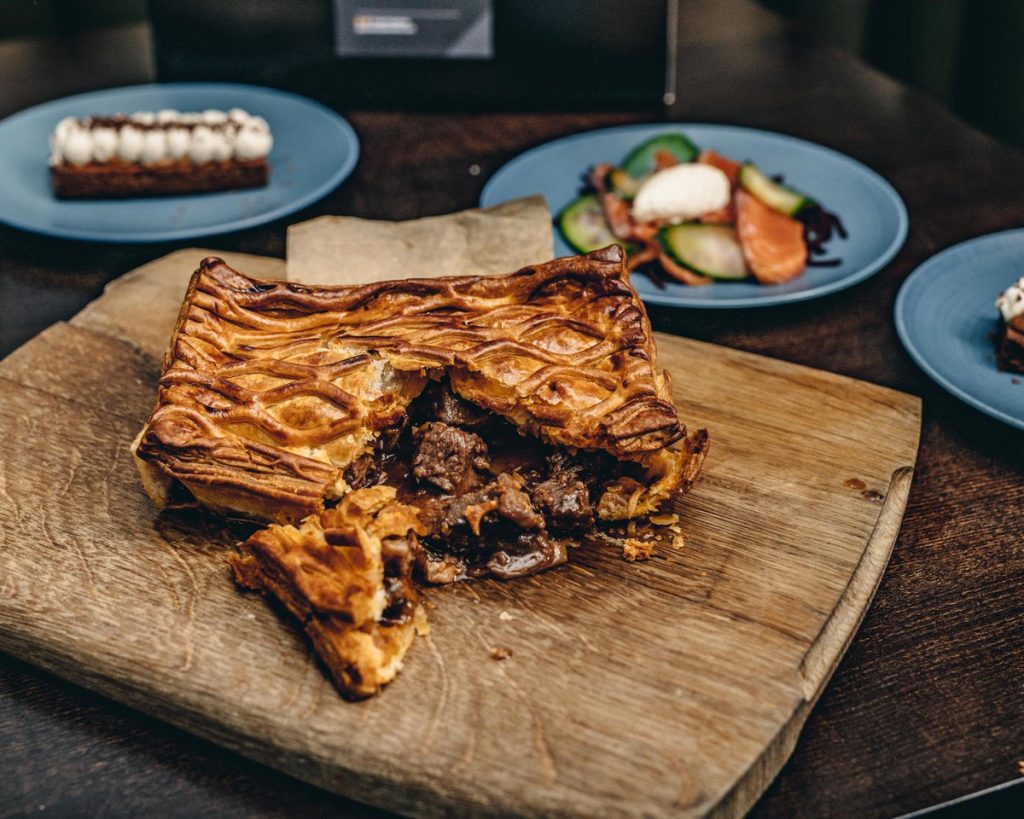 Of course other pies are available to cook at home – if you want the full works delivered and aren't in the delivery zone for The Kings Arms, you could look at Gaucho at Home which is doing national delivery now. There are three pies available – with veg – and a choice of two starters and a chocolate torte for pudding (£55 for two, plus delivery). Another company is MyPie that was previously – in 'normal' times – a fleet of food trucks, but the company now offers nationwide delivery of its unusual range of pies. But to be honest, you would need to be a real pie fanatic to order a delivery of just pies! Call me lazy, but there is something much more special when someone else has done the hard work for the veg too, and you just need to pop the whole meal in the oven!
I see that Cook is promoting its range of over a dozen different frozen pies in various sizes. And the supermarkets, too, have a good range (the M&S Best Ever pies are excellent, as are many other supermarket pies). Of course, you could always knock up a quick rough puff or short crust (or just unroll that ready rolled pastry) and make your own! If you seek inspiration, head to jusrol.co.uk and there you will find endless pie recipes – for all occasions.
Finally, do check with your local pub as so many are now offering fabulous pies that you can either collect or have delivered – they need our business much more than those supermarkets!