As regular readers will know, I feel very strongly about the plight of our beleaguered hospitality industry, which, I feel, has been treated most unfairly by our draconian lockdown regulations. So I was delighted to learn that a group of the UK's most-loved chefs, including Jamie Oliver, Tom Kerridge, Raymond Blanc and Angela Hartnett, have contributed to a unique collection of home-cooked recipes, Chefs at Home, (£26, hardback) in aid of the charity Hospitality Action. It marks the one-year anniversary of the first national Covid-19 lockdown.
Published at the end of this month, it's a compilation of dishes our celebrated chefs cooked for their own families when ingredients were limited and supermarkets had queues – online and outside! What's more, 100% of all royaltieswill be going to Hospitality Action. Jason Atherton, chef-patron and Principal Patron, Hospitality Action, says: When lockdown began in March 2020, we all felt a deep sense of loss, but this was tempered by the joy of spending precious time at home with our families. Behind our closed doors, we all did what we do best: we cooked…and cooked. So, when Hospitality Action asked us to contribute to Chefs at Home, we had lists of recipes as long as your arm to offer up. All the dishes in this book were conceived and cooked with love: think butties, Monster Munch and mash, not foams, soils and emulsions."
As I am still awaiting, with excitement, the copy that I immediately purchased online, I was sent a small 'taster' of the book by the publisher, and chose a couple of recipes from this to share with you. Hopefully it will encourage you, too, to go online and support this industry, which – one way or another – employs such a massive proportion of the UK workforce!
And Tesco is offering another way you can help the industry: It is launching a service (12p.m. to 7 p.m. daily) to give wine lovers access to tailored tips from top sommeliers and, at the same time, raise funds for Hospitality Action. This free-to-use SMS service is available till 16 April. It will deliver bespoke bottle recommendations from leading sommeliers by text, to help you elevate your evenings. This service operates in real-time, offering advice within 30 minutes. For every recommendation, Tesco will give £1 to Hospitality Action. Simply text "WINE" to 82228 (standard network rates apply) and follow the steps. (Further information here) RECIPES THIS WEEK!!
POWER OMELETTE – from Sat Bains (Serves 2)
"Power up your mornings with my take on the classic omelette. The pairing of bacon, spicy chorizo, red pepper and red onion submerged in six whole eggs, coupled with a chilli avocado side and a helping of cottage cheese, will put meat on your bones and help you to tackle whatever the day brings."
olive oil
2 rashers of back bacon, chopped into lardons
100g chorizo, chopped
1 long red pepper, deseeded and sliced
1 red onion, sliced
6 eggs, lightly beaten
1 avocado
chilli flakes, to taste
salt and freshly ground black pepper
100g cottage cheese, to serve
Drizzle a little olive oil into a large non-stick frying pan and set over a medium heat. When hot, add the bacon and chorizo and sweat for a few minutes, until caramelised. Add the pepper and onion and cook for about 3–5 minutes, until soft.
Season the beaten eggs with salt and pepper, then add them to the pan. Cook gently, moving the outside of the eggs to the centre to incorporate all the ingredients, on a low heat for about 15 minutes, until the omelette is mostly set with a slight wobble in the middle.
Meanwhile, halve and destone the avocado and scoop the flesh into a bowl. Sprinkle with salt, pepper and chilli flakes, to taste, and drizzle with a little olive oil.
Once the omelette is ready, turn off the heat and allow it to rest and set fully for a few minutes. Cut the omelette like a tart and serve it with the avocado mixture and a dollop of cottage cheese.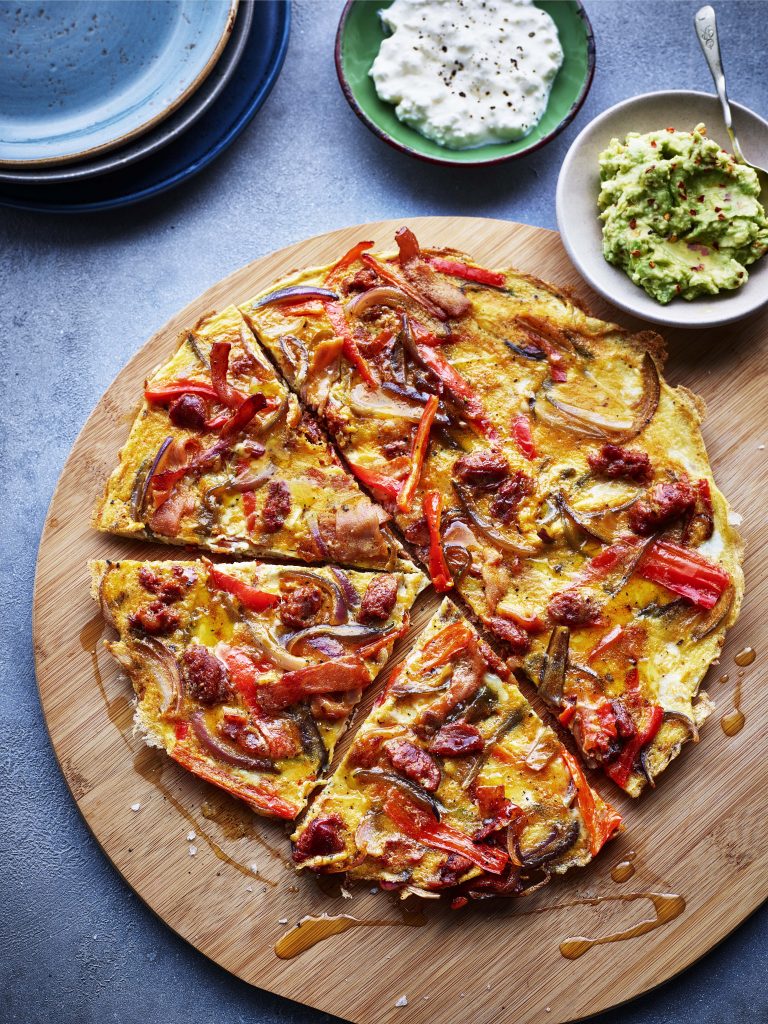 HALLOUMI LOAF – from Selin Kiazim (Serves 4–6)
"This is such an easy loaf to make and it's great to have in hunks for breakfast or as a snack with a cup of tea. It proved a firm favourite for us at home during lockdown. You could use a mixture of olives and halloumi, or just straight olives, if you prefer – just pit them and roughly chop before adding to the mixture."
500g plain flour
7g sachet of fast-action dried yeast
½ teaspoon fine salt
½ teaspoon caster sugar
125ml extra-virgin olive oil
½ onion, finely chopped
2 x 225g blocks of halloumi, cut into 1cm cubes
1 tablespoon dried mint
In a large bowl mix together the flour, yeast, salt and sugar. Add 400ml of water and half the olive oil to form a thick batter.
Add the onion, halloumi and dried mint and mix well.
Use the remaining olive oil to heavily grease a 900g loaf tin. Place the mixture into the tin and spread it out evenly. Cover with a damp cloth and leave it to rise in a warm place for about 2–3 hours, until doubled in size.
Preheat the oven to 210°C/190°C fan/Gas mark 6–7.
Place the risen loaf, in the tin, in the oven for 35 minutes, or until golden brown and a lovely crust has formed. A skewer inserted into the centre should come out clean.
Leave to cool in the tin for 10 minutes, then turn out on to a wire rack to cool completely, before cutting into portions.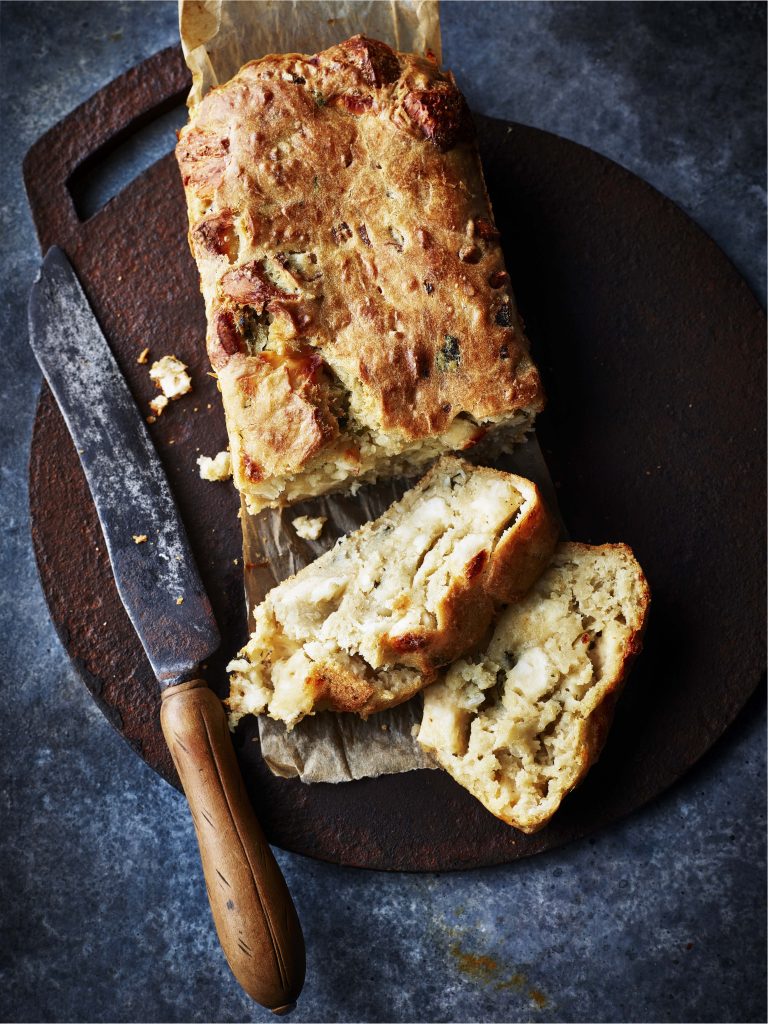 Extract taken from Chefs at Home: Delicious Family Recipes from the UK's Leading Locked Down Chefs (£26, Jon Croft Editions) Photography © Kris Kirkham