Sitting here on a windy day in March in another lockdown while writing this, I am longing for some sunshine and those warmer days! So I thought I would cheer you up by sharing with you information about a fabulous cookbook that positively makes me long to book a trip to Sardinia. Bitter Honey by Letitia Clark, published by Hardie Grant (£26 for a hardback) is a real 'tonic'. It celebrates the glory of Italian food, and the reason why it remains so endlessly popular; each recipe has a story behind it to transport us to the glittering, turquoise waters and laid-back lifestyle of this Italian paradise. Leticia has worked as a chef in London, but now splits her time between London and rural Sardinia (lucky thing!).
I've visited much of Italy, but not, as yet, Sardinia. This splendid book makes me so keen to go, and shows me that Sardinian food is a distilled version of Italian food: simpler, more rustic, and more wild. The emphasis on tradition and on the importance of eating well is even more pronounced here on this forgotten island. I've chosen some recipes for you from the book that are perfect for this time of year: blood oranges are at their best and the Natoora radicchio that comes in fresh from Italy is magnificent and perfect for the risotto (you can also griddle it and serve it with olive oil and good balsamic – yum!).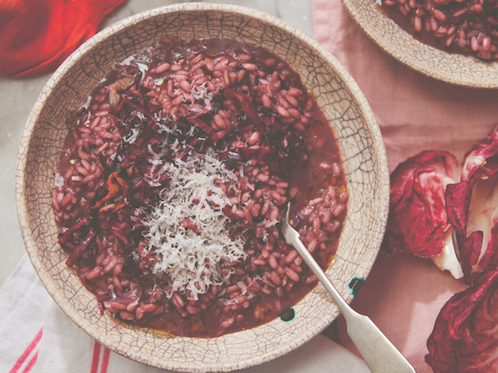 RED WINE AND RADICCHIO RISOTTO WITH SAPA SERVES 4 (MAIN) 6 (PRIMO)
Risotto al Vino Rosso, Sapa e Radicchio
'I love red wine: drinking it, cooking it, even painting with it. Sardinian Cannonau is one of the most drinkable red wines I know. It's smooth, rich and rounded and…. just very easy to drink, whether on its own or with food. I've honestly never tasted a bad one – even those that arrive in opaque unlabelled petrol containers are delicious. Like the Greeks, Sards often drink this wine chilled, especially in the summer. Gianni cuts up ripe peaches and puts them into his glass, which makes a delicious sort-of pudding. This wine is also wonderful in cooking. In this risotto, the fruitiness of red wine and the richness of butter and cheese balances the bitterness of beautiful purple radicchio.
I cook the radicchio separately, in a little butter and sapa, just to take the edge off and to enhance its own fruitiness.'
1.2 litres (401⁄2 fl oz/5 cups) light chicken stock
500ml (17 fl oz/2 cups) red wine (preferably Cannonau)
150g (51⁄4 oz) butter
1⁄2 head of large radicchio or 1 small entire head, finely sliced pinch of sea salt
1 tablespoon sapa or an aged balsamic
2 small white onions, finely diced
2 garlic cloves, sliced
400g (14oz/2 cups) risotto rice
80g (3oz) Parmesan, grated, plus extra to serve
In a deep saucepan over a low heat, mix together your stock and wine.
Melt 20 g (3⁄4 oz) butter in a separate saucepan. Reserve
a handful of radicchio for decoration then fry the rest until
it just wilts. Add a pinch of salt and the sapa. Continue cooking for a minute or so and set aside.
Melt 50 g (13⁄4 oz) butter in a deep saucepan and fry the onions and garlic gently, until soft and translucent. Add the rice and stir for a minute or so. Add a ladle of your wine and stock mixture and stir until it has been absorbed into the rice. Repeat the process, ladle by ladle, stirring after each addition until the rice absorbs the liquid.
The whole cooking process should take around 17–20 minutes. Once your rice is al dente and the liquid has mostly evaporated, set it aside for the 'mantecatura', or 'creaming'.
With a wooden spoon, beat in the rest of the butter and grated Parmesan. Beat well, for a minute or two, until a luscious creamy sauce is formed.
Finally, fold in your cooked radicchio and serve, topped with the reserved raw radicchio for decoration and an extra grating of Parmesan.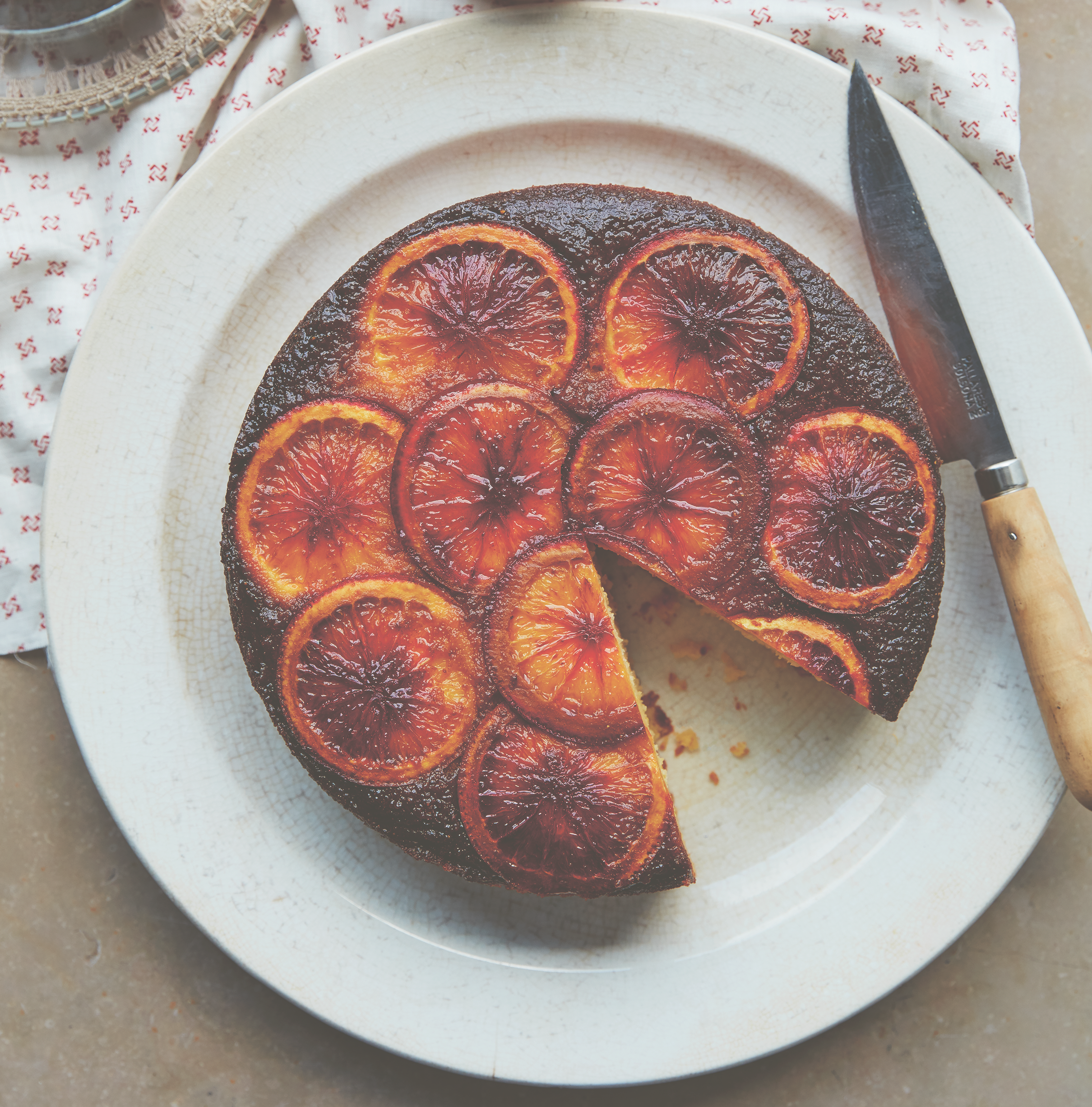 BLOOD ORANGE, RICOTTA, POLENTA AND OLIVE OIL CAKE (SERVES 8–10)
Torta di Arancia Sanguigna, Ricotta, Polenta e Olio di Oliva
'A perfect cake, this is simultaneously fluffy, rich and light. The polenta gives it a lovely crunchiness at the edges. It will stay soft and sticky for days, though it is unlikely it will last that long – it is especially delicious for breakfast with an espresso. Blood oranges look the most striking with their scarlet flesh, but normal oranges will work just as well. A final note: this batter will look very runny when it is made, but do not be alarmed. It is all exactly as you planned…'
For the base
1–2 blood oranges
100 g (31⁄2 oz/1⁄2 cup) Demerara sugar
For the batter
200 ml (63⁄4 fl oz/3⁄4 cup) olive oil, plus extra for greasing
200 g (7 oz/1 cup) caster (superfine) sugar
pinch of sea salt
250 g (83⁄4 oz) ricotta
zest and juice of 4 small blood oranges
juice and zest of 1 large lemon
4 eggs
100 g (31⁄2 oz/2/3 cup) polenta
150 g (51⁄4 oz/11⁄4 cups) plain (all-purpose) flour
2 teaspoons baking powder
Preheat the oven to 180oC (350oF/Gas 4). Grease and line a 20 cm (8 in) cake tin.
First, prepare the base of the cake.
Wash the oranges and slice them into 2 mm discs with a very sharp knife (you can use a mandolin or a slicer if you have them). I leave the rind on, as when cooked like this it becomes edible, but if you prefer you can remove it.
In a small saucepan over a medium heat, melt the demerara sugar with 2 tablespoons water until it has dissolved. Simmer for a few minutes until the syrup begins to caramelise (you should smell and see the colour change to a light amber). Pour your syrup over the bottom of the cake tin. Arrange the slices of blood orange, as many as will fit in one layer in a pleasing pattern, on top of the syrup.
To make the batter, whisk the oil, sugar, salt, ricotta, citrus juice and zest together in a large mixing bowl. Add in the eggs one at a time and beat until smooth. Add in the dry ingredients and beat until smooth. Pour the batter into the prepared tin and bake for 40–50 minutes, until golden and just set.
Allow the cake to cool for 5 minutes, then run a knife around the edge of the tin and invert onto a wire rack or serving plate. Allow to cool completely before slicing.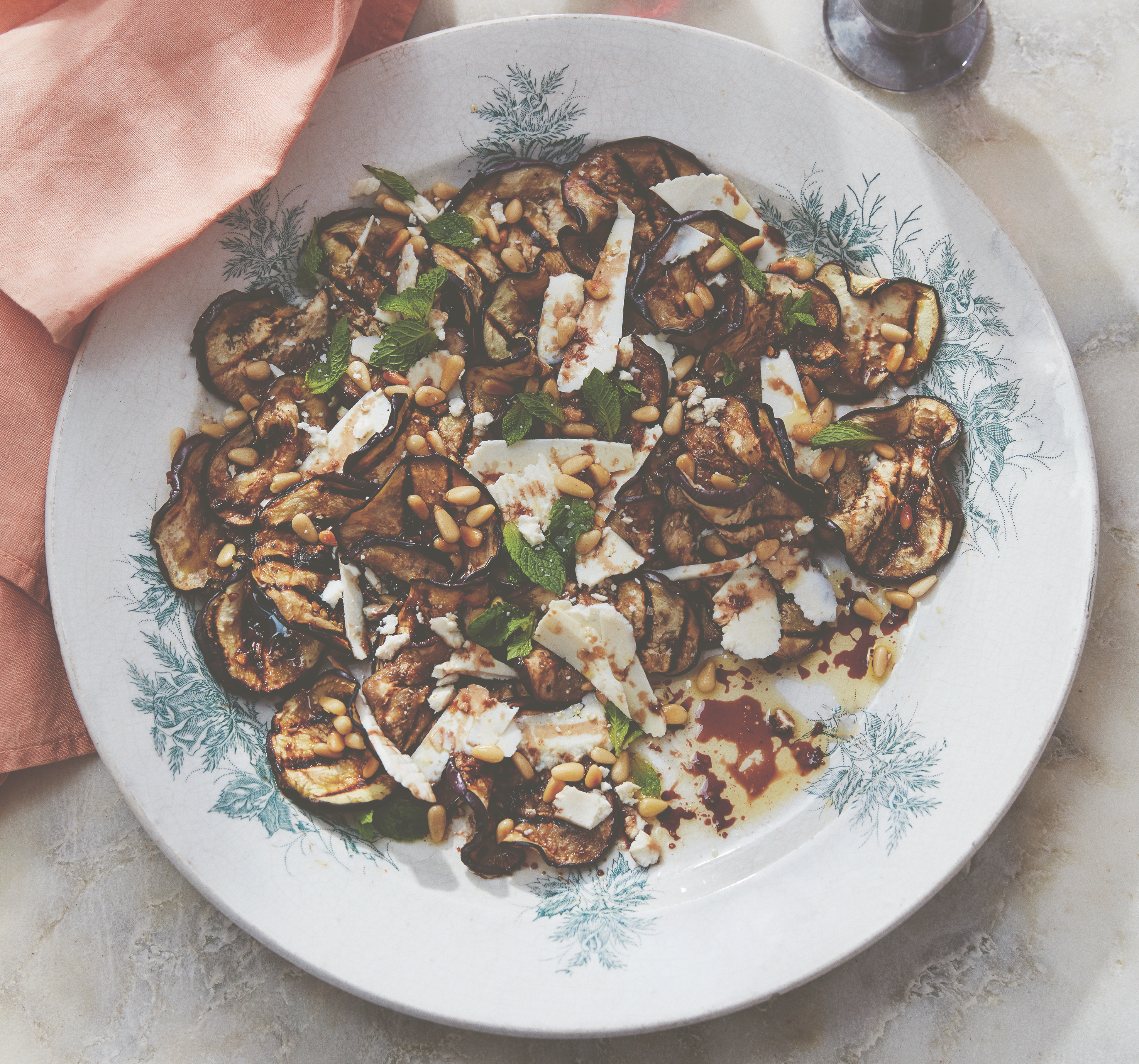 GRILLED AUBERGINES, SAPA, RICOTTA SALATA AND MINT
Serves 4–6 as an Antipasti or Side Dish
Melanzane Grigliate, Sapa, Ricotta Salata e Menta
80 g (23⁄4 oz/2/3 cup) pine nuts
3 large aubergines (eggplants), sliced into rounds, 1⁄2 cm (1⁄4 in) thick
a handful of mint, roughly chopped
80 g (23⁄4 oz) ricotta salata, sliced into shards
For the dressing
1 tablespoon balsamic vinegar 1 tablespoon sapa or date molasses
1 garlic clove, minced
2 tablespoons lemon juice
zest of half a lemon, grated
5 tablespoons best-quality olive oil
pinch of chilli flakes
Here I have played with a combination Luca and I used to make at Morito. It was a dish of fried aubergines, whipped feta and date molasses, which sold out every service. Little surprise, as it is a winning concoction of salty, fatty, silky and sweet.
If you cannot find ricotta salata, feta is a good substitute. The same goes for the sapa – you can easily use date molasses instead. The important thing is to have something sweet and syrupy against something tangy and savoury.
This dressing is so good you'll want to serve it with almost everything. It's excellent with grilled radicchio or endive (the bitterness works beautifully), or with grilled lamb and greens.