Scary isn't it? No, not Halloween, we've already had that, now it's time to start thinking about Christmas, and the plethora of 'Advent' calendars available. I've said it before, and will say it again; they should be called 'Countdown to Christmas' (or maybe even 'Countdown to Holidays') because most of them completely miss the whole point of Advent! This year quite a few companies are, in fact, now calling them Christmas calendars. I've done some research for you and here is a selection of my recommendations: but do your own research as well – there are many different ones – at so many differing price points.
Chocolate is usually a popular choice and Divine always has a couple of really excellent value Fairtraid calendars featuring a nativity scene. Available at around a fiver from Oxfam shops, online from Divine or from Ocado, you can choose between milk or dark chocolate and you know it's going to be good quality, ethically produced chocolate as it carries the Divine name. Another fabulous classic is from German company Neideregger. It's filled with chocs and their delicious marzipan at £35 from John Lewis. And if you're a true marzipan fan, there's a fun Santa dark choc one from Neideregger for £19.99 at Lakeland.
What if you want to buy a vegan chocolate one? Well, oat milk chocolate brand, Happi Free From has launched its first advent calendar, for those who can't – or choose not to – eat dairy. It's £7.50 online from Happifreefrom

Still on the chocolate filled calendar theme, do check out Montezuma's range – they're well priced, ranging from the two chocolate ones at £9.99 (Absolute Black, Dark Chocolate and Milk Choc) to the truffle version at £29.99 montezumas.co.uk
Well, that's enough chocolate to choose from, how about something for the beer drinker? Online craft beer specialist Flavourly has its CANvent calendar at £42.95 including delivery for 24, full sized premium beers – less than £1.76 per beer. Now in its fifth year, the calendar has sold out on pre-order every year so you'd better order soon!
Another company doing a beer calendar is Beavertown Brewery. It's cleverly designed, fridge-packable, and divides into five packs. £55 including a limited edition glass, from the Beavertown webshop.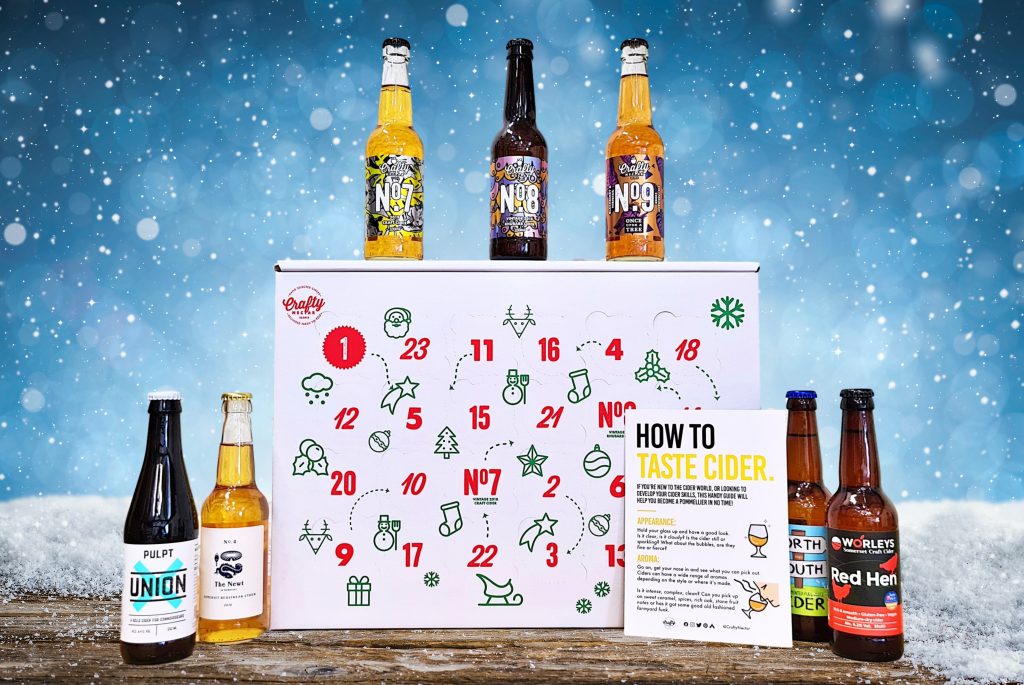 For cider fans, I'd suggest Crafty Nectar's Advent calendar. The ciders are vegan-friendly, gluten and additive free. What's more, for each one sold, the company will plant a tree! £82.50 including interactive tasting notes, a tasting guide and more as well as 24 fine British produced ciders. Craftynectar.com
If you're a cheese addict, what could be better than a different cheese for each day of Advent? Various cheese calendars are available, including the Ilchester Cheese one – a bargain £8 from Ocado
Or you could really push the boat out and go the whole hog with the ultimate cheese calendar from top retailer Paxton & Whitfield no less. It's not cheap at £150, but each of the 24 boxes is beautifully presented, fully recyclable, and contains a minimum 75g cut of cheese, hand wrapped in wax paper. They're portioned generously enough to take you through each day, but also large enough to share. Recipients will receive three fresh deliveries of eight hand-cut, hand-wrapped, artisan cheese boxes in December. This is the first year that Paxton & Whitfield's offered this, and you'll know each of the cheeses included will be rather special.
For sweet Advent calendar indulgence, there's Bonne Maman the French conserve company. It's a lovely treat at breakfast each morning as the calendar contains 23 different mini jars of jam and two special surprise gifts. Each mini pot offers an exclusive fruit variety or unique flavour combination. This year it also offers two special surprise gifts – the first to start the Advent adventure on day one and the other on Christmas Eve. In the past this calendar has been a sell out, so order or buy soon at Ocado, Fenwick, Booths, Costco plus other selected specialist stores. £23.99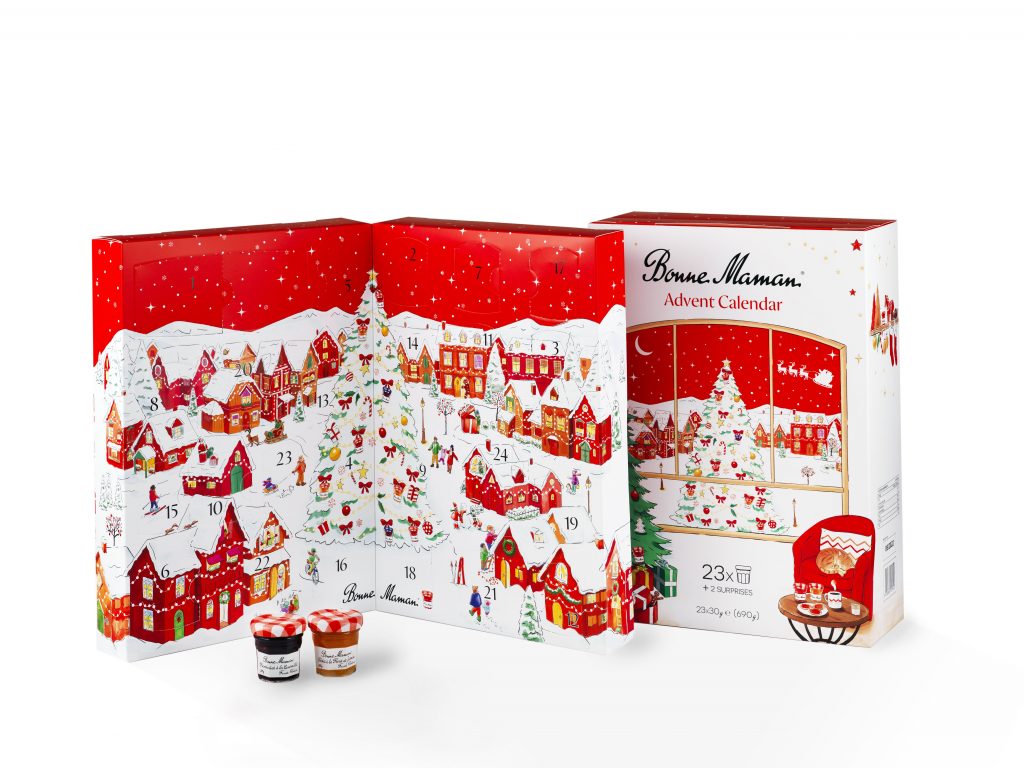 And last, but by no means least, especially if you are watching those calories in the run up to those festive indulgences, try a tea Advent calendar and count down to the big day in style with Mariage Frères' luxury Christmas calendar featuring 25 unique premium teas from this trendy French teahouse, handsomely tied together with satin ribbon. £45 from www.mariagefreres.com or pop into the shop in King Street, Covent Garden.
Other tea calendars are available from John Lewis (24 Days of Tea £20), Whittard £60, Fortnum & Mason (a bargain for only £25! But they also have one at £145) herb teas with Pukka Days of Christmas (£10 from Holland & Barrett).
Whichever Christmas Countdown or Advent Calendar you fancy, I would recommend that you order or buy it soon: the best ones often sell out!