"Shiny red and gold glass bangles clinking on the side of the pan, the smell of a warm, spice-filled kitchen, my mum smiling… I am transported back to this every time I cook dal. By the simple act of sharing our food and stories we can make unexpected connections with each other which can bridge our cultural, religious and ethnic divides and bring us all closer together." Kalpna Woolf

Like Kalpna, most of us have certain dishes that awaken a host of lovely memories (and some sad ones too). Her recently published book Eat, Share, Love, is a delight. It's published by Meze at £22 (hardback). A unique collection of recipes from home cooks bringing together inspirational global dishes with heartfelt personal stories behind the recipes, it features a myriad of dishes from the UK's eclectic cuisines, some of which are less familiar, such as berbere-spiced Eritrean stews, Iranian saffron rice and fresh Sudanese salads. Kalpna is not only an award-winning food writer, but also a charity campaigner: In 2015 she launched her charity 91 Ways, which seeks to bring diverse communities together using the power of food to share stories and break down barriers. All proceeds from this book will go to 91 Ways, based in Bristol and named after the 91 languages spoken there.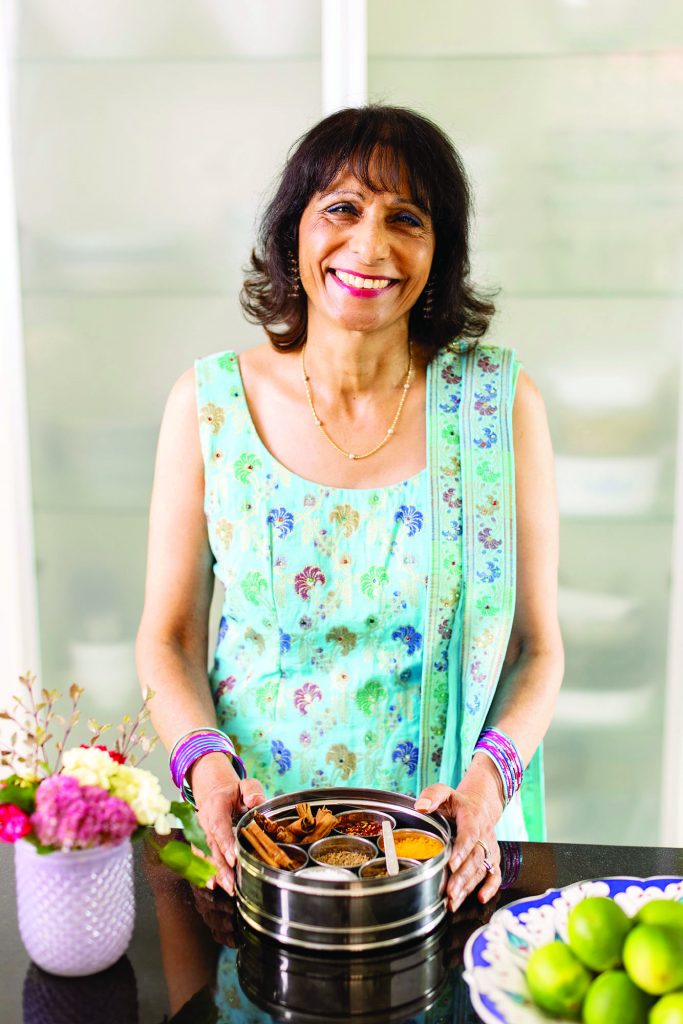 The book is a joyous read, particularly in these dreadful times when many of us are opening our homes to the poor refugees from Ukraine. Every dish is accompanied by the personal story behind it, revealing touching tales of love, family, friendship, happiness, loss, kindness, laughter and much more. From romance blossoming over a tantalising Persian ghormeh sabzi to foraging in hedgerows for elderflowers to make Grandma's delicious cordial and gathering with family and friends to make Moldovan cheese dumplings.
Here is a recipe from Eat, Share, Love to whet your appetite – and beneath it the story of Lucio, whose recipe it is. This really is a lovely book and it would also make a very appropriate Mothers' Day gift?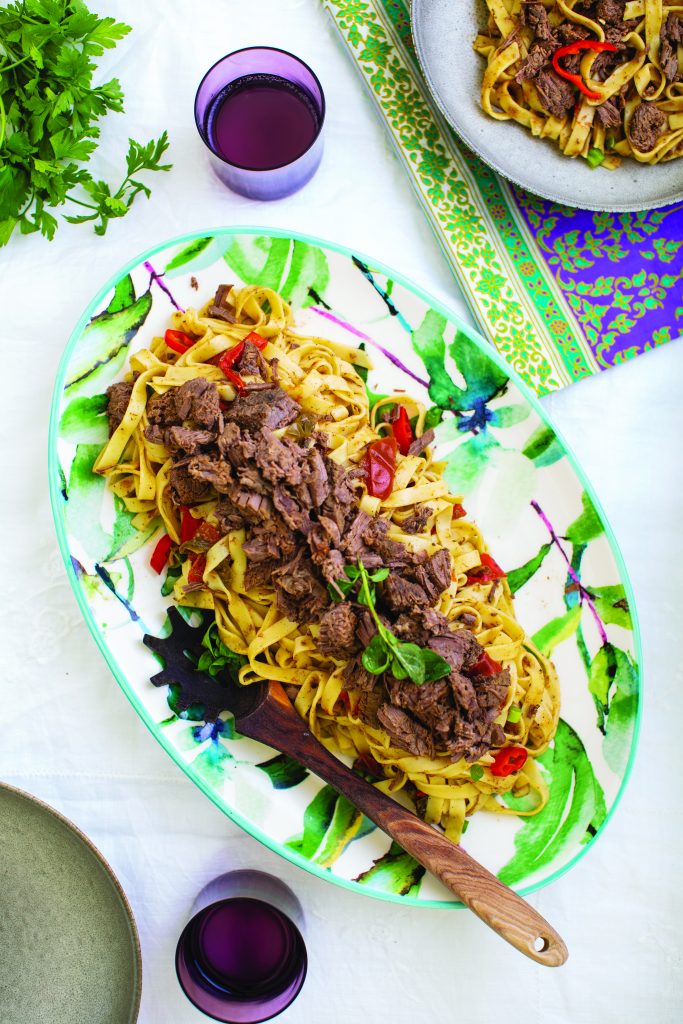 BRAZILIAN CARNE DE PANELA
LUCIO MESQUITA
This dish can be served just with pasta, or with a salad as well (my grandmother's favourite side dish was another good lump of carbs in the shape of a potato and vegetable mayonnaise salad). Many people in Brazil eat pasta dishes accompanied by pinto beans or similar.
Preparation time: 12 hours • Cooking time: 2-3 hours • Serves 4
• 1 whole piece of topside beef, or any roasting joint
• 150ml red wine vinegar
• 1 tsp salt
• Pinch of ground black pepper
• 2 onions, roughly chopped
• 3 cloves of garlic, crushed
• 1 red or green pepper, sliced
• Vegetable oil
• 500g pasta (ideally tagliatelle or any other flat type)
• Parmesan cheese (optional)
Preferably a day in advance, pierce the beef joint liberally with a small knife or scissors to help the meat absorb the seasoning. Mix the vinegar, salt, pepper, roughly chopped onions, crushed garlic and sliced pepper together, then coat the meat with the mixture. Let the beef rest in the marinade for at least 12 hours or, ideally, overnight.
Reserve the remaining marinade. Heat a pan with a small amount of oil and seal the beef joint. The aim here is to let the meat burn a bit on the pan as that will add a deeper flavour to the sauce. The longer you leave it to seal, the darker the sauce will be.
Once well sealed, add the marinade to the pan, cover with a lid, bring it to the boil and then gently simmer, adding water as needed to keep the beef about half covered in liquid while cooking. Keep cooking for at least 2 to 3 hours, checking often to make sure the pan isn't dry and to see if the meat is soft. Check the sauce for seasoning and adjust to taste; add more sliced pepper and/or onions to the sauce if you want more texture.
You can prepare the meat a day in advance, reheating it and reducing the sauce (if needed) closer to serving time. When ready to serve, cook the pasta and drain it. Transfer the pasta to a deep serving dish, pour in most of the sauce from the meat pan and mix. Slice the beef joint, place the slices on top of the pasta then pour the remaining sauce on top. It's now ready to serve, topped with some freshly grated parmesan if you like.
Lucio's Story:
"Much is said about food being a lot more than just food; it makes up a big chunk of our memories and our stories. We often talk about food smells that take us back in time, or dishes that place us right back at home, visiting a relative or at school.
For me, one of the dishes that takes me right back in time is carne de panela (meat cooked in a pan) with pasta. It is a simple and easy dish but it was something special for us in the family, as it was one of my maternal grandmother's Sunday lunch signature dishes which she passed on to her daughters, including my mother (although they all added their own twists to it).
As three out of her four children live abroad, including myself, carne de panela also regularly featured on the food wish list we would share with our mother ahead of any visit to see her in Brazil. It also became a favourite for my UK-born children.
But the dish now has an even more special meaning to me. In 2019, my mother was diagnosed with terminal cancer and I spent as much time as possible with her during that year, together with my siblings, to support her and be with her for the time she had left with us. A brutal realisation that things would not be the same ever again came with the fact that, for the first time, my trip to Brazil did not include the usual advance food wish list. This was the time for us to feed her, not the other way round.
During a rare week when she was feeling slightly better, we decided to make carne de panela, with her instructing us on what to do and helping as much as possible with the prep work. For a brief moment, Dona Vania (as we tended to call her) was back with us as the fantastic (if not sometimes electric) cook she was, and through a dish that meant so much to all of us.
As the one who inherited her interest in cooking, and the same disregard for detailed recipes, it was a sad but proud moment to prepare this dish for her. It was also the one I chose to make for my family in the UK when we joined my brother and my sisters via Zoom this past Boxing Day to mark the first year since her death.
That was because, for me, carne de panela will never be a simple but tasty dish. It will always be one of the quickest ways to travel back in time and place with the family to be at my mother's or my grandmother's kitchen whenever I desperately long for those childhood days.
As mentioned, my mother was one of those cooks who didn't keep or follow detailed recipes, irrespective of whether the dishes were regular ones or invented on the spot, depending on what was in the cupboard or the fridge. Always a problem as she could never precisely replicate any of her dishes! This also applied to carne de panela, so take the recipe I've shared as a reference point and feel free to adjust or change ingredients as much as you want: that was the 'Dona Vania' way!"