You may have heard of Madhu's, especially if you've been to a big Asian wedding, or dined at what was formerly The Brilliant in Southall, now called Madhu's. The Anand family is synonymous with award-winning Asian catering and I was delighted to learn that, as well as having a branch in Harvey Nichols, Madhu's Brasserie has just opened in Richmond, on Sheen Road, in partnership with the royal caterers. Needless to say I was keen to check it out and having recently dined there, I'm pleased to report that I think it's destined for great success.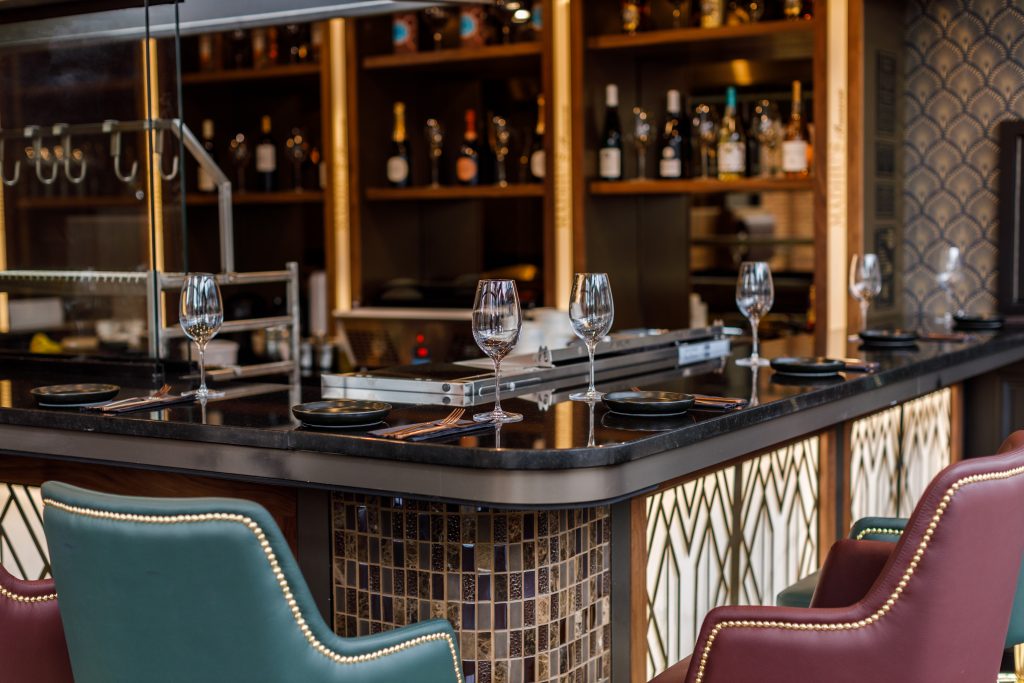 Situated on a corner, the brasserie's stylishly decorated with an open kitchen and a robata grill. For added theatre, customers can sit at the counter, overlooking the tandoor oven and watching the chefs at work.
The menu is well composed, with a dedicated section for the signature toasted wraps, served warm in a soft roti or naan. Fillings include chilli chicken, marinated paneer and minced lamb. At £9 each they will make an excellent light main course – probably needed after the generous portions of wonderful starters!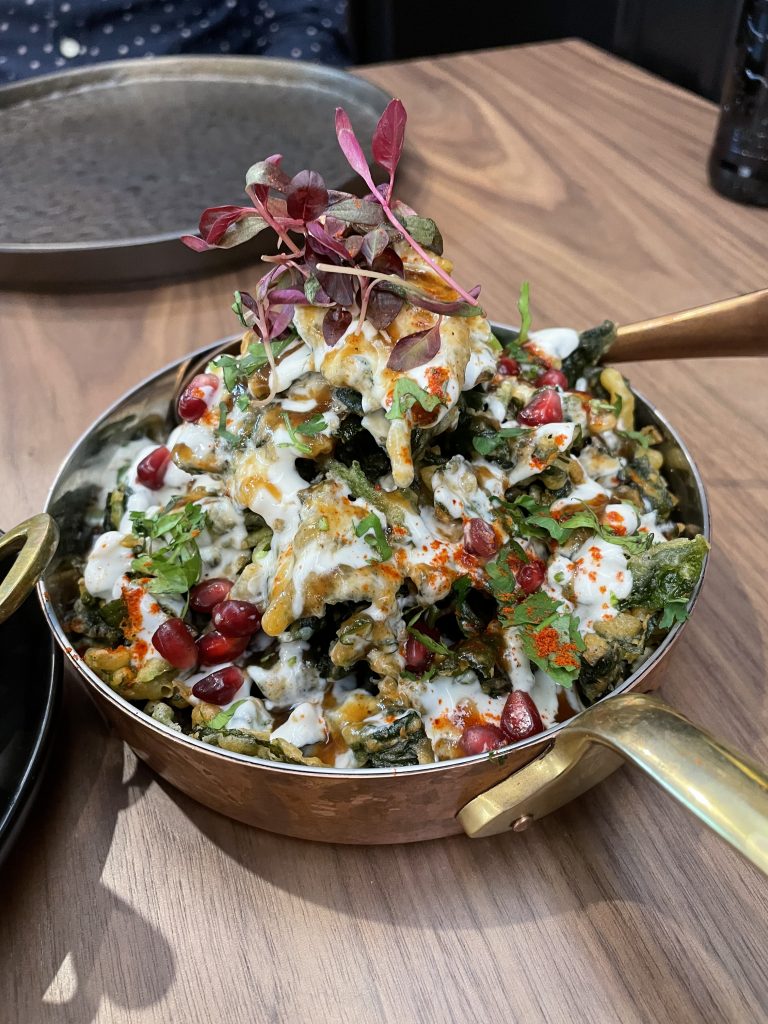 We had a portion of Palak Patta Chaat (£9.50) and a Chilli Paneer (£9.50). The chaat was not only visually magnificent, but tasted fab too. Samphire and crispy battered spinach leaves with chilli, turmeric, fresh coriander, dressed with yoghurt and tamarind…it was great. The paneer was marinated in ginger and garlic, and tossed with green chillies, onions and peppers: rich, smokey and subtly spiced. The portions are large enough for two or three people to share.
The menu clearly highlights all allergens and is great for vegans and vegetarians.
If anything it was a tad scant on fish and seafood, with a prawn moilee curry (£25) the only pescatarian choice on the menu. Thali's are a signature dish at Madhu's and we were shown a beautiful curved, copper thali platter, apparently designed for the Prince of Wales. The idea of being able to try lots of different dishes appealed, so I chose the non-vegetarian thali (£29.50). It was good, a gastronomic adventure on a tray, but slightly heavy on the carbs with naan, rice and a creamy dal. It was very generous, and I couldn't really do it justice after the wonderful starters. I would have liked another meat such as lamb or perhaps a few prawns, as the only meat with a thali was chicken. My husband very much enjoyed his fragrant Karai lamb (£19.50) and I struggled to let him allow me to taste it! He commented that the grilled vegetables had cleverly been added to the sauce later, allowing the flavours to shine through and complement the incredibly tender lamb.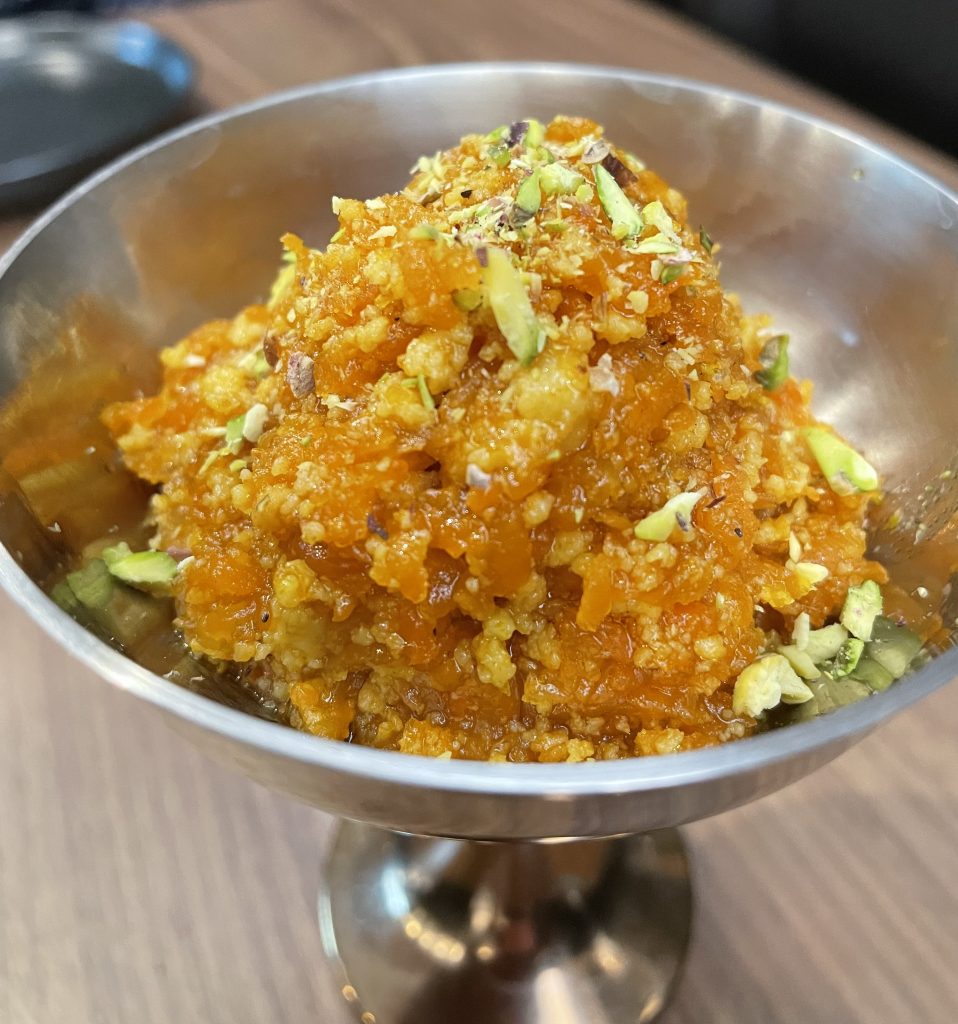 The idea of a dessert after all this food didn't seem like a good one, but Salma, our lovely waitress, persuaded us to share a tasting portion of the Gajar ka Halva (caramelised carrot with butter, sugar and fresh cream) and some Badam Kulfi (ice cream made with cream and almonds). All desserts are £6.50. Reader, it was surprisingly light, while also rich, and very good indeed.
Drinks vary considerably in price, with a limited, but well planned menu. If you choose carefully, you can enjoy house white wine at £26 a bottle, but the cocktails at £14 each and a 330ml Cobra at £5 might be okay in Harvey Nichols but in residential Richmond seem slightly steep. Strangely a glass of champagne (Laurent Perrier Brut) at £12 was reasonable. The ubiquitous Whispering Angel is £55 a bottle, but if you stick to the excellent house red or white, you can quaff well with your meal.
I loved Madhu's, and look forward to going back; I want to try the wraps next time, but will definitely choose the same starters. Sadly it's not yet open at lunchtimes, but evenings 5-11 pm and closed on Tuesdays. Takeaway is available (collection only)