I adore Middle Eastern food, and am pleased to see that we now have access to lots of takeaways, as well as supermarket foods, that embrace this wonderful cuisine. Even Waitrose now has a dedicated Levantine range. So when I heard that there was an exciting new cookbook out that would teach me more about the region's food, I jumped at the chance to read it! It's called Sumac – after the delicious deep-red spice – and the author is Anas Atassi, who was born in Homs but now lives in Amsterdam. Sumac the spice is the 'red thread' that connects every dish and is the red thread that will guide you through this fabulous book.
Bordering six countries, Syria is home to a vast array of ethnicities and religions, including Syrian Arabs, Kurds, Tuerkemens, Assyrians, Armenians and Greeks and Sunnis, Christians, Alawites and Yazidis. Such a focused area of diversity has brought with it countless influences through the centuries, leaving their mark. Modern-day Syria's dishes vary immensely, from those that seem Mediterranean (in Tartus), that have Turkish or Armenian flavours (in Aleppo), or that are kept simple and subtle (in Damascus). One shared ingredient through all of these cultures and influences is Sumac.
Atassi fondly remembers his childhood and has often longed for familiar cuisine. In response to this yearning, and as a way to pay tribute to his homeland, he's created this exquisitely photographed cookbook of over 80 recipes from both traditional and contemporary Syrian cuisine. They're inspired by his family dishes, featuring everything from the wonderful Friday breakfasts Anas often ate in his grandmother's garden and his mother's sfeeha (small savoury pies) to za'atar flatbread, batata harra (spicy potatoes), sayadiyah (spicy fish pilaf with caramelised onions) and Zahra (spicy roasted cauliflower) which he enjoys making for his friends.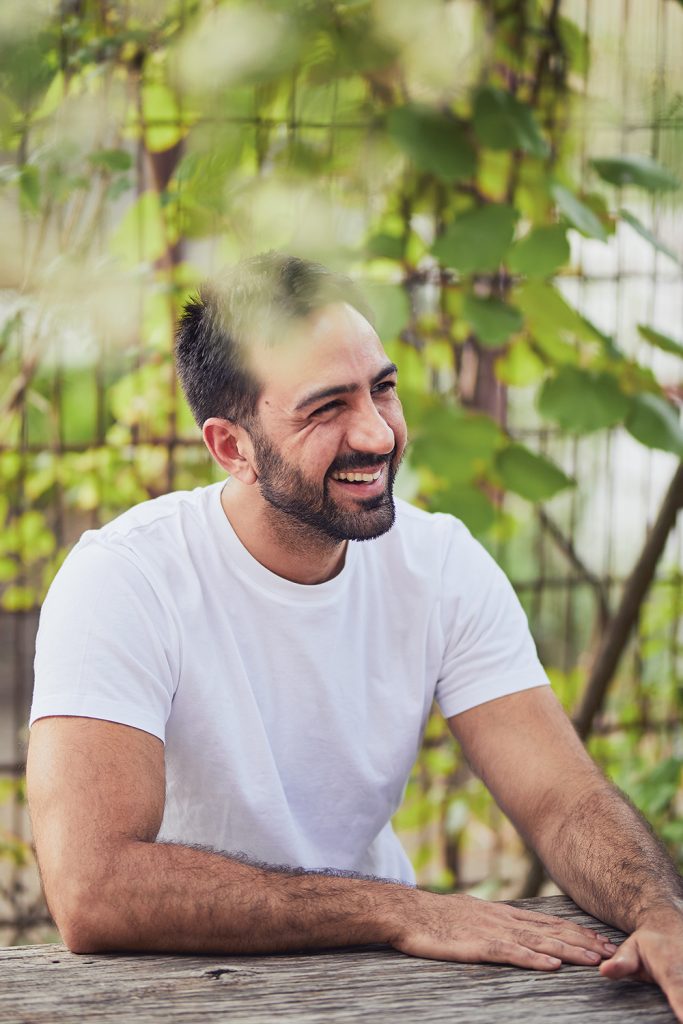 Below is a recipe from the book to whet your appetite – it will make a fabulous gift (you'll be tempted to browse through it before wrapping it!) and a great Father's Day gift for one who's a dab hand in front of the stove.
Sumac: Recipes and stories by Anas Atassi (£25, Murdoch Books). Photography by Anas Atassi. The author photographer is Jeroen van der Spek.
Tajen samak – Fish with Sumac Tahini Sauce
Given that Syrian fish recipes are usually very simple, my friend Hadi, also a passionate cook, and I started experimenting. Instead of drenching the fried fish in tahini sauce, which is what we usually do in Syria, we use tahini in the preparation. It gives a totally different result, in taste and in structure. We serve the dish with rice, which, though unusual, is delicious.
SERVES 4
2 tablespoons of olive oil, plus extra for drizzling
3 onions (sliced into rings)
4 teaspoons of sumac
Salt and pepper
700 g (1 lb 9 oz) of white fish fillets
FOR THE SAUCE
150 ml (5 fl oz) of tahini
Juice of 1–2 organic lemons (as desired)
170 ml (⅔ cup) of water
4–6 garlic cloves (as desired, pressed)
1 teaspoon of ground nutmeg
Salt and pepper
TO SERVE
1 small bunch of flat-leaf parsley (chopped)
1 handful of pine nuts (toasted)
Sumac
Organic lemon (in slices)
PREPARATION
Preheat the oven to 150°C (300°F).
In a large saucepan, heat the olive oil on medium heat. Fry the onion rings for 3–5 minutes in the oil until they are soft. Season with 2 teaspoons of sumac, salt and pepper.
Spread the fried onion over the bottom of an ovenproof dish and set the fish on top of the bed of onions. Drizzle some olive oil over the fish and sprinkle with the remaining 2 teaspoons of sumac, salt and pepper. Bake for 15 minutes in the middle of the oven.
While the fish is baking, make the sauce. Whisk all the ingredients together in a bowl, adjusting the amount of lemon juice and garlic to your preference. Warm the sauce in a pan on medium heat, whisking constantly. Bring to a boil and then remove from the heat.
Remove the fish from the oven, pour the sauce over the fish until completely covered, and then bake for another 10–15 minutes, until cooked thoroughly.
Serve with chopped parsley, toasted pine nuts, sumac and lemon slices.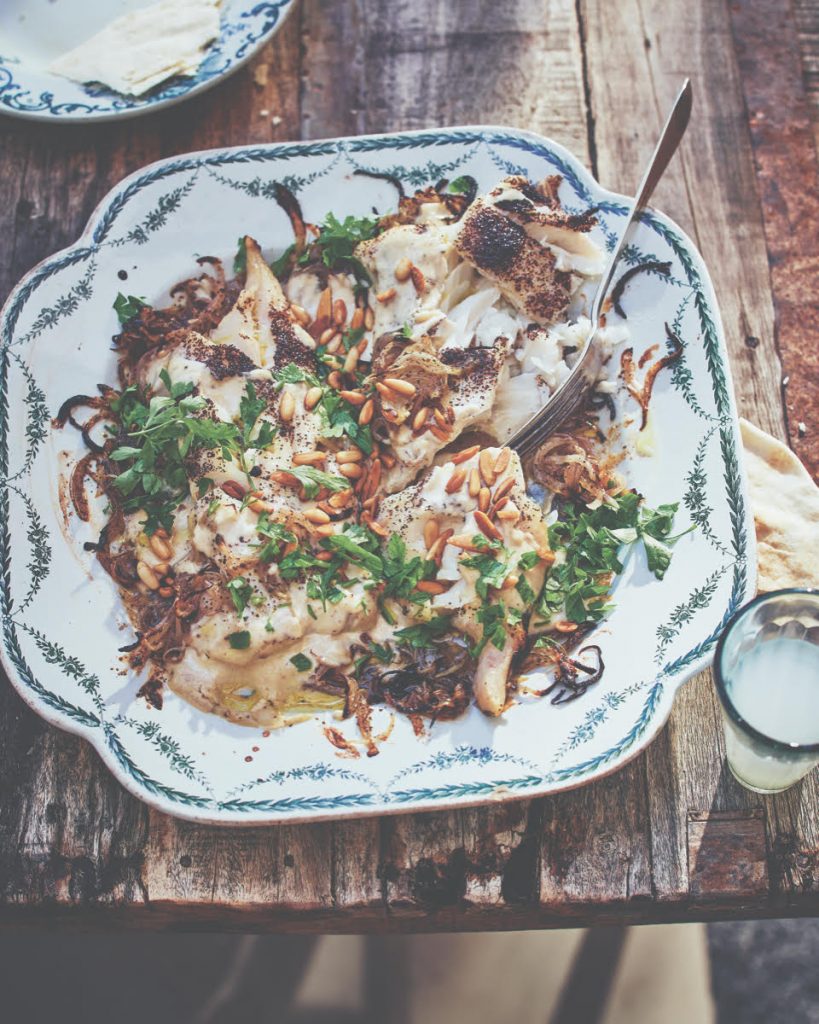 THE HAMPTON COURT PALACE ARTISAN FESTIVAL
18-20 JUNE
Life seems to be returning to a semblance of 'normal' and one of the first things to look forward to is the new Hampton Court Palace Artisan Festival. Bringing together gifting, crafts, traditional entertainment and street food, it's in a delightful festival setting within the palace's formal gardens.
This event complements the Hampton Court Palace Food Festival, running later in the summer, and brings together unique creators, businesses, makers and producers, alongside street food and traditional British entertainment. Hampton Court Palace admission tickets include free entry to the Artisan Festival, while Historic Royal Palaces members can also enjoy free entry.
For further information and to purchase tickets visit: https://www.hrpfestivals.com/