It's not surprising that many folk are having mental health problems at the moment. And as well, of course, as those on the NHS frontline, it is also particularly bad for those involved in the hospitality industry. Times are extremely tough… and this takes its toll. From Beder's Kitchen, by Meze Publishing, is a lovely collection of recipes and reflections for amazing foodies around the world. Not just a cookbook, it's also an initiative to raise awareness around mental health and suicide prevention, launched by the young charity Beder Razzak Mirjan and his family set up Beder. in honour of his younger brother, Beder Mirjan, who sadly took his own life at the age of 18 in 2017. The charity intends to increase understanding and reduce fear around the topics of mental health and suicide in order to overcome the stigma surrounding these incredibly important, yet underestimated, issues.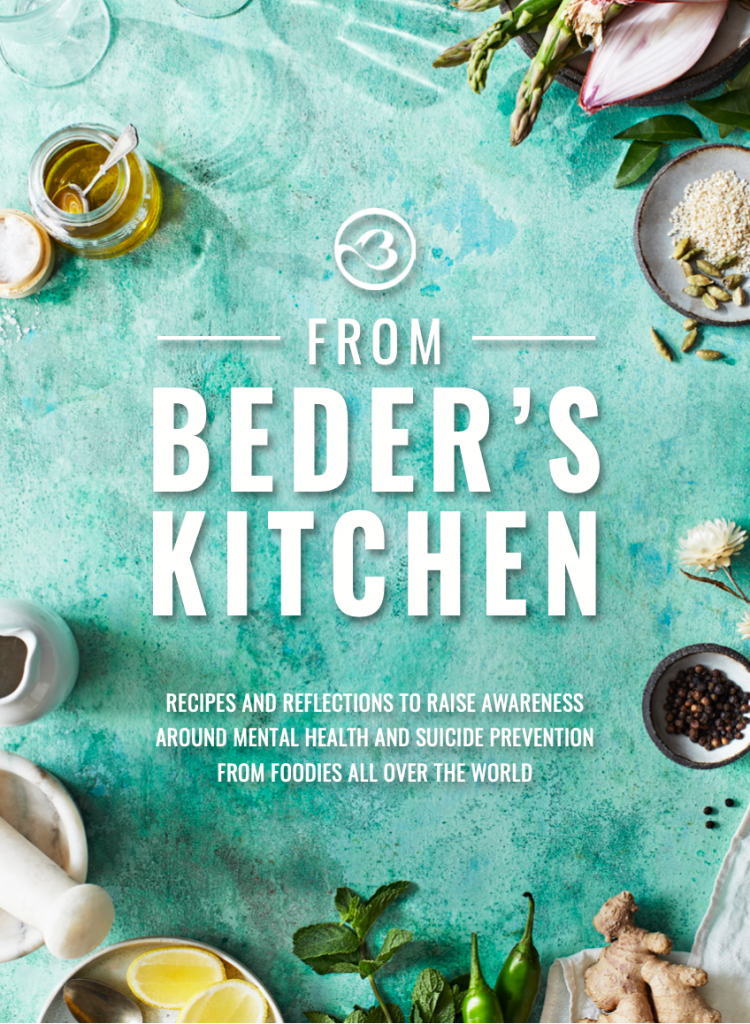 The book includes contributions from chefs at some of the UK's leading restaurants; MasterChef winners; TV chefs; food bloggers; nutritionists; best-selling authors; mental health advocates; and a Great British Bake Off winner. There are 90 contributors, each donating recipes and sharing reflections, personal experiences and words of advice about looking after their own mental health and how food has played a part in that. For many, cooking or baking is a form of therapy, and creating something delicious to eat at home is a great way to look after themselves and others.
The recipes are divided into five chapters, each with a different theme: Start Your Day The Right Way; Happy Gut Happy Life; Fast Food (But Not As You Know It); Soul Food; and Sweet Treats. From Beder's Kitchen is a
224 page hardback at £22. It's available online from bookshops beder.org.uk and mezepublishing.co.uk
The book's jam packed with really unusual – and delicious – recipes and makes a lovely Valentine's or Mother's Day gift. I've selected a few recipes to give you a taste of what's in store and hopefully inspire you to order the book and support this charity.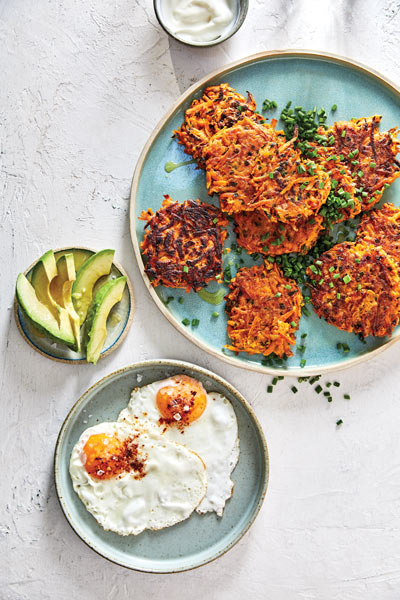 Sweet Potato Fritters (from Lydia Levy)
'These are great served with smashed avocado and fried eggs for a healthy but tasty brunch. It's one of the meals I make when I am on a bit of a health kick but craving salty fried goodness!'
Preparation time: 10 minutes | Cooking time: 10 minutes | Makes 6
2 sweet potatoes, peeled and grated
1 dessertspoon of corn flour
Pinch of paprika
Salt and pepper
Fresh chives
1 small egg
Oil, for frying
Squeeze the water out of the grated sweet potato then add it to a bowl with the corn flour, all the seasoning and chopped fresh chives to taste (saving a few for decoration). Beat the egg then add it to the bowl and mix everything together.
Heat a non-stick pan with a good drizzle of oil and spoon in six even dollops of the mixture, shaping them into rounds.
Fry the fritters for around 5 minutes on each side, then serve them hot and stacked with smashed avocado and fried eggs, scattered with more fresh chives.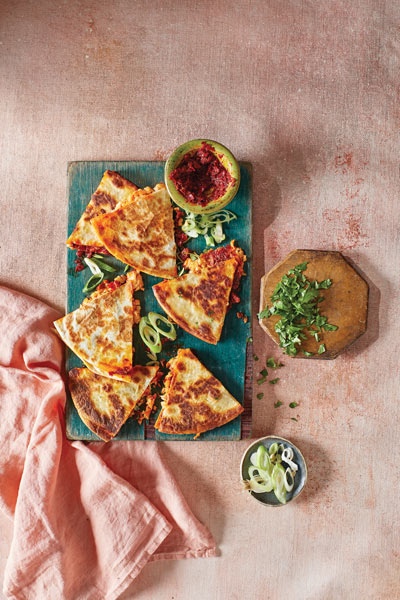 Harissa & Halloumi Quesadillas (from John Gregory-Smith)
'For the ultimate quick and easy lunch, these quesadillas are the answer. The harissa, a North African spice paste, adds a really punchy heat that's balanced out by the salty halloumi which cooks quickly and gives you the require ooze factor'
Preparation time: 5 minutes | Cooking time: 5 minutes | Makes 4
250g halloumi
4 tbsp rose harissa
8 soft tortillas
Handful of finely chopped coriander leaves
4 spring onions, finely chopped
Sea salt
1 tbsp olive oil
Using the coarse side of a box grater, shred the block of halloumi.
Lay out four of the tortillas, then spread a tablespoon of the rose harissa over each of them. Top with the cheese, coriander and spring onions. Add a pinch of salt and put the remaining tortillas on top to make four quesadillas.
Put a non-stick frying pan on a medium-high heat.
Brush the pan with a little olive oil and pop in one of the quesadillas. Cook for about
1 to 2 minutes on each side until the tortilla is golden and the cheese has melted.
Serve immediately and repeat with the remaining quesadillas.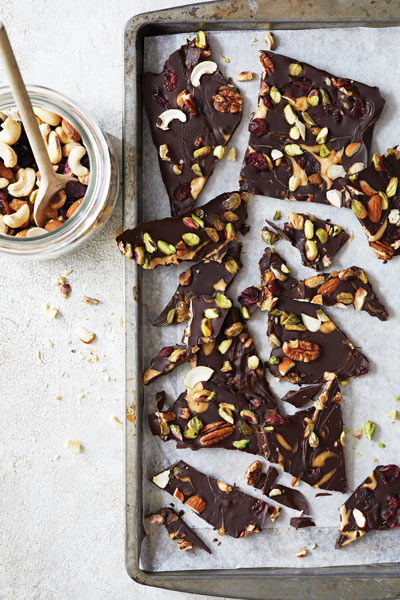 Dark Chocolate Fruit & Nut Bark (from Laura Tilt)
'This is a delicious sweet snack which offers some heart-healthy fats and fibre. It's also incredibly fun to make!'
Preparation time: 30 minutes | Cooking time: 5-10 minutes | Serves 6 or more
300g dark chocolate
1-2 tbsp peanut butter (optional)
75g mixed nuts and dried fruit (pistachios and cranberries are great for colour, almonds are great for crunch)
Line a baking tray with baking paper.
Using a sharp knife, chop up the chocolate, place it into a bowl and gently melt over a pan of simmering water.
Take the bowl off the heat when about 70% of the chocolate has melted, then stir continuously until completely melted.
Pour the chocolate onto the prepared baking tray and carefully spread it out towards the edges with a palette knife. If you're using peanut butter, soften it slightly or stir until it is runny. Add blobs of peanut butter to the chocolate and use a knife to swirl them together.
Roughly chop the nuts then scatter the nuts and dried fruits evenly over the top of the chocolate.
Refrigerate the bark for about 15 minutes, until hardened.
Finally, invert the bark onto a chopping board, remove the parchment paper, break into pieces and store or serve.