The terms 'street food' and 'vegan' are both relatively new to our everyday culinary vocabulary. It's long been the case that much Indian food has been vegetarian (in fact I often enjoy the vegetable side dishes more than a meaty main course from an Indian restaurant menu). Last week saw the publication of a great new debut cook book – SpiceBox – that's packed with plant-powered curry house favourites that are easy to prepare, and just as good for a quick midweek supper or a weekend feast with friends (outside, of course at the moment don't forget!). The book teaches you how to make fresh modern spins on curry house classics.
The original SpiceBox, now a critically acclaimed curry house in Walthamstow, started life in fact as a street food stall. It's founder, Grace Regan, thinks Indian food is the perfect gateway to vegan cuisine, and I've already found that many of the recipes I cook from other Indian cookbooks are, actually, vegan, without being marked as such. This might be Grace's first cookbook, but readers of the Guardian and Huffington Post have enjoyed her writing. And there are already plans afoot for her to open a second SpiceBox, and also to launch a retail range of SpiceBox products.
The book is divided into chapters covering: curries; dhal; grains and bread; street snacks; sides, as well as pickles and chutneys, and also drinks. Grace takes the reader through each of the key ingredients used and gives tips for preparing as well, of course, as cooking. It's a fab book and will be enjoyed by anyone wanting to explore and enjoy a plant-based way of spicing up their culinary repertoire!
Here's a taster of recipes from SpiceBox to whet your appetite:
KERALAN GREEN BEAN THORAN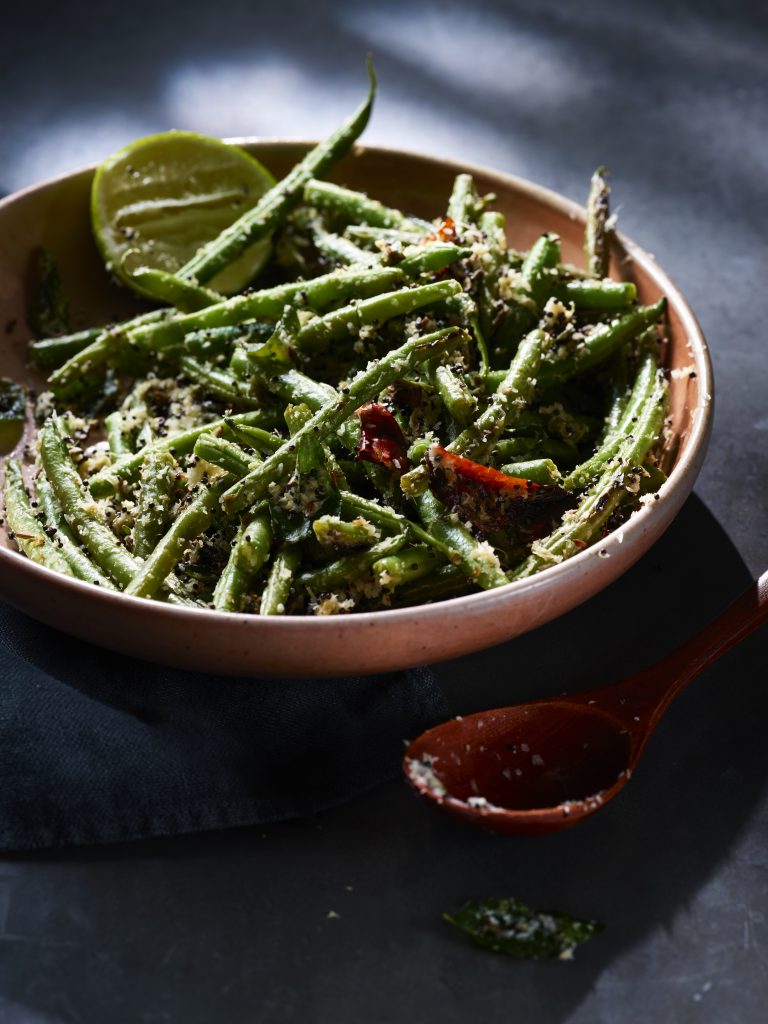 'I first discovered thorans while travelling around Kerala as a teenager. Most meals would include a dish of vegetables, sautéed with fresh coconut, curry leaves and mustard seeds. These aromatic stir-fries quickly became one of my favourite ways to cook vegetables and instantly transport me back to tropical Kerala, one of my favourite Indian states.
Fresh curry leaves really elevate this dish but if you don't have any to hand, it's fine to leave them out. This recipe is really versatile, and you can swap the beans out for whatever veg you have lying around such as cabbage, cooked Brussels sprouts or Tenderstem broccoli.'
Serves 4
1½ tbsp coconut oil
2 tsp brown mustard seeds
1 tsp cumin seeds
1 tsp fennel seeds
1 dried red chilli, ripped in half
10 fresh curry leaves (optional)
350g green beans, topped and cut in half
2 tsp sugar
A thumb-sized piece of ginger, grated
3 tbsp desiccated coconut
Juice of 1 lime
Salt
Heat 1 tablespoon of coconut oil in a large frying pan on a medium heat. Add the mustard seeds and fry until they pop. Add the cumin and fennel seeds, followed by the dried red chilli and curry leaves. Fry until they begin to crisp up, then take the pan off the heat.
Heat ½ tablespoon of coconut oil in another frying pan and add the beans, sugar and a pinch of salt. Stir through the ginger, adding a splash of water if needed. When the beans have begun to darken, add the coconut.
Cook, stirring as you go, until the coconut begins to toast and the beans are cooked through – make sure you don't overcook the beans, as they are best with a bit of bite in them. Stir through the fried spice mix and lime juice and take the pan off the heat. Taste for seasoning.
CABBAGE & FENNEL SABZi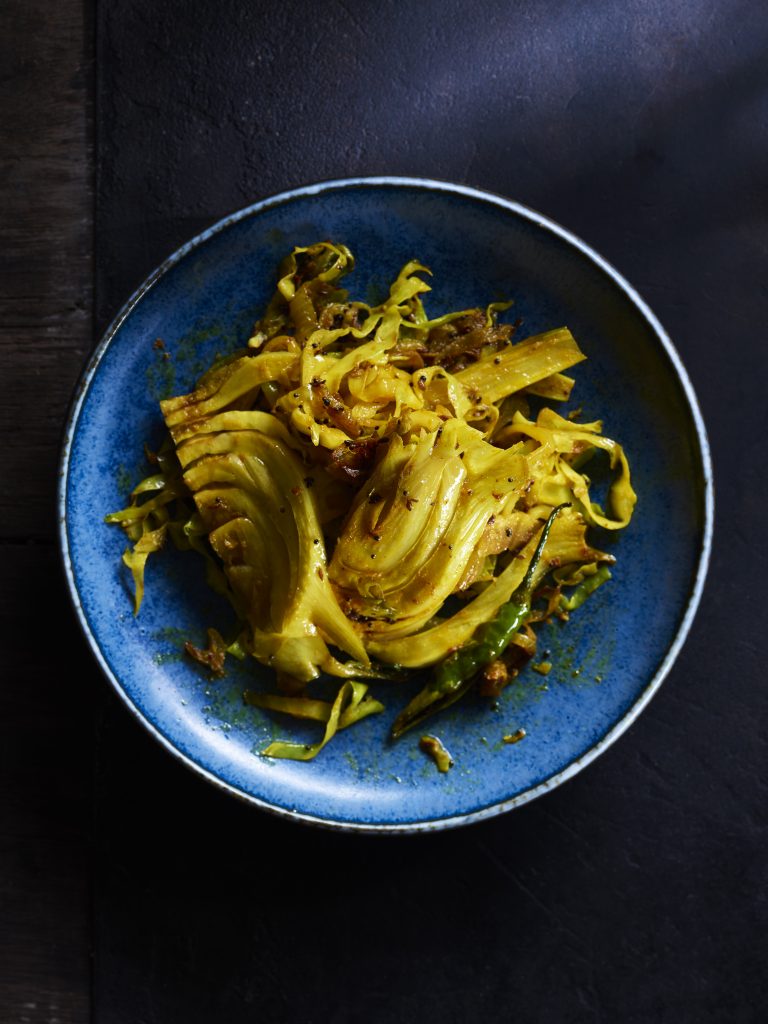 ''Sabzi' is a reasonably vague term used in Indian cooking to refer to vegetable dishes. I use it to refer to stir-fried veg dishes without a sauce (or 'gravy' as it is referred to in India). Cabbage is the perfect veg to stir fry with spices – all varieties of cabbage work well but I particularly like the sweet crispness of a pointed cabbage.
The addition of fennel came about when my flatmate, Milla, walked into the kitchen while I was testing this recipe. She had bought a bulb of fennel and was worried it wouldn't be eaten, so I did the honourable thing and added it to my sabzi. It took the dish to a whole new level.'
Serves 4
2 tbsp veg oil
2 tsp brown mustard seeds
2 tsp cumin seeds
1 green chilli, slit lengthways
1 medium white onion, sliced into half-moons
4 large garlic cloves, grated or crushed
A thumb-sized piece of ginger, grated
½ a large green cabbage, thinly sliced
1 small fennel, thinly sliced
½ tsp ground turmeric
1 tsp sugar
Juice of 1 lime
Salt
Heat the oil in a large frying pan on a medium heat and add all the seeds and the green chilli. When the seeds begin to pop and splutter, add the onion and 1 teaspoon of salt, and turn the heat down low to cook the onion really slowly. When the onion begins to soften – after about 5 minutes – add the garlic and ginger, and cook until the onion is completely soft and caramelised (10–15 minutes in total).
Add the cabbage, fennel, turmeric and sugar, along with a splash of water and turn the heat back up to medium. Stir until the turmeric has turned the veg an even golden yellow. Place a lid on the pan and cook for 15 minutes until the veg is soft. Take the pan off the heat and stir through the lime juice. Taste for seasoning.
Extracted from SpiceBox: 100 Fresh, Vegan Curry House Favourites by Grace Regan (Ebury Press £20) photography by Joff Lee and James Lee