Sausage rolls, scones, cucumber sandwiches and lots more will be consumed across the UK the first weekend of June – the Her Majesty's Platinum Jubilee Weekend. Most of us will have heard or read about the nationwide quest for a special Jubilee pudding and we have a simple recipe for this, courtesy of Cottage Delight. I've also found a fabulously impressive savoury tart, courtesy of Mary Berry Salad Dressings. Either or both of these will be very well received at any street party or Jubilee gathering!
Goat's Cheese, Grilled Red Peppers and Red Onion Tart (serves 6)
Preparation time: 10 mins Cooking time: 50 mins   Level: easy Total time: 1hr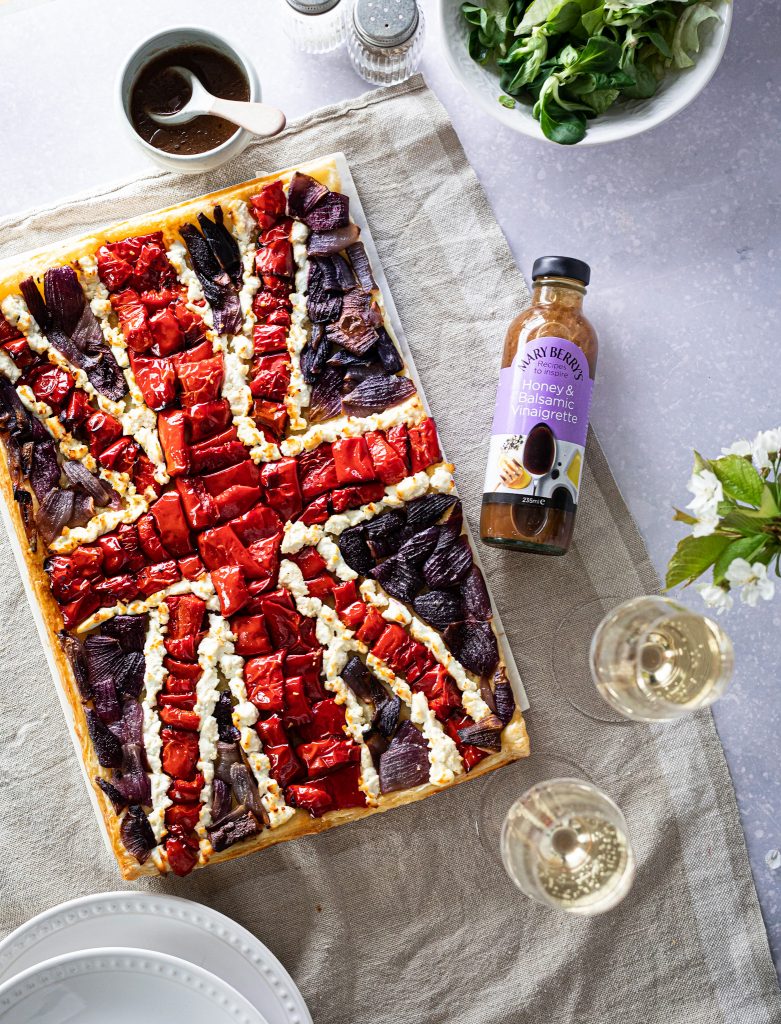 1 pack ready to roll puff pastry
3 red peppers
4 red onions
180g soft goat's cheese
1 egg for glaze
Olive oil drizzle
Honey for drizzling
Green salad
6 tbsp Mary Berry's Honey & Balsamic Vinaigrette
Preheat the oven to 180˚C.
Chop the red peppers and red onions into medium size chunks (approx. 3cm x 3cm). Place on a baking tray, each on its own side. Drizzle both with olive oil and the onion side with some honey too. Cook for 20-25 mins until softened.
Meanwhile, prepare the pastry. Line a flat baking sheet with baking parchment and unroll the puff pastry sheet onto it. Prick all over the inside of the rectangle with a fork.
Then arrange the filling as you like (you can create the union jack like we did). Add the grilled peppers, onions and goat's cheese and brush the sides of the pastry with beaten egg.
Bake for 15-25 minutes, until the pastry is golden and crisp.
Toss the salad in Mary Berry's Honey & Balsamic Vinaigrette and serve. This is also great at room temperature.
Lemon Curd Platinum Pudding Prep time: 40 mins Cook time: 3 hours chill time Serves: 8
420g lemon sponge swiss roll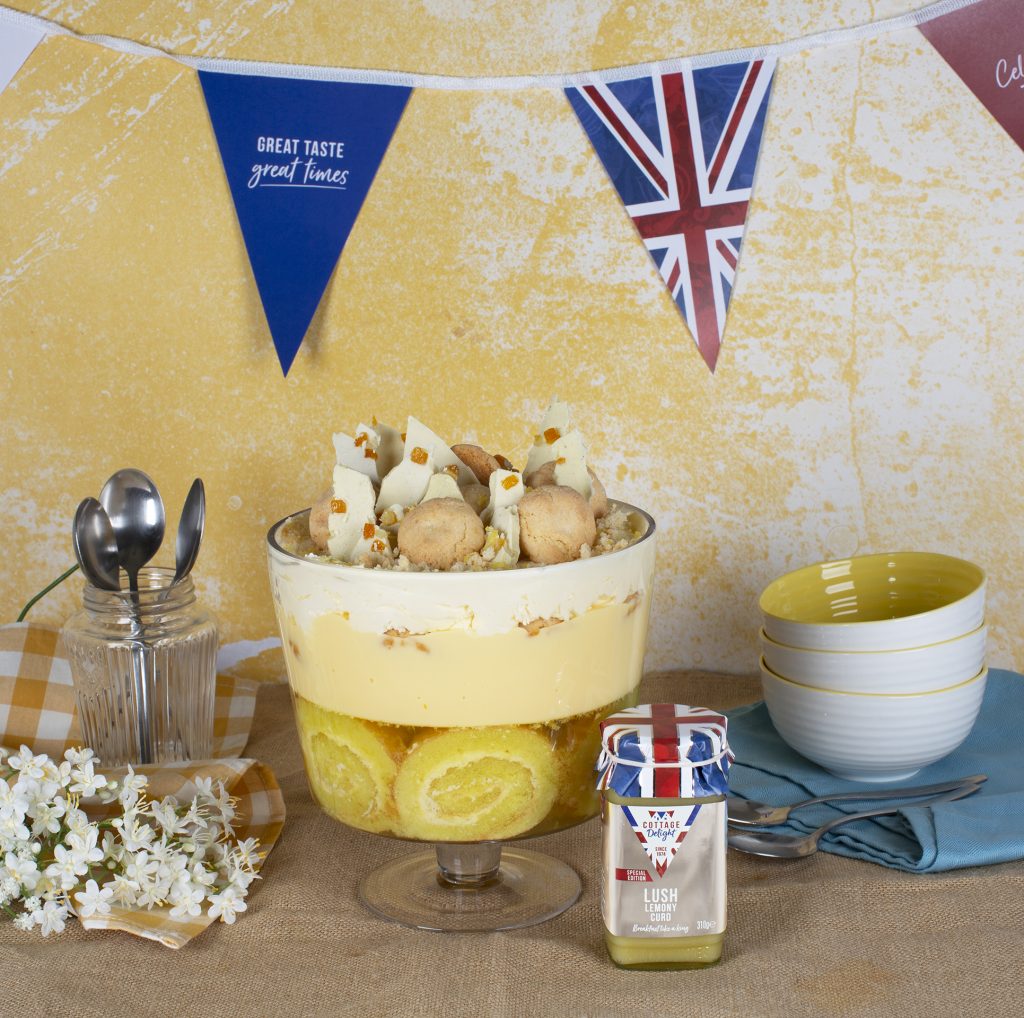 1 jar Cottage Delight Lush Lemony Curd
270g lemon jelly
500ml ready-made custard
100g amaretti biscuits
600ml double cream
200g white chocolate
10g mixed peel
Make your decorative chocolate bark in advance. Melt 200g of white chocolate then pour into a shallow 20cm dish and sprinkle over mixed peel while warm. Leave to set in the fridge.
Cut swiss roll into 1inch slices and line the bottom and bottom half of the trifle bowl with the slices. Press slices halfway up along the sides of the bowl.
Make lemon jelly according to pack instructions and pour over the swiss roll layer. Place in fridge to set (approximately 3 hours).
Once set, pour over custard and arrange a single layer of amaretti biscuits, keeping a few back for the decoration. Dollop 4 tbsp of the Lush Lemony Curd over.
In a large bowl, whip the double cream until soft peaks form then stir through 6 tbsp Lush Lemony Curd into the cream.
Spoon the cream mixture on to the curd layer and amaretti biscuits.
Break white chocolate and peel mix into shards and decorate your trifle, finish with a crumbling of amaretti biscuits and remaining dollops of Lush Lemony Curd.