I adore avocados, and the idea of a restaurant that has a whole menu devoted to this delicious fruit certainly appeals!  So, having not yet managed to check out the first London all-avo restaurant (in Princes Street, near Oxford Circus if you were wondering), the idea of trying a newly opened branch in New Row Covent Garden sounded perfect. 
Added to this, we had tickets for Tina Turner, the musical, and a fabulous evening was promised.  
I'm delighted to report that I wasn't at all disappointed (by the restaurant or the show).
Background to The Avocado Show
The Avocado Show serves breakfast, brunch, lunch, and dinner and, I'm told, has become a worldwide phenomenon.  It's apparently renowned for its 'Pretty Healthy Food" and each dish we tried was visually beautiful, as well as delicious.
The brand has cultivated a large and devoted fan base across the globe, drawn to its unique blend of tasty avocado dishes, beautiful presentation, and emphasis on sustainability. 
Our Meal
I started with a cocktail – an Avo Rita (£11.50).  It was an excellent take on a classic Margarita and was served in a beautifully appropriate, cactus-shaped, glass. 
My husband had a Peroni (£5.50)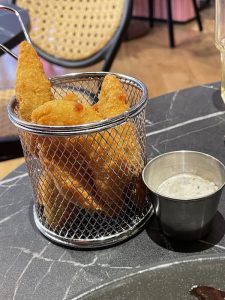 To start, we shared some avo fries with truffle mayo (£9.95).
They were really tasty, piping hot with soft avo centres surrounded by a crisp shell.  
My husband then chose the Sassy Salmon (£15.95 – avo, baked salmon, sauteed spinach and broccoli). 
And I opted for Citrus Blast  – (£16.95 – Avo, orange, grapefruit, mixed leaves, fresh salmon, red onion, black quinoa, pomegranate, cashews and maple dressing).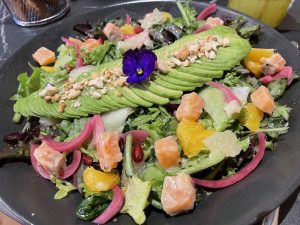 Well, for once I had no sense of food envy, as I was delighted with my beautifully presented, really tasty plate. 
That said, my husband was also delighted with his – also beautifully presented – food! 
My salad had a delicate dressing, the citrus elements giving little bursts of freshness and the chopped cashews and pomegranate adding texture and another element to the dish.  The salmon was served in little cubes which was unusual, but certainly worked and I'm already inspired to attempt a similar dish at home.  
We finished with some avocado ice cream; yes, avocado ice cream…and it was delicious! 
The Avocado Show is a show-stopper: it's a great place for a relaxed pre theatre meal or lunch with friends.  The menu has something for everyone, including vegetarians, vegans, low carb fans – or just folk who love a good avo based nosh!  We'll be returning soon.