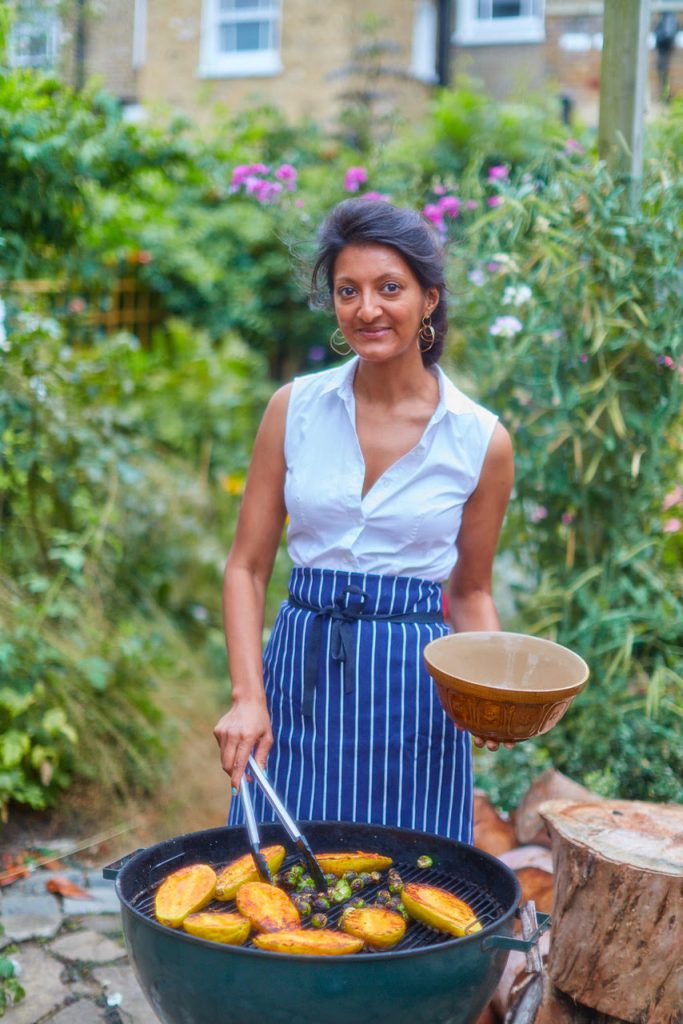 Sadly, for many of us, the very suggestion of a barbecue conjures up images of burnt sausages and undercooked chicken drumsticks.  If you're lucky enough to have a home smoker, you can take barbecuing to another level, but if you use a bit of imagination and savoir-faire you can produce a superb meal over charcoal.  But how often do you embark on a vegetarian BBQ? Well, now's the time to give it a try as the weather is perfect, and I've just got my hands on a fabulous new cook book by Rukmini Iyer (of Roasting Tin fame).  The Green Barbecue moves Rukmini to the barbecue and grill. It is the ultimate vegetarian and vegan barbecue book, a collection of 75 flavour-packed, recipes (all completely meat-free),with over half the recipes entirely plant-based so suitable for vegans. Whether you're entertaining veggie guests or preparing a flexitarian feast, her recipes are quick and easy, great for all the family and completely fuss-free.  And if you don't have access to a barbecue many of the recipes can be produced on a normal domestic grill or oven, (very useful with our British weather!).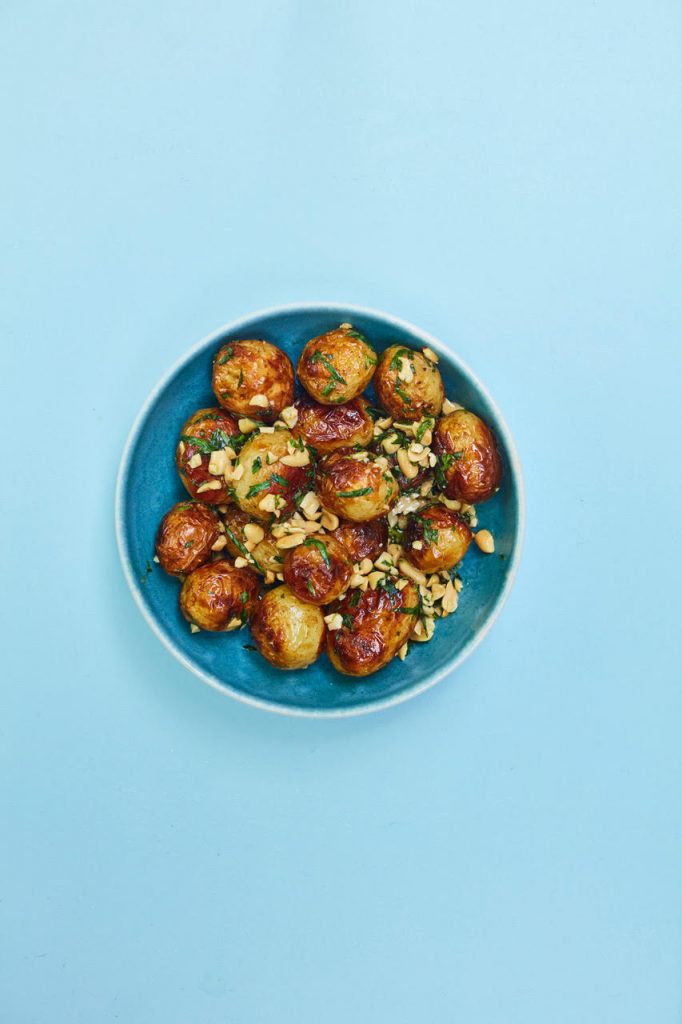 There's a section on 'Something to Start' (Griddled Pineapple, Halloumi & Mint Skewers  or Crispy Gnocchi – on a stick!) perfect for kicking off a party. 'Fresh & Light' looks at the perfect combination of griddled and charred vegetables with fresh leaves, herbs, salad bits and punchy dressings. The 'Something Substantial' chapter has the hearty hero vegetable dishes taking centre stage (Squash with Charred Carrots, Red Onions, Coriander Seeds, Pistachios & Lime  or Gunpowder Potatoes with Fennel Seeds, Chilli, Coriander & Cashews ). And for those into more traditional barbecue-style food, there's a moreish array of genius veggie burgers and salads. 'Something Sweet' will finish your outdoor feast with anything from fresh-griddled fruit to indulgent melted chocolate, caramel or peanut butter (or all three!).
I've chosen a couple of recipes from the book to share with you – I'm sure they will inspire you to 'go green' and make use of some of the fabulous seasonal produce in abundance at the moment and months to come.
SIMPLY BARBECUED NEW POTATOES WITH TARRAGON, PEANUTS & CHIPOTLE – Vegan
"The dressing for this dish is unusual – smoky chilli peanuts combined with tarragon – and somewhat addictive, especially when paired with crisp barbecued potatoes. You could easily use this as a dressing for grilled sweet corn or mushrooms."
Serves: 4/Prep: 15 minutes/Cook: 30 minutes
600g new potatoes
2 tablespoons olive oil
1 teaspoon sea salt flakes
FOR THE DRESSING
10g fresh tarragon, leaves finely chopped
30g unsalted peanuts, finely chopped
3 tablespoons extra virgin olive oil
2 tablespoons lemon juice
A pinch of chipotle chilli flakes
A pinch of sea salt flakes
Boil the potatoes in salted water for 7–8 minutes, until just cooked through. Drain well, then mix
with the olive oil and sea salt flakes.
Mix together the tarragon, peanuts, extra virgin olive oil, lemon juice, chipotle flakes and sea salt
flakes to make the dressing. Taste and adjust the salt as needed, then set aside.
Once your barbecue is good and hot, griddle the potatoes for 5–8 minutes per side, until nicely
charred. Halve the barbecued new potatoes, mix with the tarragon dressing, and serve hot.
NOTE: If you have time, you can leave out the boiling stage and just cook the potatoes on the barbecue, in which case they will take about 1 hour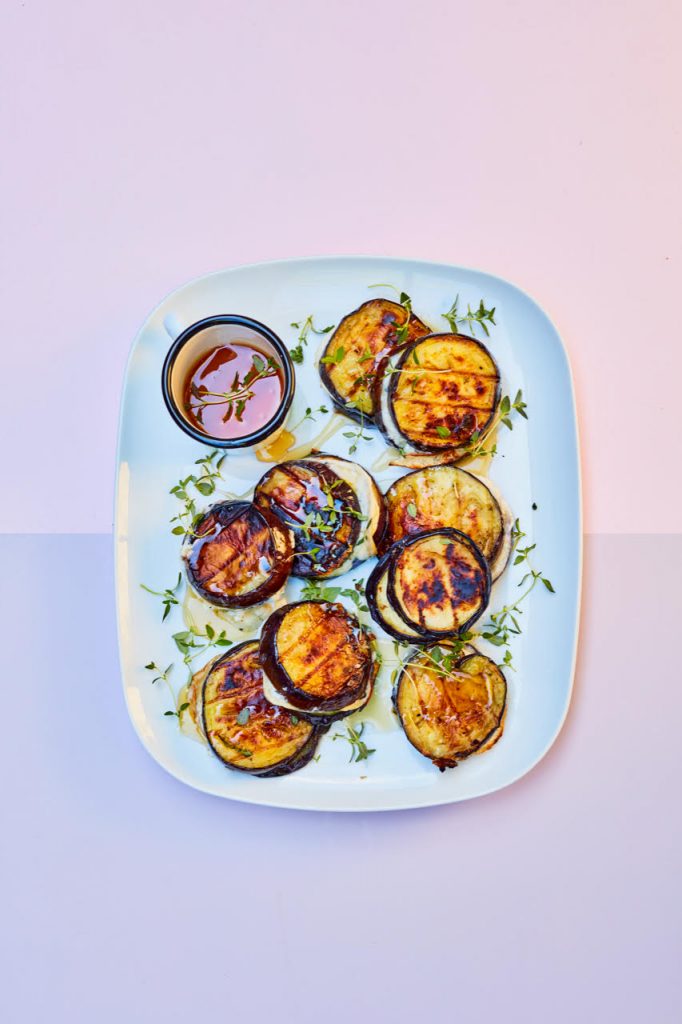 AUBERGINE & GOAT'S CHEESE BURGER STACKS WITH HONEY & THYME – Vegetarian
"One of my favourite Spanish dishes is berenjenas con miel –aubergines, deep-fried in batter, served with honey. It occurred to me that goat's cheese is just as lovely with honey as aubergine, and so these moreish burger stacks were born. The cheese melts between the aubergine slices, scented with thyme – perfect by themselves or squashed between crusty white rolls."
Serves: 4/Prep: 10 minutes/Cook: 30 minutes
2 large, evenly sized aubergines
2 x 100g rind-on goat's cheese wheels
A handful of fresh lemon thyme sprigs
Olive oil, for brushing
Sea salt flakes
Freshly ground black pepper
Runny honey
Crusty bread rolls, to serve
Cut the aubergines into 1cm slices, and the goat's cheese into very thin rounds. Sandwich each
piece of goat's cheese between two similarly sized slices of aubergine, along with a sprig of
thyme. Brush both sides of the aubergine with oil and add a tiny pinch of sea salt flakes and
black pepper.
Once your barbecue is ready, place the aubergine stacks on the grill and cook for 10–15 minutes per side, until the aubergine is cooked through and the cheese has melted. You can flip them every 5–6 minutes or so and give them a brush with olive oil.
Transfer to a serving platter, drizzle with honey, scatter over the remaining thyme, and serve with
crusty rolls on the side.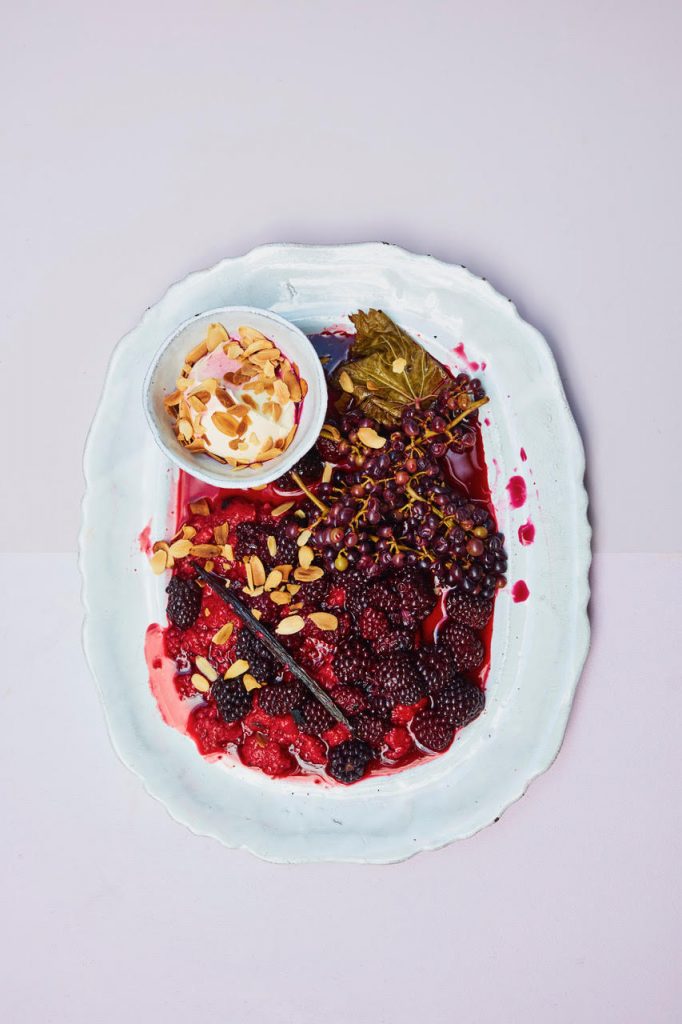 SUMMER PUDDING PACKETS: VANILLA ROASTED BERRIES WITH BRIOCHE, MASCARPONE & ALMONDS – Vegetarian
"This deconstructed spin on a summer pudding (where deconstructed is code for much, much easier) lets you gently cook your fruit in a packet on the barbecue, and toast your brioche alongside. Replace the chilled mascarpone with ice cream, if you wish."
Serves: 4/Prep: 10 minutes/ Cook: 10 minutes
150g blackberries
275g raspberries
225g blueberries or grapes
2 teaspoons caster sugar
1 vanilla pod, split
8 slices of brioche
4 tablespoons chilled mascarpone
A handful of toasted almonds and fresh mint leaves, to serve
Take a large piece of foil and place the blackberries, raspberries and blueberries or grapes in the middle. Scatter over the caster sugar, lay the vanilla pod on top, then fold the foil into a neat parcel, with the seams at the top.
Once your barbecue is medium hot, place the foil packet on one side of the barbecue, and let the
berries cook for 10–15 minutes. Meanwhile, toast your sliced brioche in batches on the other side
of the barbecue, cutting them into triangles once toasted.
Divide the lightly cooked fruit between four plates, with the toasted brioche. Add a tablespoon
of mascarpone, scatter over the toasted almonds and mint leaves, and serve hot.
Extracted from: The Green Barbecue (Vegan & Vegetarian Recipes to Cook Outdoors & In) by Rukmini Iyer (Square Peg) 29th April 2021, £17.99 HBK Photography by David Loftus