At the height of lockdown, I tried quite a few different meal kits for home delivery – even one from a Michelin-starred Spanish restaurant for my husband's birthday. On the whole they were very good, but sometimes the portion size was a tad on the mean side. But now I believe I have discovered the ultimate meal kit, a You Be Chef menu box from chef Robert Thompson. Robert was head chef at Winteringham Fields in Lincolnshire, with a Michelin star at the tender age of just 23. Now living on the Isle of Wight with his family, this multi award-winning chef runs his own restaurant. The other day I tried his other business venture…You Be Chef. This he runs with colleagues, all Michelin experienced chefs, and being champions of Isle of Wight produce, they've firmly made their mark on the Island's food scene.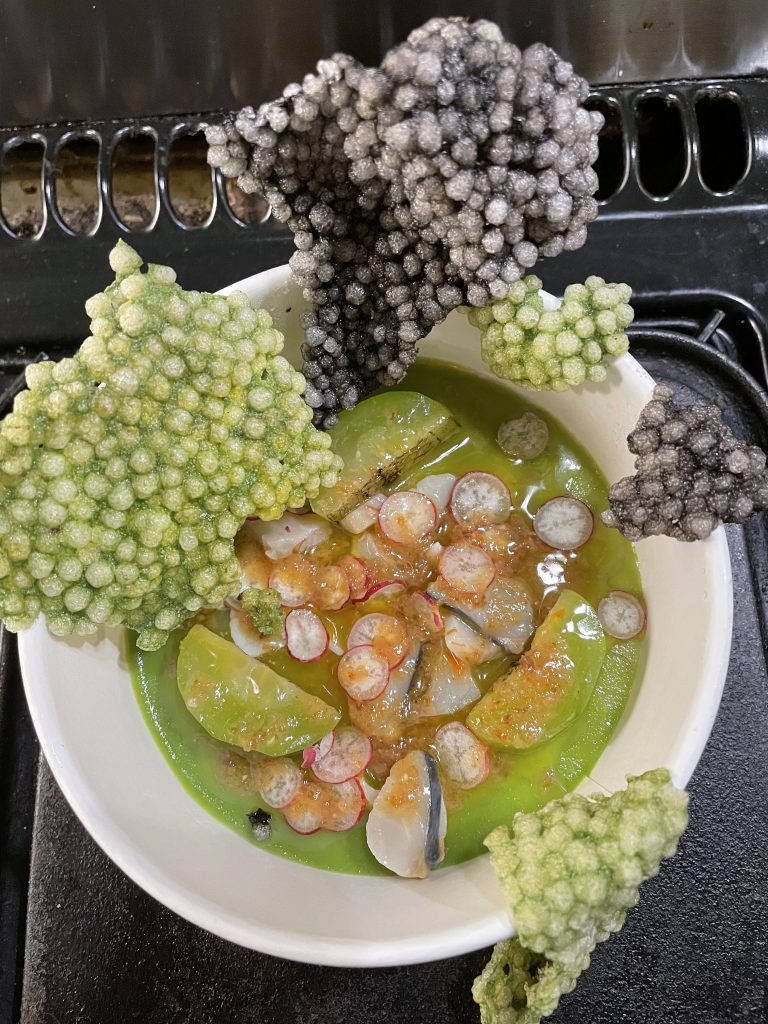 My box, with preselected dishes, arrived beautifully packed on a Friday morning. The presentation was superb and everything exuded quality – even down to the specially branded baking parchment sheet and the folder with instruction cards. But that's not enough for You Be Chef – they also make a video each week that details the prep and gives tips on presentation. Reader, this was obviously a seriously professional, and well curated set up! Also, sustainability is at the core of You Be Chef, with notes on recycling and how to dispose of/ reuse the special wool insulation and cold blocks.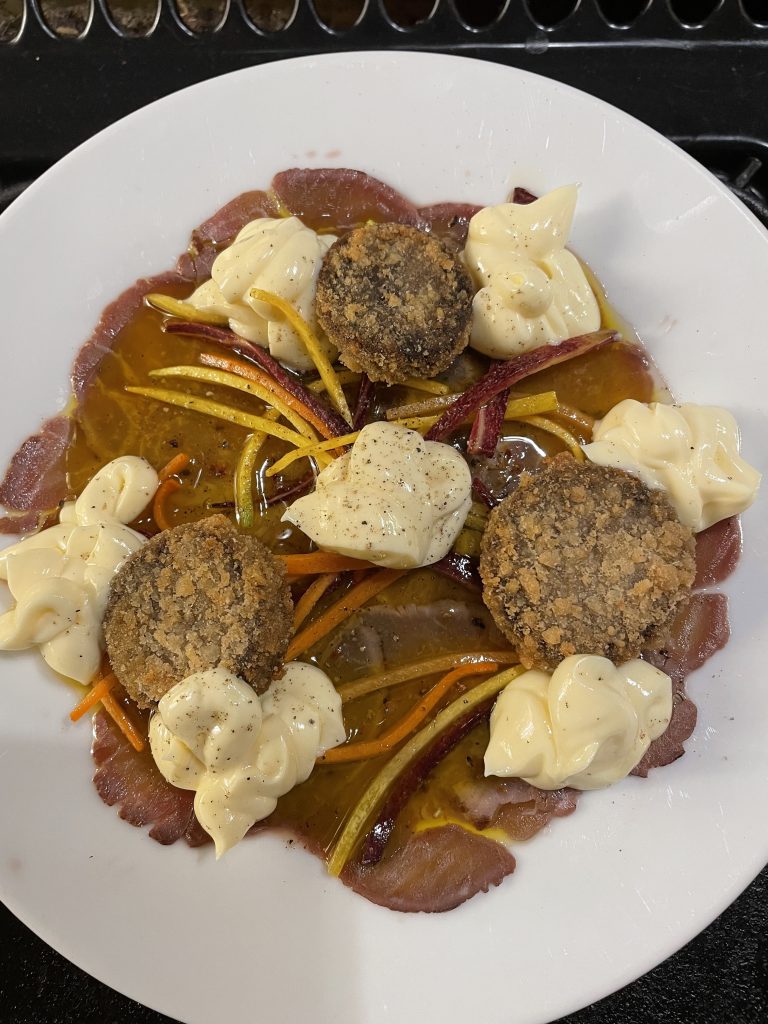 Fast forward a day and it was time to prepare our meal. I'm happy to report that it was an absolute doddle, and not only were the results very impressive, but delicious, and the portion sizes very generous. Having watched Robert's short videos detailing the prep, and with the instruction cards to hand, I was able to present a splendid and very tasty meal with a definite sprinkle of Michelin magic! Robert believes food is so much more than just nourishment. Its aroma, colours, aesthetics, flavours, and even its sounds bring pleasure and sparks joy in people's lives.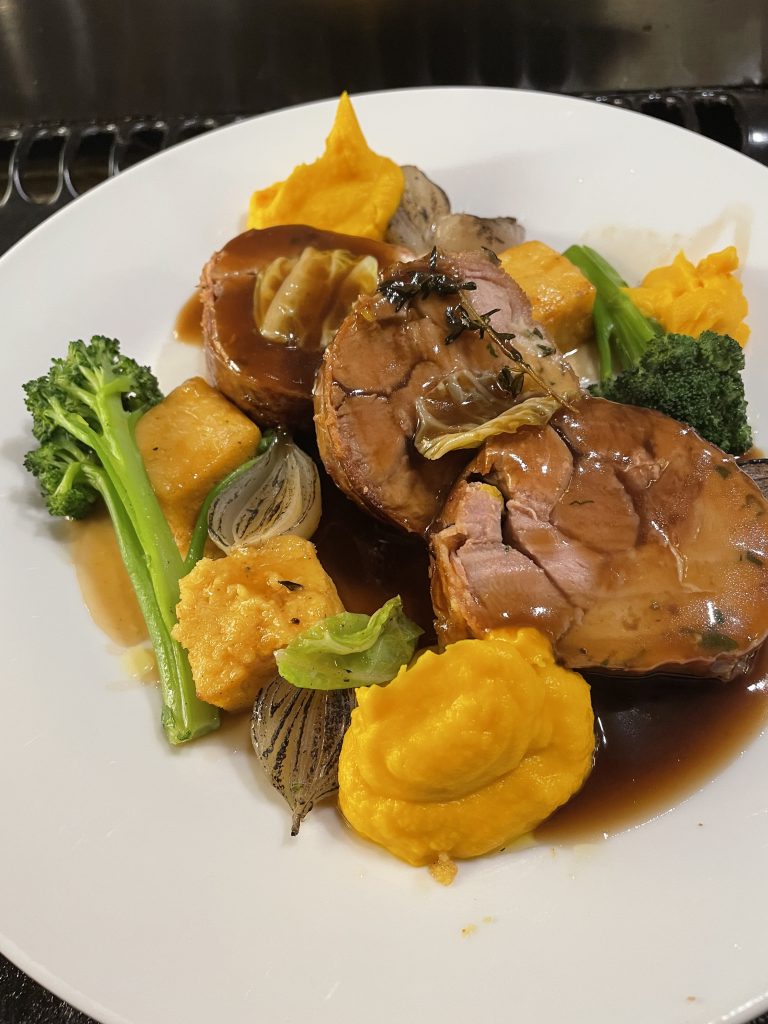 Our chosen menu included starters of carpaccio of aged grass-fed beef and also a day boat mackerel paté with XO cured mackerel. They were a doddle to prepare: just a question of opening a few packs and squeezing some delicious sauces. Next was our main course: Ballotine of pheasant roasted in Serrano ham. This, too, was so easy – just popping into the oven then warming the accompanying purée and sauce. The ballotines then needed their strings to be removed and sliced into three. Plating up was a cinch. Dessert was a banoffee 'trifle' presented in a lovely glass dish and only needing topping with roasted banana purée and vanilla cream, before sprinkling with the bitter chocolate shards – not exactly difficult, but OMG so good!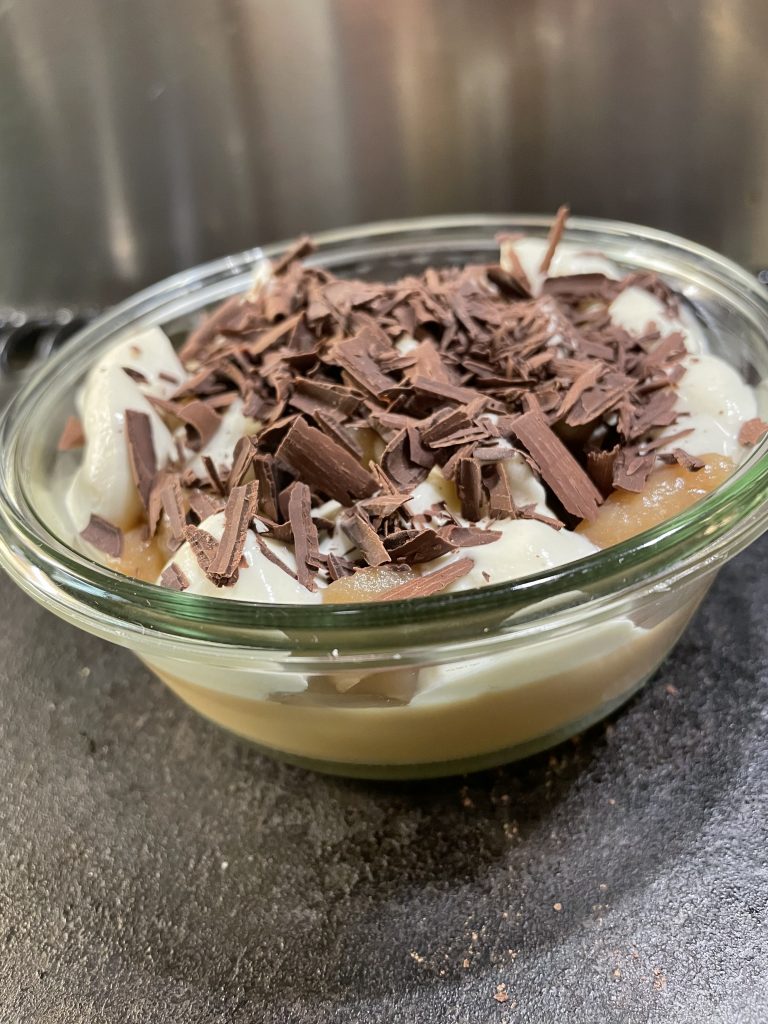 So how much does this all cost, you're no doubt thinking? Well, as one would expect to find in a restaurant, the different dishes on the menu are individually priced, so you can choose from that week's selection. Starters from around £12, mains from £19-28 (including accompanying vegetables) and desserts at around £12 compare pretty well with a good pub in fact, let alone a fine dining restaurant. Menus for up to a month ahead are on the website and each week the menu changes, with always a vegetarian option. There are 'extras' too that one can order, including a weekly bake to accompany the meal (such as smoked paprika crackers with citrus hummus and preserved lemon and olive salsa, or perhaps a focaccia with whipped and flavoured butter). And if you are planning a gastronomic blow out, you can add from a selection of other items like a cheese selection, or baked truffle and cheese gougères.
You Be Chef is a wonderful idea if you've booked a weekend cottage or plan a self-catering holiday in the UK this summer. Delivery (£12.95) is on Friday or Saturday and available throughout the UK (do check with them if you are planning a delivery to an offshore or remote address!) But if living or holidaying on the Isle of Wight, collection is also available on a Friday.
With Valentine's Day and Mother's Day on the horizon, this is definitely worth considering for an indulgent gift. NB: last date for ordering the Valentine's special dinner menu is Sunday February 6 but if you're not in time, visit youbechef.com where you can buy vouchers.