'Cheesewick'
Following my piece recently about the fabulous Cheese market in Chiswick, we hopped on the 267 bus the other Sunday and had the most wonderful time visiting both the cheese market, and then to Sam's Larder in Turnham Green Terrace.  Some of you may recall Sam's Brasserie – Sam Harrison's original business –  which closed in 2015 after a decade in Chiswick.  He then opened Sam's Riverside in Hammersmith, but now he's also back in Chiswick with a great combination of deli and grocery shop, with a small all-day café.
Sam's Larder
It looks really inviting from the street (with some seating outside on the pavement) and inside it's bustling and buzzing with a vibrant atmosphere.  The counter is groaning with all sorts of enticing pastries, salads and other goodies.  The shelves are laden with a cornucopia of oils, vinegars, preserves and other tempting items.  There's a large freezer at the rear of the shop stocked with takeaway versions of the Frozen range of meals and ice creams prepared by Sam's Riverside chefs.  The chill cabinets are packed with all manner of produce from their favourite suppliers including Cobble Lane, Chalk Stream Farm, Neal's Yard Dairy and lots more.
We sat by the window, where we could observe the passers-by.  I enjoyed a glass of Gusbourne Blanc de Blancs and my husband quaffed a bottle of Hawkstone IPA while we perused the menu.  The mushroom soup tempted him, but I decided to concentrate on enjoying my wonderful glass of fizz,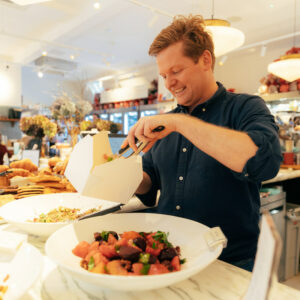 watching the world go by.  The soup
was proclaimed delicious, and the tiny taste I managed to 'steal' certainly bore that out!  I wanted something light, so I chose a small selection of salads.  They had three salads on offer that day (£10 for small and £15 large selection):  Beetroot & Feta; Kale Caesar and Sam's Superfood. You can add chicken breast or smoked salmon as an extra.  They were all fabulous, and I'm inspired to make a kale salad now, especially with the shortage of fresh salad ingredients in the shops! 
My husband, being quite replete with the soup, chose a smoked salmon bagel, which was excellent.  He couldn't resist, though, the temptation of bread & butter pudding to finish.  To be honest, I would have described it as a bread pudding, but nonetheless the soupçon I tried was really tasty and needless to say, the plate was emptied.
Good value for money
Prices at Sam's Larder are very reasonable and the ingredients are all top quality British from trusted, British producers. We thoroughly enjoyed our visit and will be back soon. 
Opening Hours
It's open daily for coffee, pastries, breakfast and lunch. 
Canine Companion info
It's also dog friendly, so Crystal Poodle could enjoy the Sam's experience too.